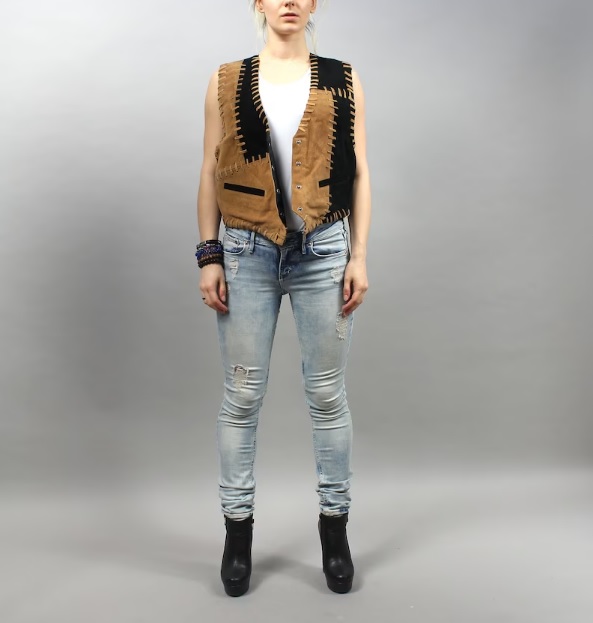 Disclosure: This post contains affiliate links, which means that if you click on one of the product links, a small commission may be credited to this site.
© All images are copyrighted by their respective authors.
Peeps, it's a vest mood post today.
I still can't get over how Emma Chamberlain made wearing vest extra cool again. It's just one of those days.
Apart from Miss Chamberlain's thrifted fashion vibes that's got me vested in vests(pun super intended), there's Taylor Swift clad in her chic navy pinstriped vest suit for the screening of her short film, the music video for he extended version of "All Too Well" at the Tribeca Film Festival. She, of course, looked effortlessly phenomenal as always.
Next in the latest vest news, this article mentioned about vest being considered to have a distinct charm and swagger. Women waistcoats have always been a thing in fashion sported by the likes of Marlene Dietrich, Janelle Monae and Kate Moss. It's said that once you've discovered a zest for the vest, it sticks with you for life.
How very intense…
Well, for dear old me, I'm into that casual grunge look of vests worn during the era of its peak and generally the vintage vests of the 70s, 80s to 90s. In terms of length, they're of the short and crop-ish variety. Worn buttoned up at times but mostly left open because we're aiming for casual.
That said, for the looks of vests that I am totally smitten with at the moment, I've gathered a round up of 7 for your quick consumption right here.
They're fun, edgy, bold, artistic, random and can behave as a low key layering piece on top of whatever you are wearing or as a statement topper guaranteed to inject a special kind of sass into your getup.
Enjoy these vintage vests from the 70s to the 90s.
Vintage vest styles from the 70s to 90s to get your dose of vests satiated
Well folks, what do you think of these vest styles? Which one would you most likely wear?
Till the next one, keep your brain cells stimulated in the right way, stay active, eat healthy and sleep soundly!
For more fashion inspired by the rare gem that is Emma Chamberlain, keep this space bookmarked.