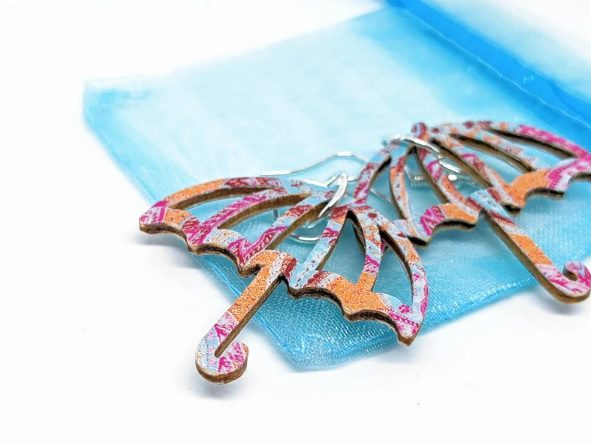 Disclosure: This post contains affiliate links, which means that if you click on one of the product links, a small commission may be credited to this site.
© All images are copyrighted by their respective authors.
For a cool rainy day ear game: Get into these umbrella earrings!
Novelty earring lovers, this one's for you and if you're into umbrellas in general, well, this definitely will be your cuppa tea!
Let's go for a rainy day earring inspo in the form of umbrella earrings!
Umbrella earrings feature miniature umbrella designs hanging from ear hooks. They are a fun and playful addition to any outfit and can be a great conversation starter.
Some interesting details about umbrella earrings:
Materials:
Umbrella earrings can be made from a variety of materials, including metal, wood, plastic, fabric and even paper. They sometimes come with rhinestones, beads, crystals or other decorative elements to bring added oomph via extra sparkle and texture.
Style:
Umbrella earrings come in an array of styles; from cute and whimsical to sleek, elegant and modern. Some feature small umbrellas, while others carry a larger, more elaborate designs as a bold statement.
Color:
Umbrella earrings come in a variety of colors, including bright and bold shades as well as more muted, neutral tones. Some carry patterns or unique designs on the umbrella itself.
Occasions:
Umbrella earrings are perfect for adding a fun and quirky touch to your casual outfit or as a way to create a pop of color and texture to your more formal ensemble. They are suitable for those who love to express their individuality and a unique sense of style.
Symbolism:
In some cultures, umbrellas are seen as a symbol of protection, which may be one reason why some people choose to wear umbrella earrings. If you are inclined to wear something meaningful, then umbrella earrings can serve as a reminder to stay positive and look for the bright side even on a rainy day.
In conclusion: umbrella earrings are a playful and fun accessory that can add a touch of whimsy to any outfit. Whether you prefer simple and understated designs or bold and colorful ones, there's sure to be a pair of umbrella earrings out there that will merge with your style and personality.
Enjoy our faves below:
Furry hoop earrings for ears that stand out:
How cute are these umbrella earrings?!
What do you think of these rainy day inspired earrings? Which pair of statement umbrella ear candy would you love to wear? Share below – I'm always thrilled to hear from you!
Till the next earring post, take care of your health, do what you love, smile a little bit bigger, laugh a little bit louder and most of all: let all you do spring from that gooey soft corner in your heart!
To independent jewelry makers: Get in contact with us so we can share your unique creations in this space!
Cheers!
Are you an independent jewelry artist with a collection of unique earrings you're excited to show to the world? Drop us a message so we can have your designs featured here!
Stay inspired, eat healthy and be emphatic to others you meet in your path! We may be outwardly different but we're all the same life stuff on a journey. Take care!
Other fun earrings to brighten your day: