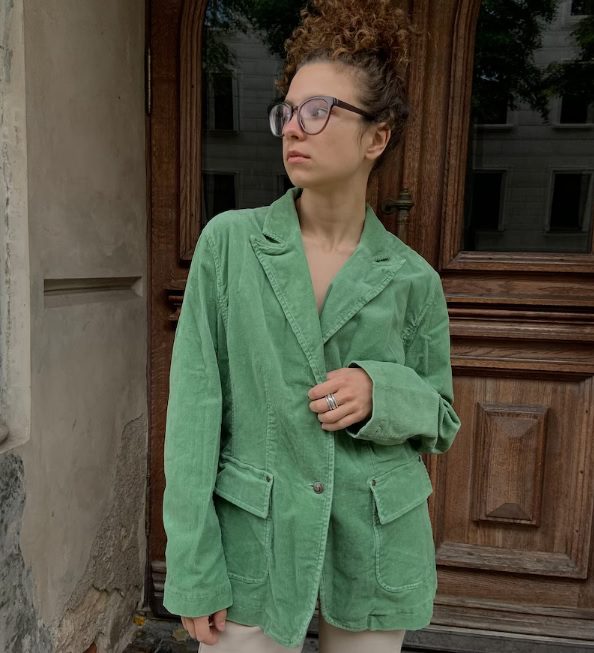 © All images are from and copyrighted by their respective authors.
This affiliate post features a look into the vintage oversized blazers that are guaranteed to go with your special occasions' ensemble and everyday attire. Keep the space bookmarked if you're into keeping up with vintage fashion inspiration.
I saw Emma Chamberlain cooking for Vogue the other day and she sported a very oversized blazer that looked super chic and it inspired this post. Emma is such an inspo.
Girls, if you're one to want to get clad in a vintage blazer that's got that effortless relaxed fit, then this post is defo for ya!
Let's get down to the topic at hand, shall we?
The oversized vintage blazer style has been a popular trend in recent years, and it's easy to see why. It's a versatile and stylish outerwear style that can be dressed up or down a fab way to add some vintage oomph to your wardrobe.
When it comes to oversized vintage blazers, the key is to find the right fit. While you want the blazer to be oversized, you don't want it to be TOO big that it looks like you're wearing someone else's clothes. Look for a blazer that is one or two sizes larger than your normal size and make sure the shoulders fit well so that it doesn't hang strangely over your frame.
Once you've found the right fit, there are many ways to style an oversized vintage blazer. One popular way to wear it is with a pair of high-waisted jeans or pants, a simple t-shirt or tank top, and sneakers or ankle boots. This creates a casual and effortless look that's perfect for everyday wear.
For a more dressed-up look, you can pair an oversized vintage blazer with a midi or maxi dress, tights, and heels. This creates a chic and sophisticated outfit that's perfect for a night out on the town or a special occasion.
Another way to style an oversized vintage blazer is to wear it as a dress. This can be done with a long blazer that falls just above the knee, or with a shorter blazer that is belted at the waist. Pair it with knee-high boots or ankle boots, and you have a stylish and unique outfit that's perfect for fall or winter.
When it comes to accessories, an oversized vintage blazer looks great with statement jewelry, such as chunky necklaces or large earrings. A scarf or hat can also add some extra flair to the outfit.
In conclusion, the oversized vintage blazer style is a versatile and stylish look that can be dressed up or down. With the right fit and styling, it's a great way to add some vintage vibes to your wardrobe and create a unique and fashionable outfit.
Vintage oversized blazers that are our cuppa tea:
So, what do you think of these vintage oversized blazers?
What other vintage fashion trends are you looking forward to seeing (and wearing) this year? Share with us!
We love fashion that trigger all kinds of good feelings.
Kindly email us if you would love to have your own unique fashion collection featured in this space. We'd love to hear from you!
Till the next one, keep healthy, move your body, nourish it well and make time for meditation!
Stay free.