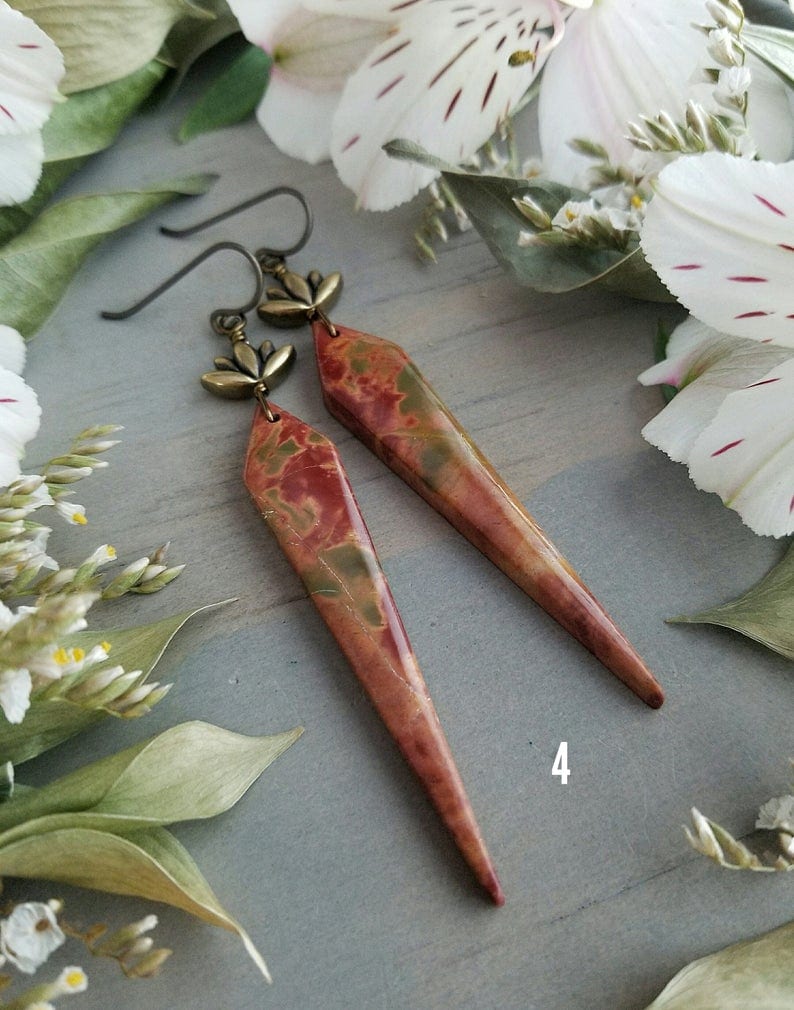 Disclosure: This post contains affiliate links, which means that if you click on one of the product links, a small commission may be credited to this site.
© All images are copyrighted by their respective authors.
There's something quietly mesmerizing in a pair of boho earrings that include a mix of metals, beads and gemstones in them. Today's earring inspo is one that will make your heart sigh in utter pleasure.
The boho earrings are designed in a long dangly style that will frame your face elegantly whether you wear your hair up or down. They're a statement on their own but can easily be worn with boho-styled getup or your casual minimalist ensemble with no fuss at all. In fact, they will give your ears an extra dash of interest through the mixture of metals, beads, stones and colors.
Are you a fan of long earrings with a specifically dangling styling? Then, you're definitely going to swoon when you give the collection by MileHighBeads a good look!
Down below, you will find a list of 5 styles of handcrafted long boho earrings that will get you excited for no reason other than them being oh so beautiful! Kudos to the designers and jewelers.
Let us take a look at each earring style, now, shall we?
Bohemian Earrings With A Long & Dangly Style To Frame Your Face
These long and dangly elegant earrings will effortlessly make a statement for you! They feature shimmering, top-grade blue Kyanite gems with sparkly, blue crystals. They are finished with a long, rustic, solid brass teardrop charm, plated with 24kt gold.
Absolutely breathtaking, aren't they? The boho dangle earrings feature shimmery, iridescent abalone shells with swirling shades of purple, pink, blue, green, and silver. The diamond-shaped beads are finished with a long, solid brass, inverted triangle charm, plated with 24kt gold.
Love crystals? Then, why not wear them on your ears too? These earrings feature beautifully marbled pink tourmaline in quartz dagger beads with shades of pink, white, and stormy gray. They are accented with sparkly, blue crystals and copper beads with a hand-painted, turquoise patina.
Love the marbled look and the shape of a dagger? Consider these. The earrings feature Red Creek Jasper dagger beads with marbled shades of brick red, burnt ochre, mauve, and sage green. They are topped with either an antique or brass lotus crown.
Feathers for my boho queens. These beaded feather earrings sure are something else! A vibrant rainbow of seed beads are woven within a shining, gold-plated feather charm and finished with your choice of either a rich, blue Lapis Lazuli or sparkling, clear Quartz dangle, or no dangle at all.
So, which boho long statement earrings are your favorite? Share with us down below.
Are you an independent jewelry artist with a collection of unique earrings? Drop us a message so we can have your designs featured here!
Stay vibrant and be emphatic to others you meet in your path! We're all the same life stuff on a journey. Take care!
For more earrings like these, please visit MileHighBeads.