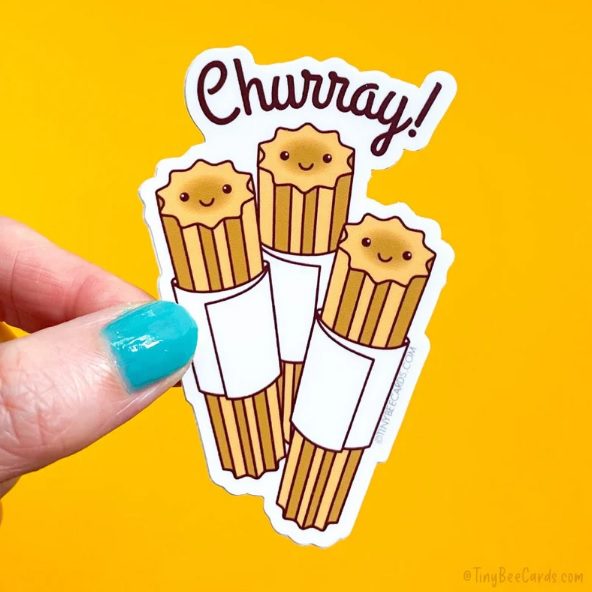 Disclosure: This post contains affiliate links, which means that if you click on one of the product links, a small commission may be credited to this site.
© All images are copyrighted by their respective authors.
Churros are simply tasty. I love them quite a lot. You seem to do so too.
For lovers of churros, anything and everything related to churros are an absolute treat. From soft churro plush you can squeeze and hug to vinyl stickers in the shape of your favorite churro sticks to adore, we take a look at a list of churro-inspired jewelry and kawaii knick-knacks that you can gift to someone who is a fan and even yourself.
In other interesting jewelry news, if you want bracelets that are permanent, thank a pop-up business in Columbus for introducing permanent bracelets. These are not tattoo bracelets. It's just (claspless) bracelets that are made for people who prefer jewelry to be forever a part of their wrists.
Back to churros – Allow yourself to scroll on to view 10 delightful churro-themed charms and ornaments and enjoy:
10 churro-inspired charms, stickers, ornaments and art to appreciate:
How adorable are these churro-inspired earrings, charms, art, ornaments, tee and candle? Which churro-inspired thing would you love to get your hands on?
Share below. I love hearing your thoughts.
Till the next post, take care of your precious self, do what you love, smile from your heart, laugh from the belly and most of all: let all you do spring from that gooey soft corner in your heart!
To independent jewelry makers: Get in contact with us so we can share your unique creations in this space!
Are you an independent jewelry artist with a collection of unique earrings you're excited to show to the world? Drop us a message so we can have your designs featured here!
Stay inspired, eat healthy and be emphatic to others you meet in your path! We may be outwardly different but we're all the same life stuff on a journey. Take care!
Other fun things we vibe with: