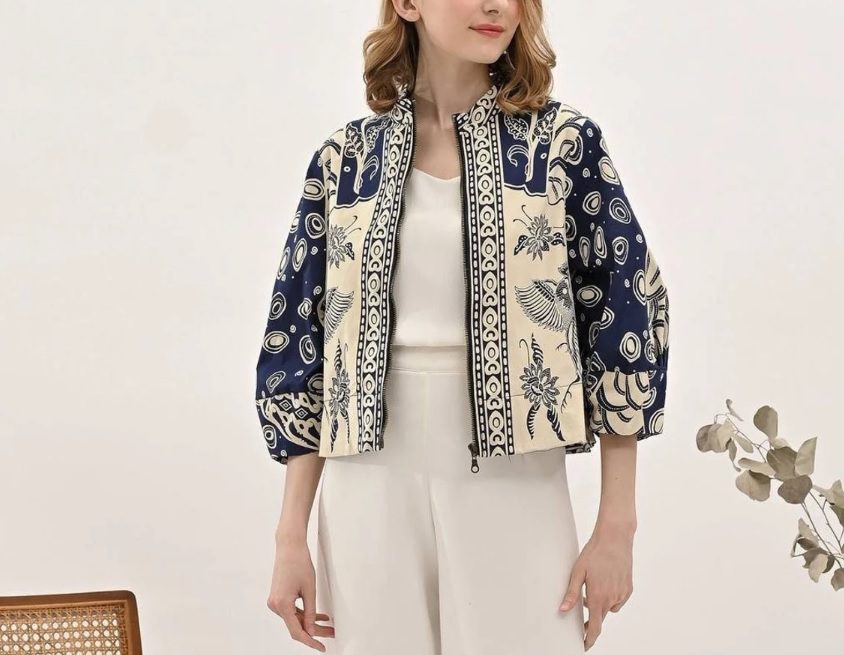 © All images are from KatrinCollection and copyrighted by their respective authors.
This post features a look into the batik bomber jackets from Indonesia. Keep the space bookmarked if you're into keeping up with contemporary contemporay batik fashion. 
How to do the cool girl Raya look in bomber jackets patterned with traditional Indo batik?
If you aim to go for the casual route this Raya (Eid celebration in Malaysia) season, then a bomber jacket to go over anything is a MUST especially when they're in riveting Indonesian batik!
Ladies, a bomber jacket made of batik is such a unique sight. The print is a nod to the wonderful Indonesian batik crafted using traditional techniques. The batik print is vibrant and an eye-catcher when fashioned in a very contemporary outer jacket. You can wear it practically over anything and the bomber jacket will elevate your whole look in an instant with a touch of personality and oomph. Who doesn't want that?
For those eyeing for statement batik jackets, this bomber jacket style right here is worth considering. The way that the jacket hem hovers around the small of your waist makes it very visually-captivating as it helps to enhance and elongate your figure. Just be sure to read the measurements carefully as the sizes are tailored according to the (smaller) Asian bracket.
Check out the batik bomber jackets and tell us you RELATE when we say they're oh so mighty chic!
Here are 7 modern batik bomber jackets to choose from should you want a bold statement jacket to layer over any outfit you happen to be wearing.
Batik Bomber Jackets To Layer Over Everything:
As we love to say: It's all in the details, gals!
So, what do you think of the batik bomber jackets we've shared here? Which one is your favorite? Tell us your thoughts!
What other
batik style fashion

would you love to see here? We love hearing from you.
Visit KatrinCollection to view their stunning batik bomber jackets in closer detail.
Previous batik fashion to inspire you: