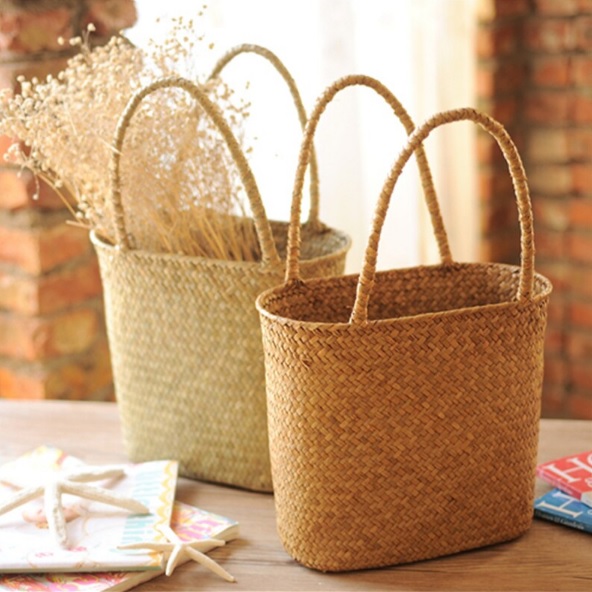 © All images are from and copyrighted by their respective authors.
This affiliate post features a look into the earth-loving woven straw bags for a conscious grocery shopping mindset. Keep the space bookmarked if you're into keeping up with stylish bag trends and designs. 
Woven straw is a mood. It's time for you to elevate your grocery fashion with woven totes that you can use of repeat.
Drop that plastic bag. Unleash your beautiful woven tote as you hang by the fresh produce section in your local grocery store.
Totes bags are a must when you're out shopping for onions, garlic and your favorite root veg. How else are you going to carry them when you think about all that plastic matter overwhelming our earth's ecosystem?
These unisex woven tote bags are roomy and absolutely great for carrying all that fresh produce you've picked out for that hearty yet balanced meal you're about to whip out with the help of your favorite YouTube chef. 
The woven bags are earthy in their choice of color palette and have the right amount of space that you need so the potatoes can stay safely inside while you look for parsley while oozing an oh so chic aura.
These straw tote bags are a neutral shopping accessory that will go with just about any look you happen to be wearing. Don't believe me? Just let your imagination run wild.
That said, let's just feast our eyes now, shall we?
Take your grocery shopping OOTD to the next level when you carry these earth-conscious woven straw totes...
What do you think of woven straw tote bags for grocery shopping in style? Would you be keen to carry any one of them? If so, share your favorite with us below
Please kindly visit GrandmaWeaving to appreciate the beauty of these woven bags in greater detail.
We love bags that trigger all kinds of good feelings.
Kindly email us if you would love to have your own unique handcrafted bag collection featured in this space. We'd love to hear from you!
Till the next one, keep healthy, move your body, nourish it well and make time for meditation!
Stay free.
More bag fashion inspiration: