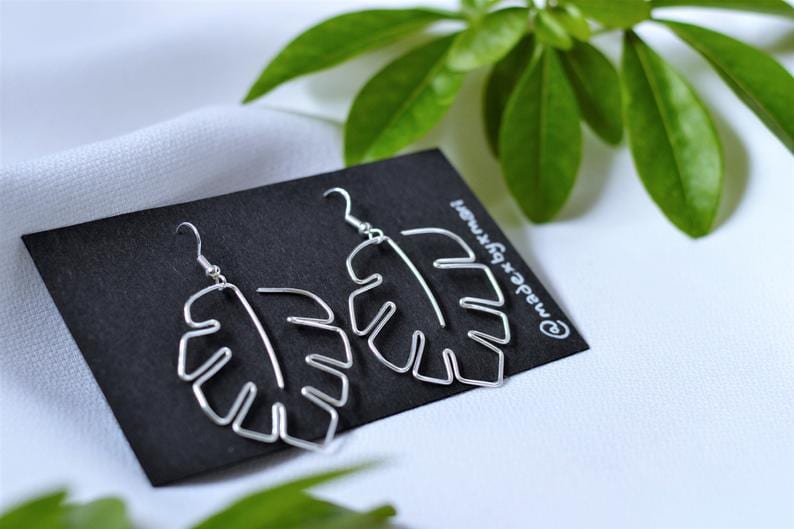 Disclosure: This post contains affiliate links, which means that if you click on one of the product links, a small commission may be credited to this site.
© All images are copyrighted by their respective authors.
Lightweight and chic, these wire earrings are an absolute delight to wear. Honing in on the use of negative space in jewelry-making, these earrings appeal to your appreciation for the less-is-more kind of vibe.
Hey peeps, it's another entry on a cool wire earring trend you can get behind! I'm appreciative of the use of negative space in jewelry design and when it comes, to these wire earrings, there's something light and airy about them as the outline of the shape is where the jewelry artist keeps her focus on. These lightweight wires are bent and molded to express the outline of a shape as envisioned by the hands that work on them.
The collection of wire earrings are creatively handmade by Mari, the jewelry artist and designer behind the label, madexbyxmari at the start of the pandemic and since then, she has expanded upon her design ideas. These wire earrings in particular are a stand-out as they're fun and an easy favorite for the minimalist. I mean, any outfit will be better when accompanied by versatile earrings like these!
Let us take a look, now, shall we?
Wire Earrings That Use Negative Space Design Appeal
Do you go gaga over kawaii things? These flowery gems will defo fall under the umbrella category of ultimate cuteness. Flowers are pretty universal and unless you really dislike petaled things for some reason, these wire earrings will fit right into your style aesthetic.
This unique pair of the outline of a female torso will introduce an unexpected style element to your daily look and be the cause for a spirited socially-distant conversation. Hard to say no to donning these artistic wire earrings and slay, I must say.
Thanks to birds of all kinds of feathers, we appreciate a feathery looking adornment around the sides of our faces. If you are looking for a feather earring that is outside the box of a faux or real feather dangling by your ear, a wire interpretation is perhaps your next go-to. This one's wonderfully abstract and chic.
Tropical leaf and cottagecore enthusiasts will appreciate. These leafy bling will frame your masked face with a touch of garden chic. Be warned, your friends, mother and sisters will want a pair too.
What a great gift these will be for the celestial being that is yourself or/and loved ones. The quirky crescent moons look super chill and will hang out beautifully on your lobes!
So, which pair of wire earrings is your favourite? Tell us down below.
Are you an independent jewelry artist with a collection of unique earrings? Drop us a message so we can have your designs featured here!
Stay fresh, fit and keep your distance!
Browse through more exciting wire earrings handmade by madexbyxmari @etsy.
More fun earrings to scour and get inspired by: