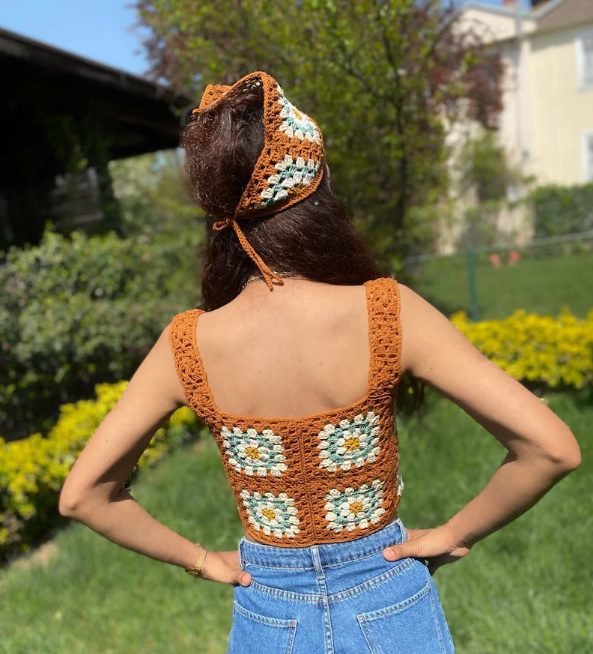 © All images are from and copyrighted by their respective authors.
This affiliate post features a look into the summer crochet tops that are guaranteed to make your summer day dressing super fun. Keep the space bookmarked if you're into keeping up with crochet fashion inspiration.
Love the textured peek-a-boo look of a summer crochet top? We have 7 coveted crochet toppers for you.
Crochet tops whisper dreamy summers and depending on the space in between the interlocking loops of yarn, thread or strands of other fabric materials, you can totally top a breezy one over a swimwear you have under and walk in the breeze prior or post swimming. Even if you're just out and about running errands, a bit of crochet layered over a tank top can give your style quite a fun summer visual interest. 
Depending on your fashion aesthetics, you can go for an effortless Y2K twist, grunge edge or perhaps a bohemian summer fairy.  However, we recommend that you refrain from letting the aforementioned style vibes limit you as you can definitely go for other crochet top styles that float your current fashion boat.
Crochet tops are aplenty out there but let me narrow it all down for you into 7 crochet masterpieces that you might definitely see yourself wearing this summer:
Enjoy!
Crochet tops that spell summer daydreaming in the breeze:
So, what do you think of these crochet tops?
What other crochet fashion trends are you looking forward to seeing (and wearing) this year? Share with us!
We love fashion that trigger all kinds of good feelings.
Kindly email us if you would love to have your own unique fashion collection featured in this space. We'd love to hear from you!
Till the next one, keep healthy, move your body, nourish it well and make time for meditation!
Stay free.