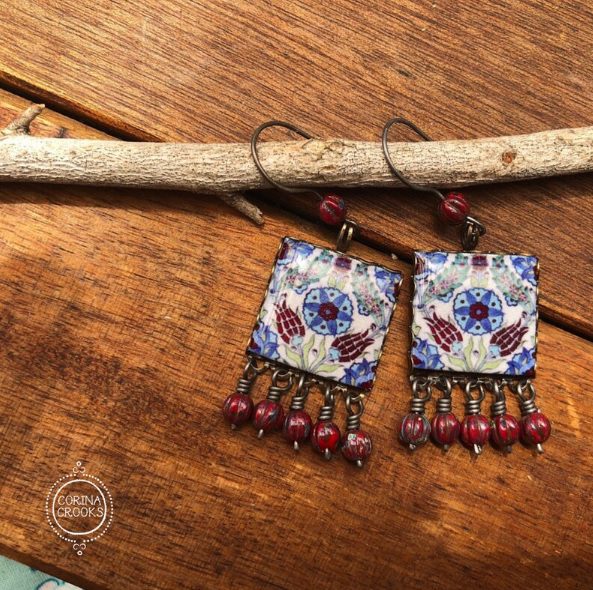 Disclosure: This post contains affiliate links, which means that if you click on one of the product links, a small commission may be credited to this site.
© All images are copyrighted by their respective authors.
Inspired by tiles from the Turkey to California?
It's time to don them dazzling squares on lobes this season!
The mood is all tiles with us over here. Allow these miniature tile earrings to hit the refresh button on your ear game this holiday season.
Dreaming of historical vintage tiles decorating your earlobes? Get ready to be overwhelmed by choices. From Morocco to California, these are the tile earrings that you can adorn your ears with for bold touch of vintage historical tilework that's delightfully vivid, colorful and intricate.
How are these tile earrings  DIFFERENT and distinctive from the rest in the market?
Made of tile patterns from historical places across the globe in miniature form, the mini tile design is printed onto thick plastic which is then coated with tile cabochons in layers of glassy resin resulting in a lightweight tile earring with antique bronze lace edge setting! If you're into earrings with a bohemian touch or a Diwali-worthy ear masterpieces, these are SIMPLY the earrings to get.
Vintage Tile Earrings So Lightweight You Want More Than Just 3 Pairs...
What do you think of these historical vintage style tile earrings? Which pair would you love to wear? Share below – I'm always thrilled to hear from you!
Till the next earring post, take care of your health, do what you love, smile a little bit bigger, laugh a little bit louder and most of all: let all you do spring from that gooey soft corner in your heart!
To independent jewelry makers: Get in contact with us so we can share your unique creations in this space!
Cheers!
Are you an independent jewelry artist with a collection of unique earrings you're excited to show to the world? Drop us a message so we can have your designs featured here!
Stay inspired, eat healthy and be emphatic to others you meet in your path! We may be outwardly different but we're all the same life stuff on a journey. Take care!