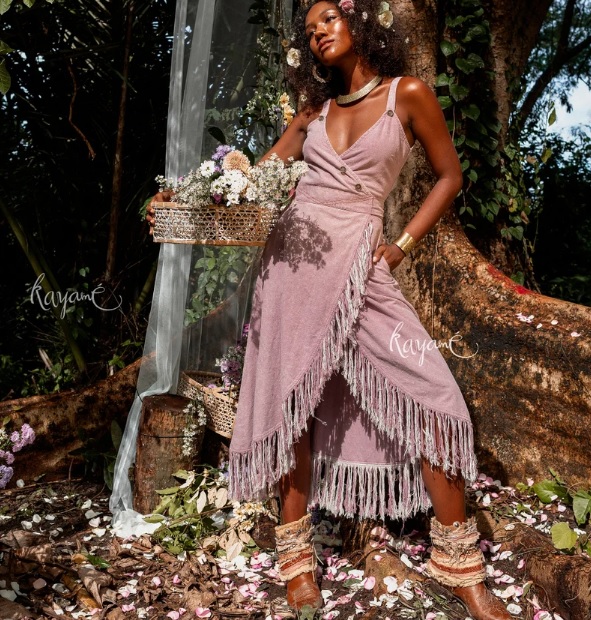 © All images are from Kayame Boutique and copyrighted by their respective authors.
This affiliate post features a look into the bohemian dress styles that are made with great love for the environment. Keep the space bookmarked if you're into keeping up with contemporary bohemian fashion trend. 
For carefree bohemian with a love for dresses crafted with mastery and love for Mother Nature.
These are some of the most stunning dresses I have seen styled on models with Mother Nature as an epic background. Crafted by a nomad designer herself, these masterpiece of dresses are especially made for nature-loving fashionistas who find affinity in bohemian culture as well as the Victorian times.
Made of the materials that come from meticulously selected sources, these boho maxi dresses bring about them a sense of fashion that is in touch with Earth. They appeal to your feminine and romantic side as well as your love for wearing dresses that embody the strength in femininity and the mesmerizing earth Goddess look. The dresses are comfortable, natural and absolutely organic. A perfect choice for going into the wild and dining at your favorite cafe. They are absolutely made for dancing at a summer festival too! Just accessorize to your heart's delight.
Scroll to find a quick inspo in these stunning bohemian dresses and enjoy.
Bohemian dresses made with a big nod to our Mother earth...
So folks: What do you think of these long and billowy bohemian dresses? Which one would you love to wear? Share below!
Please give Kayame Boutique a visit to give the dresses a closer inspection and to read their dazzling reviews.
More bohemian fashion to inspire you: