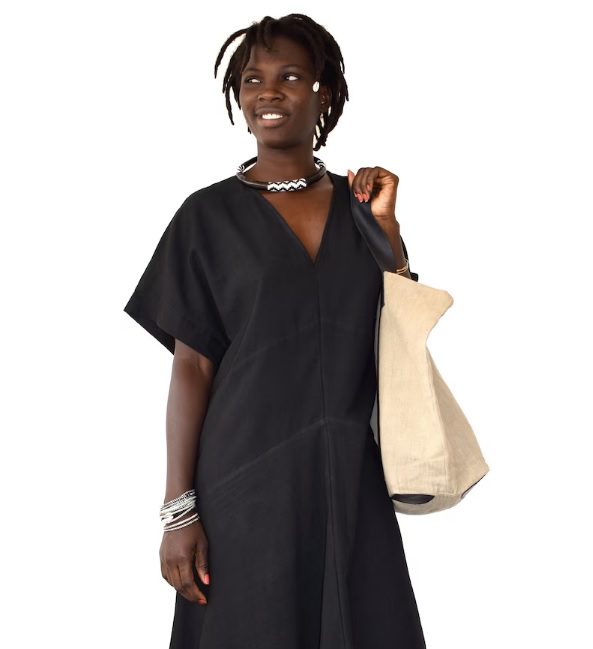 © All images are from and copyrighted by their respective authors.
This affiliate post features a look into the summer midi dresses that are guaranteed to make your summer day dressing super fun. Keep the space bookmarked if you're into keeping up with summer dress fashion inspiration.
Love a chic slip-easy cotton midi dress style? We do too.
I suppose a cotton dress is the best for when it's hot out and you can't be bothered with much else when it comes to your quick casual summer day dressing. Stumbled something just right for the scorching temps and it's a midi dress cut in the most wearable silhouette with a signature asymmetric hem.
For a quick, easy & breezy summer dressing, slip into these cotton dresses cut in a fun asymmetric style.
The chic midih black dress is made of breathable cotton and hand-dyed. Its big on simplicity and comfort. The hem is designed purposefully to be asymmetrical and the dress is made for those who would like to dress in a single colored frock. From muted black to blue, you will find there are also brighter renditions in yellow, green, red and light blue.
For the minimalist girl that's into clean mod easthetic, the dress is perfect for a hot night out on the town and even for when it's vacay season.
The chic summer midi dress has three quarter sleeve, a mid-calf length, v-neck and machine washable at temps of 30 degrees – 40 degrees. What are you waiting for, ladies: the light summer dress calls for you!
Have a look at them and enjoy!
Midi summer dressing made easy with these cotton frocks...
So, what do you think of these breezy summer midi dresses? Which one would you wear?
What other summer fashion trends are you looking forward to seeing (and wearing) this year? Share with us!
We love fashion that trigger all kinds of good feelings.
Kindly email us if you would love to have your own unique fashion collection featured in this space. We'd love to hear from you!
Till the next one, keep healthy, move your body, nourish it well and make time for meditation!
Stay free.