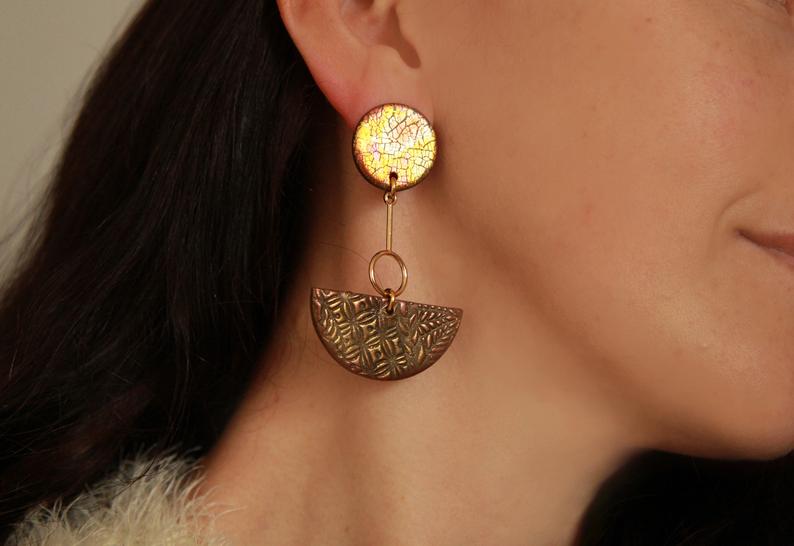 Disclosure: This post contains affiliate links, which means that if you click on one of the product links, a small commission may be credited to this site.
© All images are copyrighted by their respective authors.
Of course, when we say 'party' it goes without saying that one takes with them their face masks and keeps their social distancing game on point.
While looking at the newest look in the world of polymer clay earrings recently, I spotted a design that's rather memorable and different in a sea of exciting clay earrings on Etsy.
These polymer clay earrings have a rustic gold/bronze or copper twist to them that accentuates their textures making them all the more mesmerizing. Julia Buduart, the creator behind the collection employed the use of gold leaf and texturizing sheets to create her unique masterpieces and I'm really smitten by the rustic bronze look that came out of her wonderful designs.
For those into the rustic golden look in earrings, these polymer clay creations are worth considering as they are simply a breathtaking work of art. From statement studs to the dangle variety, the designs are versatile enough to be worn as statement pieces in a party get-up or casually worn in neutral outfits such as the classic jeans and tee combo with a style ease and flair. These earrings will definitely be triggering whispers of admiration from your friends, admirers and enemies alike!
To have a feel of how stunning the textured polymer clay earrings, scroll away and enjoy!
Unique Polymer Clay Earring Design: Bronzed & Textured To Perfection
Don't you just love how the polymer clay earrings are designed to mimic the metallic look of textured brass/copper earrings? I just love it! It shows how a jewelry artist and designer can push the boundaries of polymer clay earring design into new territories by exploring techniques and tools readily available.
So, what do you think? Have you created something yourself that you'd like to share or know of any independent polymer clay jewelry artists whose work you'd love for me to cover here? Please get in touch! I love hearing from you :)