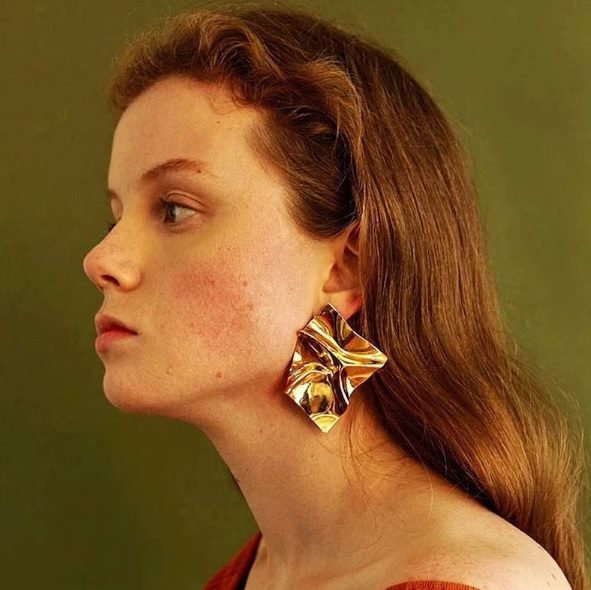 Disclosure: This post contains affiliate links, which means that if you click on one of the product links, a small commission may be credited to this site.
© All images are copyrighted by their respective authors.
Let your ears be EXTRA edgy this season.
Welcome earrings that are outside the whole usual shapes as they are marvelously CRUMPLED and purposely irregular & asymmetrical.
This season, let it be known that you're going OUTSIDE of the usual decorated BOX when you don a pair of irregular earrings that celebrate the shape of a crumpled piece of metal. Crumply earrings in your favorite metal will easily switch up your everyday look in a sweet jiff and your face will thank you for taking the ultimate creative route with your choice of earrings.
Let's face it: Earrings come in so many styles, it's so nice to completely go outside the usual default geometric shapes and into the world of irregular crumpled messiness. When paired with a streamlined outfit, you best know that the earrings will SHINE! And that means you TOO.
These are the latest 10 crumpled irregular earrings we hope to see dangling on your ear lobes this season. Enjoy!
10 irregular crumpled earrings to go with your edgy spirits:
I feel that if you find and appreciate beauty in imperfection, then these are the earrings to consider, truly!
What do you think of these irregular metal earrings? Which pair of crumply earrings would you love to wear? Share below – I'm always thrilled to hear from you!
Till the next earring post, take care of your health, do what you love, smile a little bit bigger, laugh a little bit louder and most of all: let all you do spring from that gooey soft corner in your heart!
To independent jewelry makers: Get in contact with us so we can share your unique creations in this space!
Cheers!
Are you an independent jewelry artist with a collection of unique earrings you're excited to show to the world? Drop us a message so we can have your designs featured here!
Stay inspired, eat healthy and be emphatic to others you meet in your path! We may be outwardly different but we're all the same life stuff on a journey. Take care!
Other fun earrings to brighten your day: