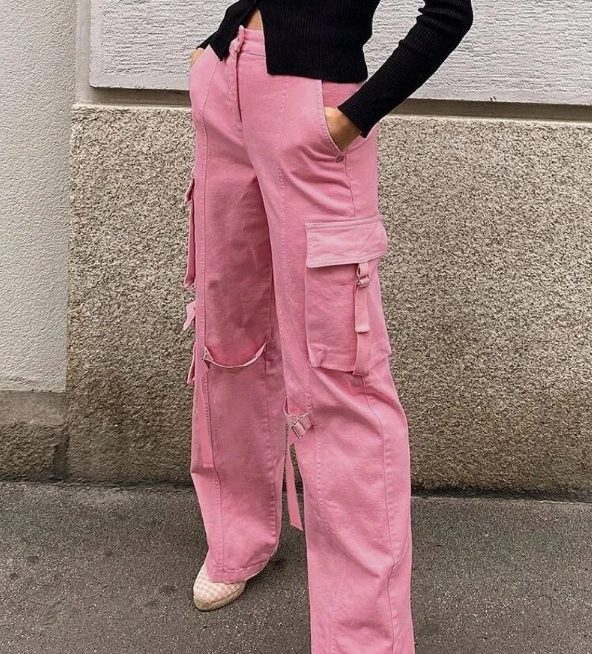 Disclosure: This post contains affiliate links, which means that if you click on one of the product links, a small commission may be credited to this site.
© All images are copyrighted by their respective authors.
Folksies, it's utility pants season: enter cargo pants.
NGL: I miss NOT the cargo pant days of my late teens growing up in the 90s. Well, the army green pair with pockets was okay. I had no strong feelings about the trouser style at the time as I was more of a resort patterned pants gal. I didn't really use that extra pockets but the slightly roomy space it provides for my meaty legs was a blessing. Since I have no love for putting things in my pockets – their excess in number had no hold on my sense of dressing.
Today's cargo pants take the bitter sweet 90s and y2k fashion into new levels. These pants are still utilitarian of course but they're now made for the fashion crowd with insatiable tastes and preferences. Expect to see the cargo pants in all kinds of materials from denim to suede. The pockets are the signifying factor to making them cargo-esque. The fit and overall design are basically roomy from top to toe while some are intentionally made to taper and then cuff at the end but still retain roominess up top after the cinched waist.
So, what makes these pants a must-have?
Well, if you're about pockets and love that there are more of them on your pants, the pants have to be yours.
The roomy design is fantastic for those who are sick and tired of tight-fitting pants. They're made from various fabrics suited for all kinds of seasons so you can have the cargo pants for winter, spring, summer and fall. For those into denim, there's the denim cargo pant variation for you. Loose pants are loose but the waist ought to hang where you want them to so it's best to get a pair of cargo pants that flatter your figure. From dressy to casual looks, these pants hold a lot of room for style experimentation. They can be styled up or down according to the occasion. Wear with heels for a semi-dressy feel or amp up the sporty casual look with a pair of sneakers. The choices are endless. Slip into sandals for a day of running errands. The key is to do be purposeful when you find yourself in a pair of spacious cargo pants.
While the young kids find the newness of cargo pants refreshing, these are the kinds of pants older adults wear in my small town. They just wear them because COMFORT. ;) I will be joining them soon, lol.
Here are some latest cargo pants that caught my eyeballs. Hope you will enjoy the selection:
The new cool pants in fashion town: CARGO pants...
Well folks, what are your honest thoughts about the return of the cargo pants? Have you been a fan of them or are you just starting to find them attractive? Share your thoughts!
Till the next one, keep your brain cells stimulated in the right way, stay active, eat healthy and sleep soundly!
For more fashion inspired by a bunch of returning styles and trends of the yesteryears, kindly keep this space bookmarked.
Other roomy pants to try: