If you think that no polygon is ever as awesome as triangles, then you must check out the triangle bracelets we've compiled just for you.
Unlike squares or rectangles, triangles seem to have a quite solid fan base and a recurring feature of today's jewelry fashion trend. There is something about the three-sided polygon that keeps appealing to us and it isn't going anwhere just yet.
I for one, am quite into the triangle jewelry trend. In my possession, I have two pairs of triangle earrings (a turquoise one I have written about which is my favorite) and a pair of gold and black triangle stud earrings I quite like the look off.
Comparing the two, I can say with certainty that the handmade one from Etsy is better in terms of quality and usability. The latter is friendly to sensitive skin and the workmanship of a detailed indie jeweler is at a level that cannot be reproduced by the oiled machinery of fast fashion.
From statement necklaces, rings to earrings, triangles are used as pendants and charms that their staying power in the jewelry fashion scene reveals their versatility. Delve more on the meanings behind the triangle as a symbol while feasting your eyes on the minimalist triangle necklaces in my earlier post here.
For now, let's jump in to the list of handmade triangle arm candy list below and enjoy!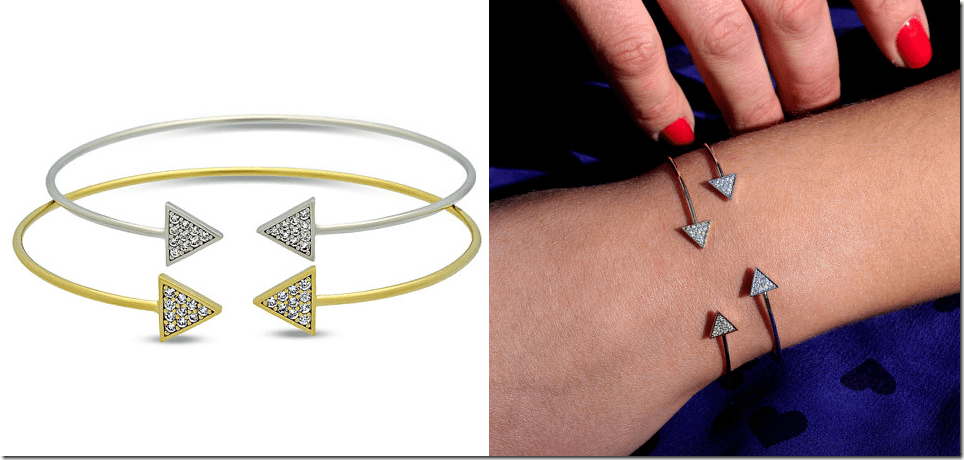 ♥ ARTZO | dainty triangle cuff bracelet
This open ended bracelet by ARTZO is effortless and chic. Available in gold and silver, your triangle bracelet will be wrapped in a free velvet jewelry pouch. The bracelet is hypo-allergenic. The look of a bended arrow of this triangle bracelet symbolizes strength and stability.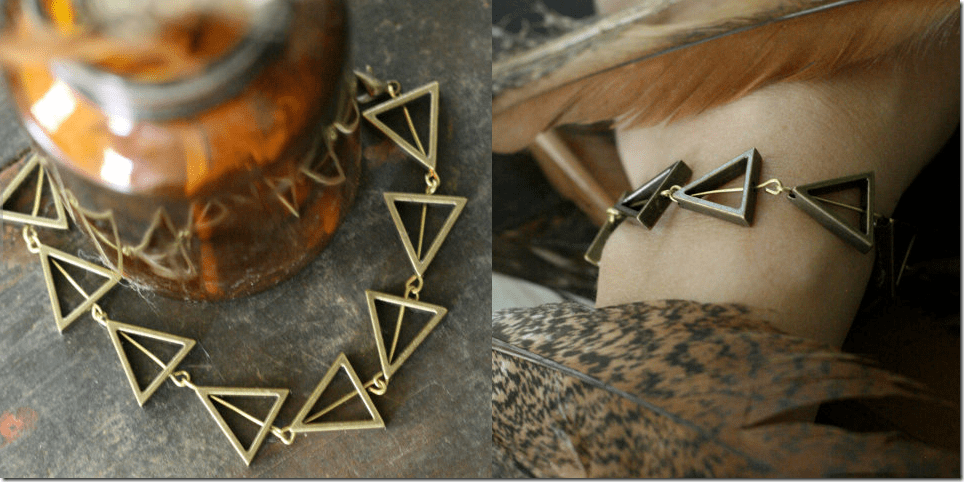 ♥ PaperHeartAnatomy | geometric brass triangle bracelet
PaperHeartAnatomy jewelry collection embodies the modern and simple take on the Native American spirit. This mesmerizing triangle bracelet is sturdy and suited for the minimalist hipster. This one will make a really unique jewelry accent for your everyday look.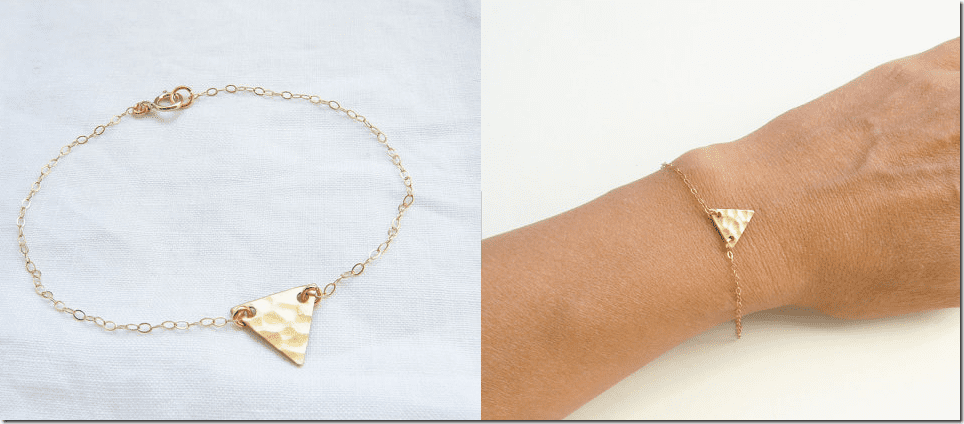 ♥ PetitBlue | gold hammered triangle minimalist bracelet
This minimalist triangle bracelet is especially suited for those who appreciate fine and dainty jewelry. You can specify your preferred chain length and this will be mailed to you in a gift box, ready for gift-giving. Check out PetitBlue if you love wearing simple and modern jewelry that will go with any outfit and occasion.
♥ bySiukwan | gold tiny triangle bracelet
This triangle bracelet is simply gorgeous, made by another dainty and minimal jewelry maker who carries a beautiful list of sparkly things at her disposal.

♥ Sittons | gold two chain triangle bracelet
Like something a little bit different in design? This gold-filled triangle bracelet features two chains.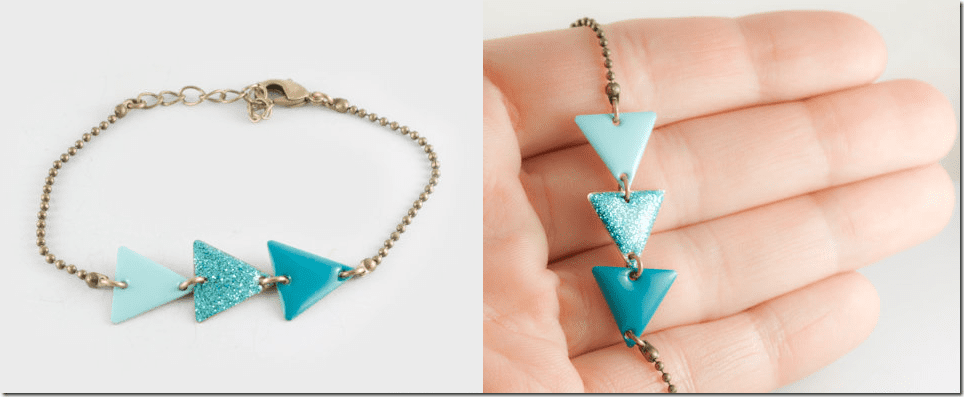 ♥ Milado | ombre mint turquoise triangle bracelet
If you love any shades of minty turquoise, you will love this! All of Milado's creations are stunning and if you love turquoise jewelry, her collection will make you cry tears of joy.

♥ AmprisLoves | triangle trio geometric bracelet
Make a statement with this geometric bracelet. The swinging gold triangles add a fresh and fun take to this simple yet intricate arm candy.
So, which one is your favorite? Spill below – I'd love to know!
"My favorite things often have a story behind them and are usually handmade or discovered at a flea market." — Amy Sedaris
Disclosure: This post contains affiliate links, which means that if you click on one of the product links, a small commission may be credited to this site.
Love this post? Share it with your friends! Follow us for more fashion inspiration:
♥ Twitter ♥ Facebook ♥ Google+ ♥ Bloglovin ♥ Pinterest ♥ Polyvore ♥
© All images are copyrighted by their respective authors.
Here on Fashionista NOW, our one and very own Miss Reverie showcases the latest in fashion trends and its various social implications in our everyday lives. You may read more of her at REVERIE SANCTUARY.