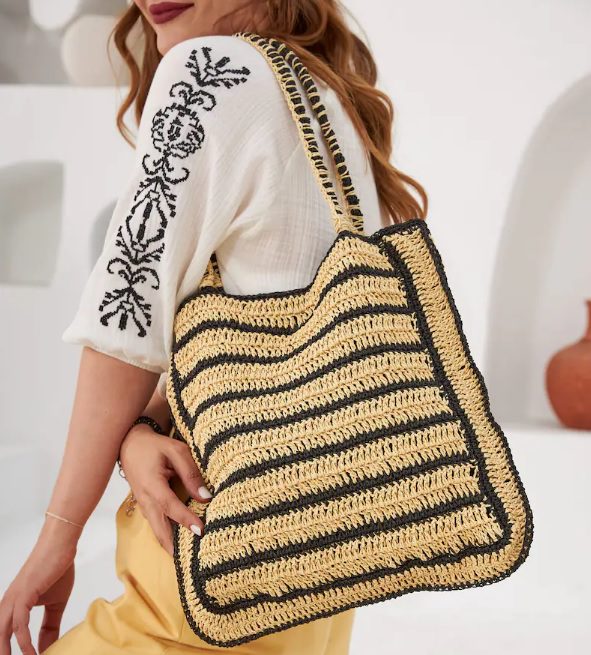 © All images are from and copyrighted by their respective authors.
This affiliate post features a look into the versatile woven straw bags that are guaranteed to go with your day-at-the-beach ensemble and everyday attire. Keep the space bookmarked if you're into keeping up with casual beachy fashion inspiration.
The inner beach girl is dreaming of woven bags to go with that flowy sundress. Is that you? Here are the woven bags you might want in your beach girl era repertoire.
A woven straw bag is a charming and versatile style of bag that is absolutely the aesthetic to match your earthy beach vibes.
With its natural and rustic appeal, it can easily add a touch of bohemian or beachy vibes to your beach (and other casual) outfits. These bags are crafted using traditional techniques, weaving together strands of straw or other natural fibers to create a sturdy and visually appealing structure.
The origins of woven straw bags can be traced back to various cultures and regions around the world. From the straw baskets used by farmers and fishermen to the handwoven bags carried by indigenous communities, these bags have a rich history rooted in practicality and craftsmanship. Over time, they have transitioned from utilitarian objects to fashion accessories that effortlessly blend style and functionality.
One of the distinct features of a woven straw bag is its texture. The interlaced straw fibers create a unique pattern that adds depth and visual interest to the bag's exterior. This texture, coupled with the natural color variations of the straw, gives each bag a one-of-a-kind appearance. Some artisans incorporate intricate patterns or embellishments (like shells) into the weaving, further enhancing the bag's aesthetic appeal.
In terms of design, woven straw bags come in a variety of shapes and sizes. From tote bags and bucket bag styles to clutches and backpacks, there is a wide range of options to suit different preferences and occasions. The bags often feature sturdy handles or straps, making them comfortable to carry, and many come with closures such as zippers, magnetic snaps, or drawstrings to keep belongings secure.
The versatility of woven straw bags is another reason for their popularity. They effortlessly complement various outfits and can be dressed up or down depending on the occasion. They are particularly well-suited for warm weather, beach vacations, picnics, or casual outings. Pair them with a flowing sundress, a floppy hat, and sandals for a relaxed bohemian look, or use them as a stylish accessory to elevate a simple jeans and T-shirt ensemble.
While woven straw bags are stylish and fashionable, it's important to note that they are also sustainable choices. The use of natural materials and traditional crafting techniques minimizes the environmental impact compared to synthetic materials commonly found in mass-produced accessories. By choosing a woven straw bag, you not only add a touch of timeless charm to your wardrobe but also support the preservation of traditional craftsmanship and sustainable practices.
A woven straw bag is a delightful accessory that combines natural beauty, craftsmanship, and versatility. Its rustic charm, unique texture, and wide range of designs make it a popular choice for those seeking a touch of bohemian flair. Whether you're strolling along the beach, exploring a local market, or attending a casual gathering, a woven straw bag adds a touch of effortless style while promoting sustainability.
7 Woven straw bag styles you will ADORE:
So, what do you think of these woven straw bags? Would you carry them to breathe the salty air by the beach?
What other beach fashion trends are you looking forward to seeing (and wearing) this year? Share with us!
We love fashion that trigger all kinds of good feelings.
Kindly email us if you would love to have your own unique fashion collection featured in this space. We'd love to hear from you!
Till the next one, keep healthy, move your body, nourish it well and make time for meditation!
Stay free.