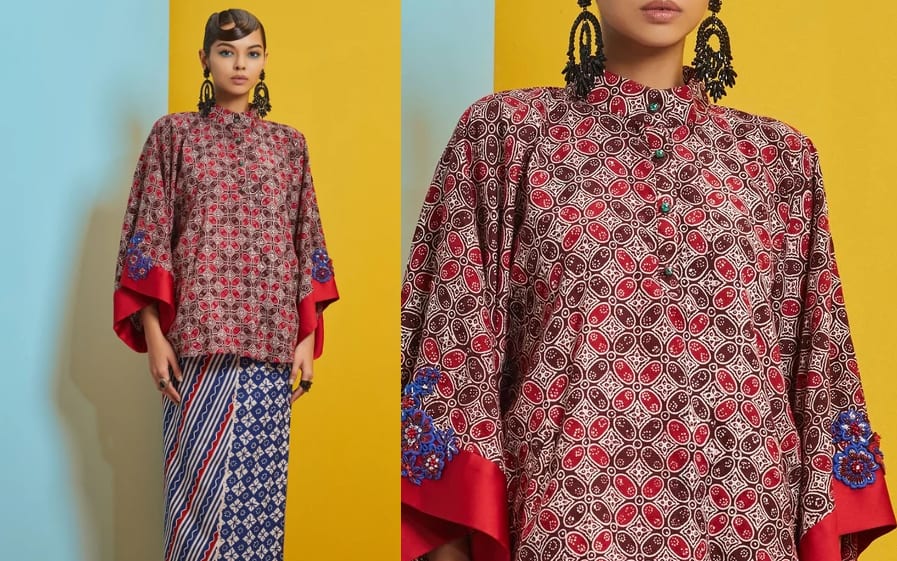 It's a stand collar situation, peranakan style and bright happy colors and all-out patterns.
Our favorite Malaysian fashion designer Melinda Looi stuns us with her vibrant Raya collection that celebrates key fashion elements adroed by the Raya-ready Malaysian fashionistas such as batik, kimono silhouette, stand collar and pattern mix!
Melinda Looi draws inspiration from the classic peranakan wedding dressing with the inclusion of a stand collar style from the time on her roomy kurung blouses in sets that scream vibrant cheer and high spirit. In contrast to the gloomy and uncertain pandemic season, hers is a collection that captures optimism, faith and hope.
For a Raya outfit that is brimming full of personality, endless sass and flavour, there's just so much to see in Looi's latest collection. It is bolder that ever as it brings to light different combination of local kurung influences like baju Kedah labuh, kaftan sleeve styling and Baba Nyonya fashion.
From her extensive collection, I have picked out 5 designer Raya outfit sets to share with you all today and let us admire each one of it now, shall we?
Melinda Looi's new Raya collection is a jovial play of colors and prints...
Are you ready? Let's scroll now, shall we.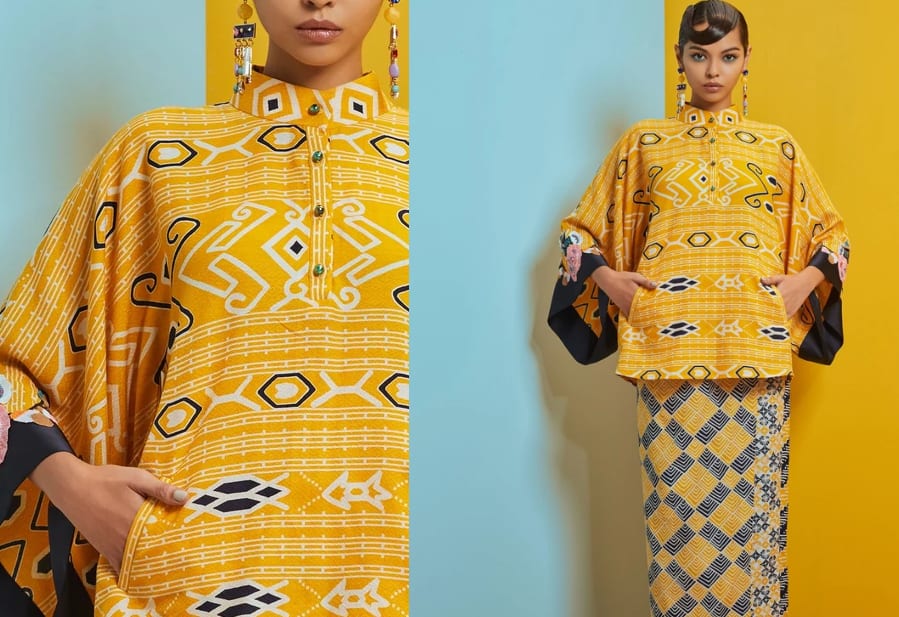 Baba Nyonya Mod Kurung
Taking a leaf from the book of dresses worn by Baba Nyonya, the striking blouse has a peranakan stand collar, kimono sleeves and functional jet pockets. The skirt is wrap in styling offseting the roomy top look with a sleek finish. The batik top is absolutely stunning and it features a floral patchwork detailing near the sleeve's edge.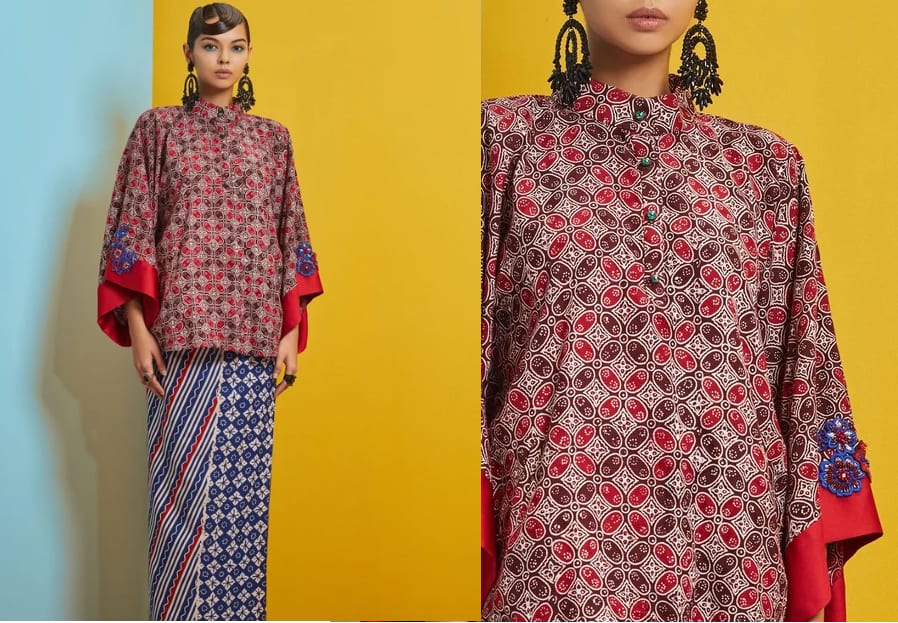 Kimono Style Mod Kurung
This set is a variation of the same set as above but the color combination and print styling are different and absolutely eye-catching. If your favorite colors are red and blue, then just make this your baju raya already! Roomy on top, tapered skirt down below. A versatile silhouette, IMHO!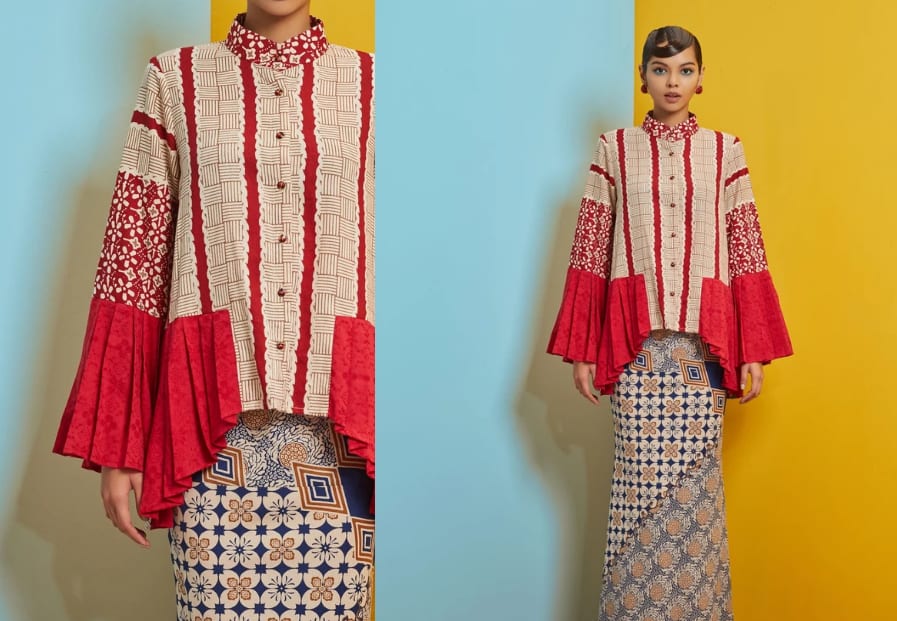 Peranakan Collar Mod Kurung
Go loud or go home. Well, in our present situation: go loud while staying home during Raya as we help our frontliners to flatten the curve in style this corona season. The blouse on this set alone is spectacular that you just want to stare at it for the longest time. Pleated high-low hem and sleeves, peranakan-inspired collar and stylized button detailing complete the mod kurung top. A patterned skirt in a bias cut polishes the look with such a captivating flair. Get it now, gals. Don't wait!
Mod Kedah Labuh
Something low-key black yet ravishingly patterned on top. This kurung set is for those who prefer a solid-toned skirt to go with a printed blouse. The top has peranakan stand collar and the signature origami sleeve seen in the kaftan tops and dresses. For a distinctively quirky detail, the top is fastened by marble bead buttons. Satin bias cut skirt polishes the fashion-adventurous look.
Yellow Deconstructed Kurung Kedah
Kurung kedah style has been a favorite for many, so far, these few years. This set is especially a must-have for those mad about the crop top over long skirt Raya look. Interestingly, the top in yellow is kept super streamlined in a single color minus a hint of embellishment. The skirt is where the party's at though, peeps. The scene-stealer: Woven draped panel skirt in an angular design.
So, fashionable ladies in quarantine, tell us quick: Which one of these kurung set is your favorite? Tell us below – We'd love to know!
For more gorgeous baju raya 202o designs from Melinda Looi, please head on over to her space!
For other Raya 2020 outfit inspiration that is equally exciting, you may find these helpful: