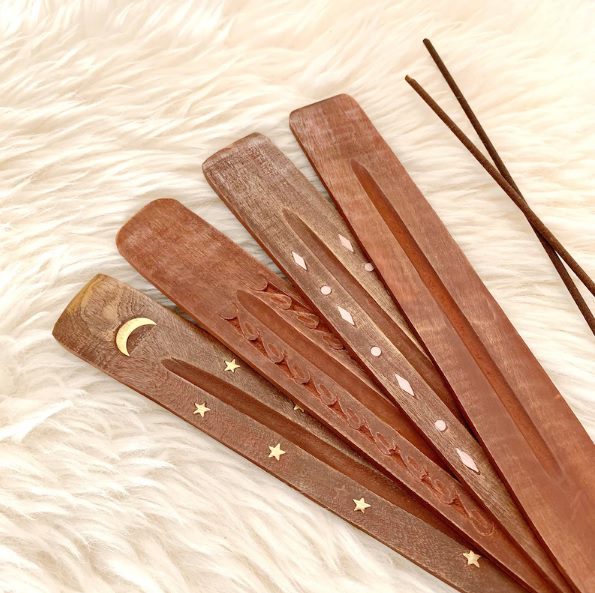 Disclosure: This post contains affiliate links, which means that if you click on one of the product links, a small commission may be credited to this site.
© All images are copyrighted by their respective authors.
10 style-forward incense holder to get you in the mood to infuse the air with your favorite scent.
Burn your incense stick with style when you do it with a pretty cool incense holder.
Love burning incense sticks? Hello incense stick lover. Welcome to the club.
I have a thing with the aroma of smokey incense sticks that are slowly burning off. Something about the way the air is filled up with the fragrance of the incense brings a tranquil sensation and I really love the ambiance. These days, I've been burning incense to infuse the air of our home to soothe the nerves and get into a meditative mode. Don't get me wrong, the incense burning activity isn't a necessity to get into meditation but it adds something pleasant to the experience. And that's just peachy.
And did I mention? I love the smell of incense sticks burning!
Since I didn't have an incense holder that was able to catch the ashes, I just used whatever container that I happen to have. Still the ashes go outside of the container. Sigh. This triggered me to look up for something to rectify this specific challenge on the internet.
That said, ff you're looking to get your hands on a lovely incense holder that is designed to lift the mood of your space while catching ashes, then you're going to love the list I've curated just for you.
Here are 10 beautifully-designed incense stick holder that will catch your eyes (and ashes) and boost the mood when you burn your aroma sticks.
Put your burning incense stick on any of these stunning holders:
What do you think about these incense stick (ash catcher) holders? Which ones are your favorite? Share below – I'd love to know!
Take care, keep your wits about you and take a break when you need to.
Stay jolly!
Are you an independent jewelry artist with a collection of unique earrings you're excited to show to the world? Drop us a message so we can have your designs featured here!
Stay inspired, eat healthy and be emphatic to others you meet in your path! We may be outwardly different but we're all the same life stuff on a journey. Take care!