If there's one thing next to leopard printed clothing and accessories that I can't rationalize for hoarding, it's anything and everything to do with owls.
I love these night-lurking feathered creatures that some have referred to as cats with wings as they are so fluffy and mysterious, kind of like domestic feline themselves. It must be an extension of my personality as I am effortlessly productive after sun down and that I can be on the front a little hard to know (but that's just my shyness oozing off of me).
With my night owlish trait and love for owls put on show, I have been the receiver of gifts that are owl-inspired in nature, thanks to my beloved family. Just this very year alone, I've received 4 owl-related gifts in the form of an owl charm, a decorative wooden owl, an owl pencil sharpener and an owl print tee.
However, I'm noticing a lacking in the owl ring department and have made a point to scour the offline and online world for them and I must tell you that Etsy spoils me with too many adorable choices that I am stuck ogling the precious gems like a possessed loon. Yes, very unattractive!
If you're a fan of handmade vintage things and have not found yourself on Etsy yet, be warned that it will get addictive really fast that you'll while your night away scrolling pages after pages of pretty things that you plan to get somewhere in the near future only to want them all instantly. If however, it is to test your impulse control, I'd say go for it!
Anyway, should you be an owl lover such as myself, here's a list of must-have owl rings that are so hoot it's okay to want them all right now.
7 Owl Rings To Decorate Your Lonely Fingers With ➱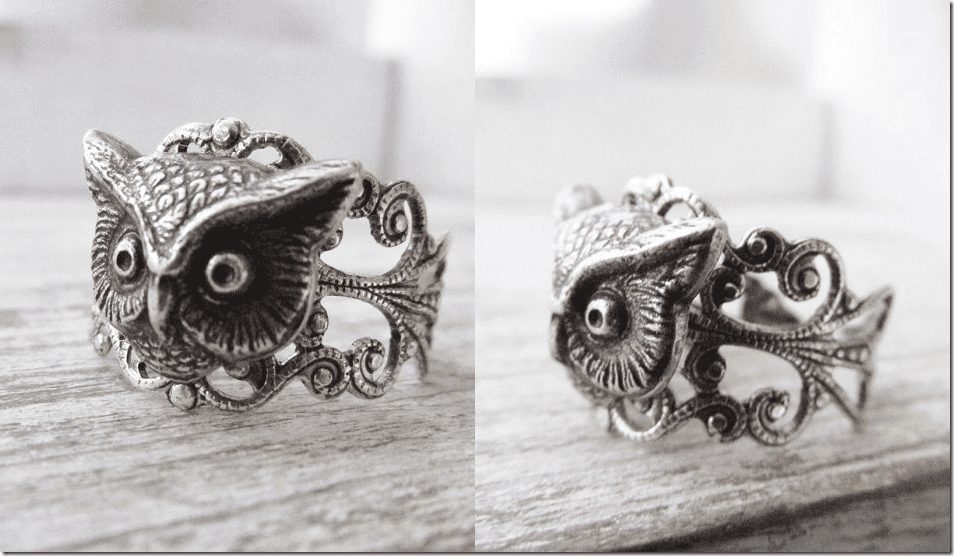 ♥ adjustable antique silver owl ring by pinkingedgedesigns ← SHOP HERE
♥ antique button owl ring by ChatterBlossom ← SHOP HERE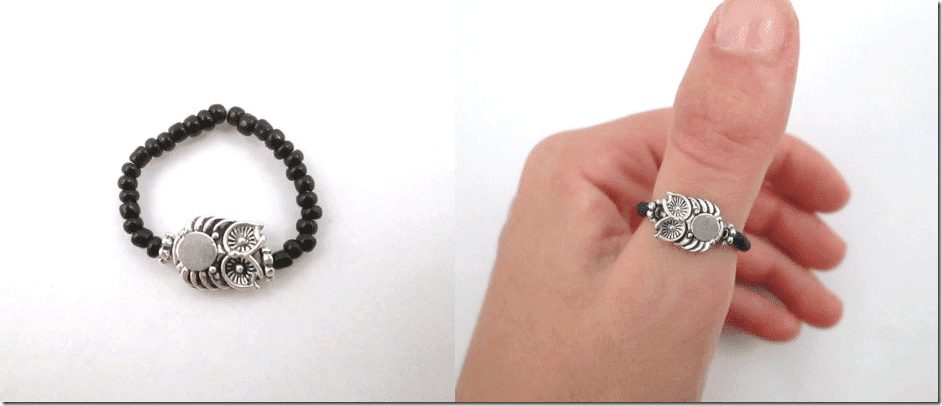 ♥ beaded owl ring by StylesBiju ← SHOP HERE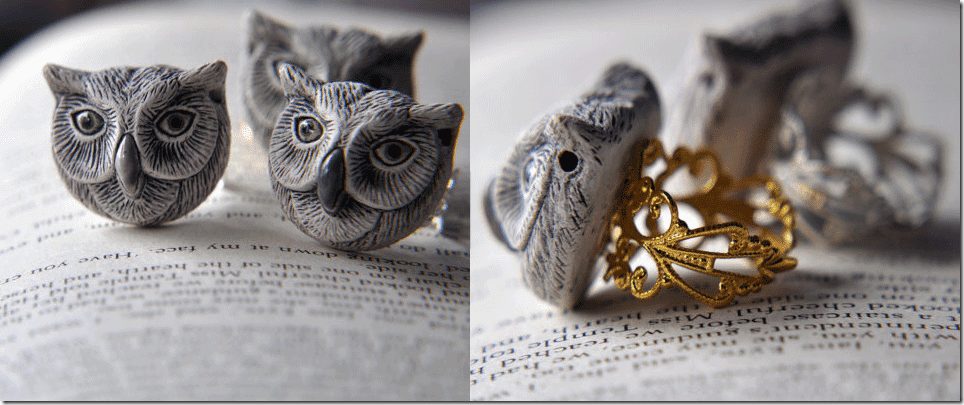 ♥ ceramic owl ring by FawningInLove ← SHOP HERE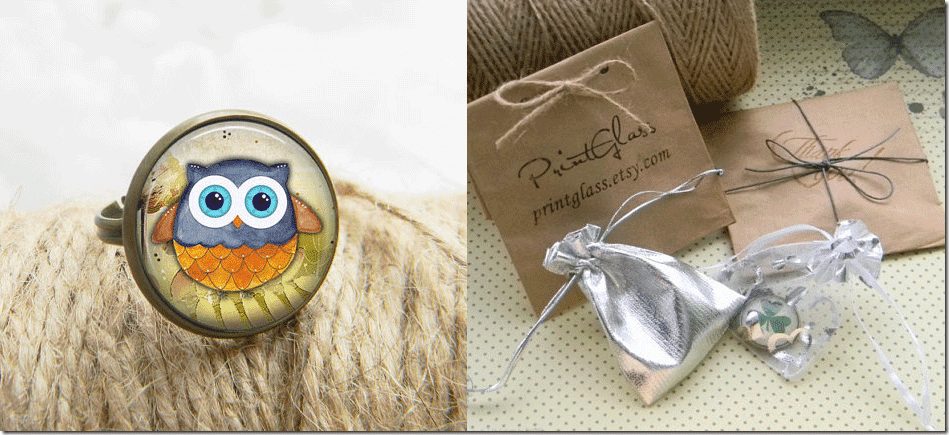 ♥ cute owl ring by PrintGlass ← SHOP HERE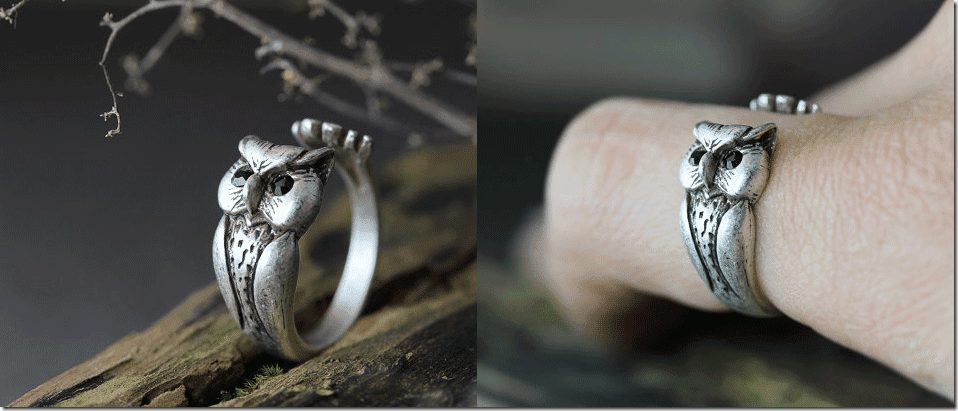 ♥ retro finished owl ring by authfashion ← SHOP HERE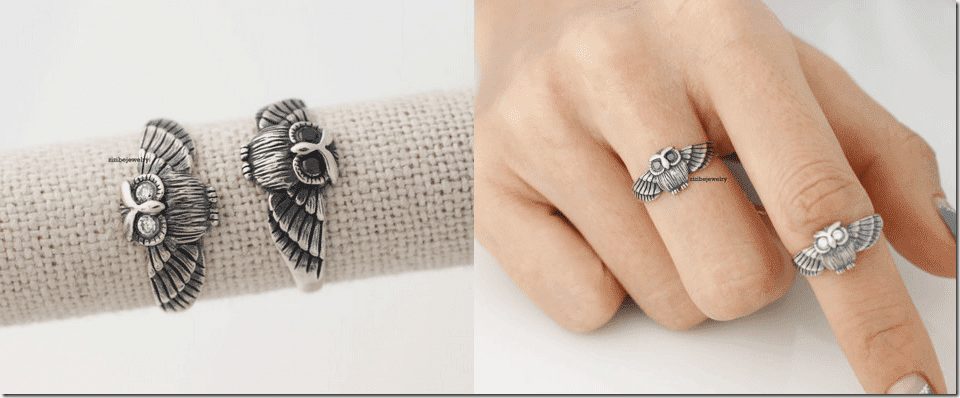 ♥ sterling silver owl ring by zizibejewelry ← SHOP HERE
So, what do you think of the compilation of owl-inspired rings showcased above? Which one(s) your favorite? Share below because I really want to know!
"The owl," he was saying, "is one of the most curious creatures. A bird that stays awake when the rest of the world sleeps. They can see in the dark. I find that so interesting, to be mired in reality when the rest of the world is dreaming. What does he see and what does he know that the rest of the world is missing?" — M.J. Rose, Seduction
Disclosure: This post contains affiliate links, which means that if you click on one of the product links, a small commission may be credited to this site.
Love this post? Share it with your friends! Follow us for more fashion inspiration:
♥ Twitter ♥ Facebook ♥ Google+ ♥ Bloglovin ♥ Pinterest ♥ Polyvore ♥
© All images are copyrighted by their respective authors.
Here on Fashionista NOW, our one and very own Miss Reverie showcases the latest in fashion trends and its various social implications in our everyday lives. You may read more of her at REVERIE SANCTUARY.