Geometric fashion takes a triangular interest. Learn how to wear triangle prints in a jiffy and take your outfit from sad to rad.
Triangle prints don't get as much time in the fashion limelight in comparison to, say, polka dot prints. Circles and squares appear to be an easy favorite but familiarity can breed predictability and in the fashion circle, we do love us some out-of-the-rectangular print alternative every once in a while.
While triangle motif on clothing may come in a single big statement triangle combined with animal or some other print style, they also come in repetitive designs featuring similar sized triangles or in various sizes and colors as a nod to the abstract fashion trend.
When Taylor Swift wore a colorful triangle patterned sweater with high waist denim shorts last September, we cannot help but love her more.
By we, I mean I and some other triangle-fanatics. Anyway, if you're into statement tees that mock anything and everything remotely hipster which apparently includes the holy triangle, you'll pretty much adore this: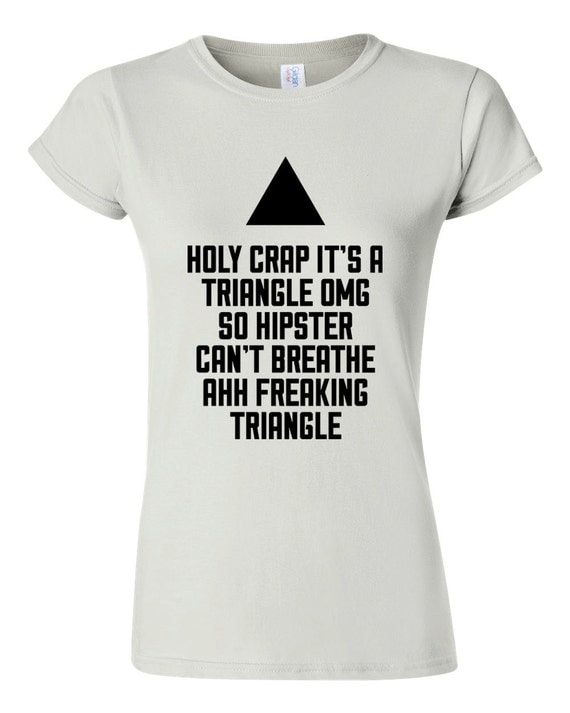 And as always, to the lookbooks below for stylish ways to embrace the triangle print fashion trend:
♥ triangle print tee – Room 23
♥ triangle and leopard print tank – Eleven Paris
♥ gold triangle print leggings – Black Milk Clothing
♥ triangle print top
♥ triangle print dress – Asos
Now, to the selected polyvore sets that highlight triangle prints and patterns in delightful ways:
Opposite attracts, even in fashion as evident with this neon and pastel combination. The abstract triangle print skater skirt in black and white blends in well with the two opposing colors and makes for such a visually-interesting outfit perfect for spring/summer.
For a super laid-back method of dressing on a cold rainy day while still giving it your monochromatic best, cue in the set above. The inverted triangle is the only print present in this outfit and it lends a minimal visual edge that is simply effective.
Display your simple yet chic style with a vintage sweater rendered in metallic triangle prints paired with an all white mid-rise skinny jeans. Don't forget the classic fuss-free sneakers for a contrasting dose of sporty laidback-ness.
Showcase the triangle-within-triangle mystique with this patterned sweater in murky yellow by pairing it with a subdued black skirt. Tie in the look together with a 3-strap buckle boots in black and wood tribal earrings. Snap a random cigarette in two and throw it in the right recycle bin.
And here are other triangle-inspired clothing and accessories in classic black and white that you may love to covet.
Are you ready to give your wardrobe some triangular update this season? Any triangle print favorites so far? What do you think of this geometric fashion trend? Drop your thoughts below and let us know!
"Fashion isn't interesting when it comes from an uninspired place." — Christian Louboutin
© All images are copyrighted by their respective authors.
Here on Fashionista NOW, our one and very own Miss Reverie showcases the latest in fashion trends and its various social implications in our everyday lives. You may read more of her at REVERIE SANCTUARY.