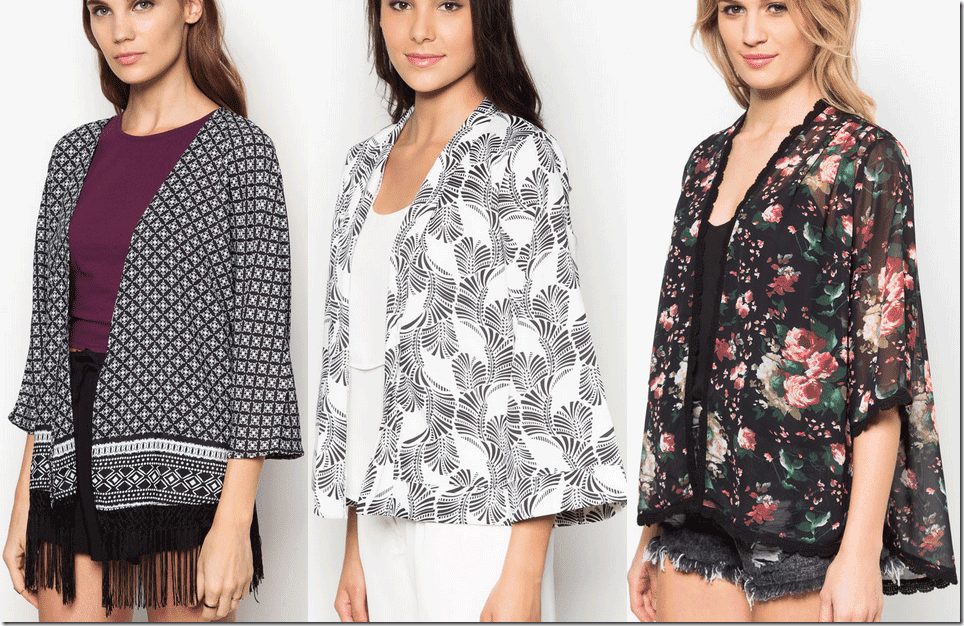 Want to inject a Japanese flair into your wardrobe? Find our stylish kimono outerwear selection and be prepared to ooze oriental chic.
Where the sun is generous with its rays all year long, a lighter layer of outerwear with a Japanese persuasion is not only a refreshing addition but a statement that style evolves throughout time and clothing once bound by national lines are moving across the globe with such abandon.
A kimono's traditional identity remains while it plays a strong influence in the wardrobe of the young, hip and trendy. Popular as part of a carefree bohemian attire as it's introduced as a summer-friendly outerwear and an option for a flowy festival-themed outfit, the kimono's relevance in today's contemporary fashion is ever pervasive. The trademark roomy sleeves and the overall relaxed shape are both defining features much loved in a kimono-style outerwear.
Because of the structureless shape, it is important to layer the outerwear over outfits that are relatively form-fitting so that a balance is achieved. One of the ways to dress up a modern casual combo of tee-and-shorts or tee-and-jeans is to top up the look with a patterned kimono outerwear. This will inject interest in the form of color, print and movement.
What's even more exciting today with the kimono trend is that designers are marrying various unlikely elements together, utilizing fringe, capes, and a modern print styling to appease the diverse style palette of the current population.
Enjoy our favorite kimono outerwear selection below which I personally think will complement any wardrobe style.
KIMONO POWER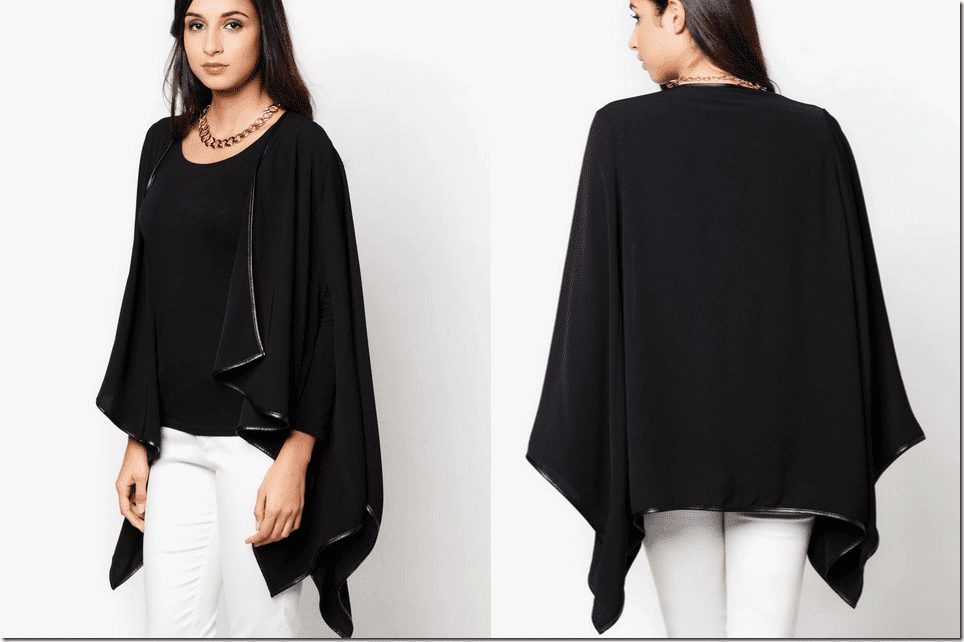 ♥ asymmetric hem cape kimono ← SHOP HERE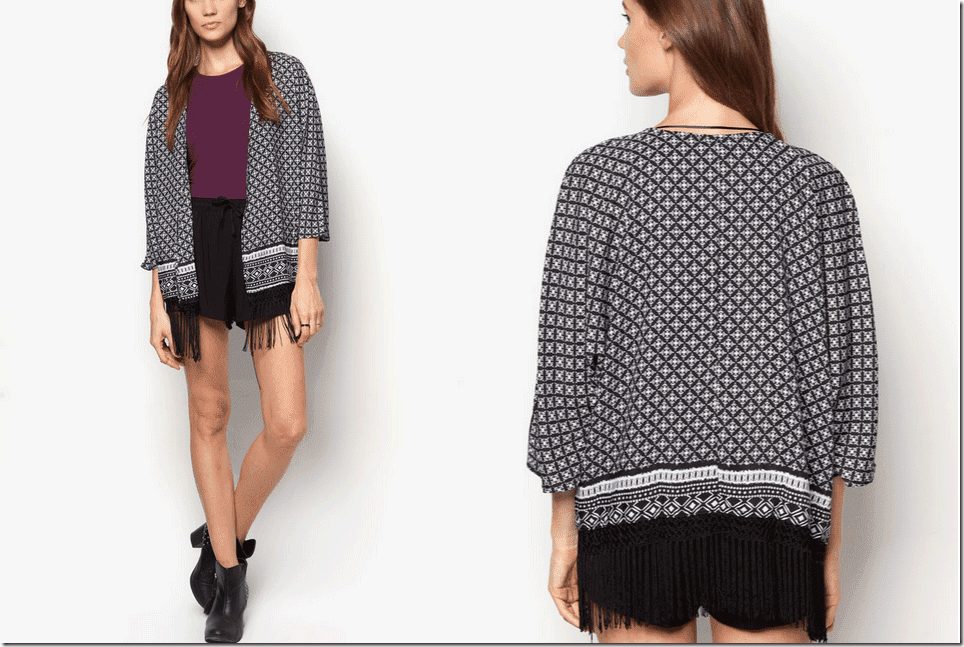 ♥ aztec fringed kimono ← SHOP HERE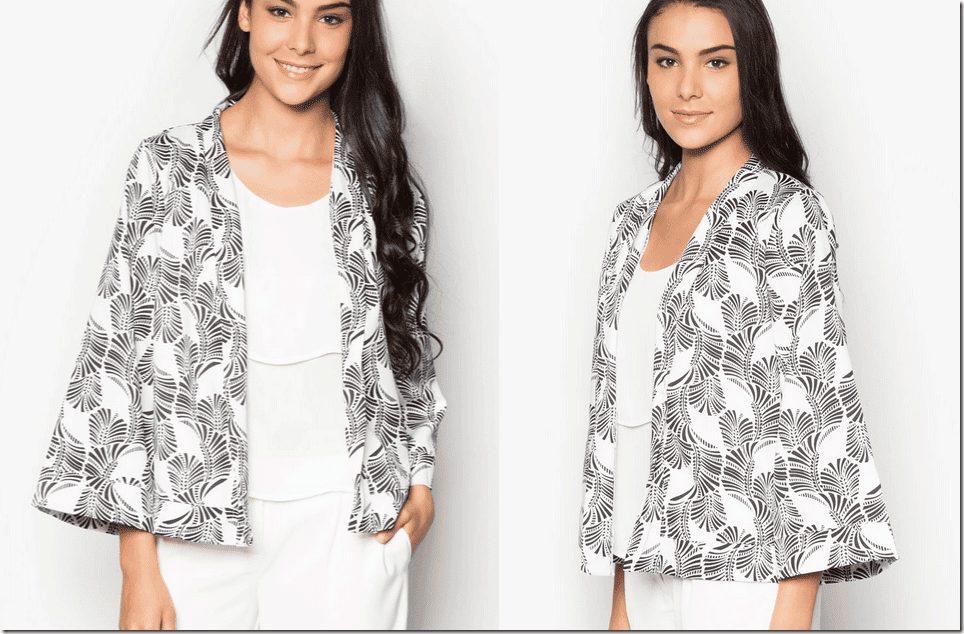 ♥ black and white kimono cardigan ← SHOP HERE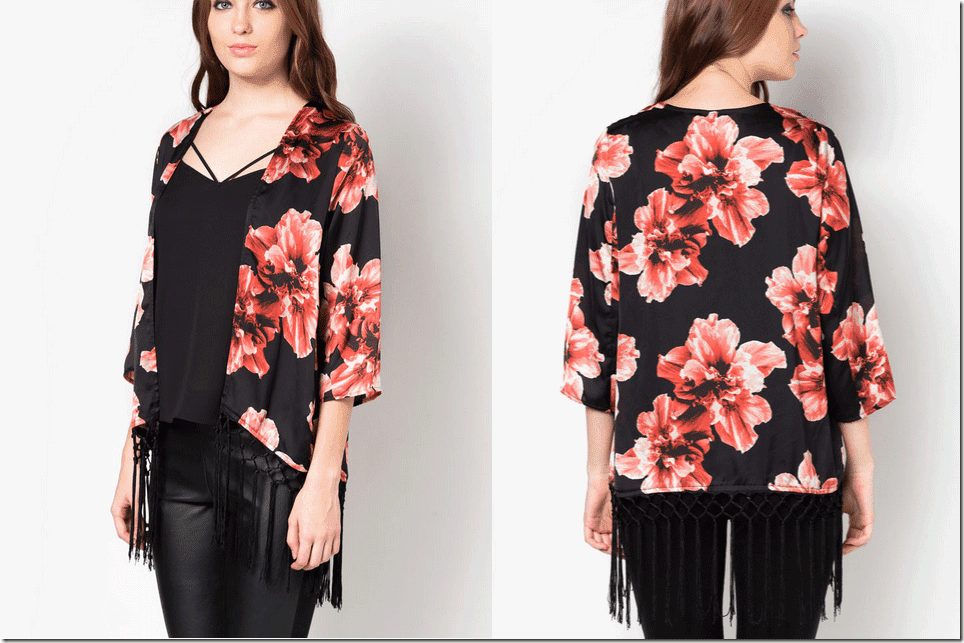 ♥ boho floral fringed kimono ← SHOP HERE
♥ cropped red lace kimono ← SHOP HERE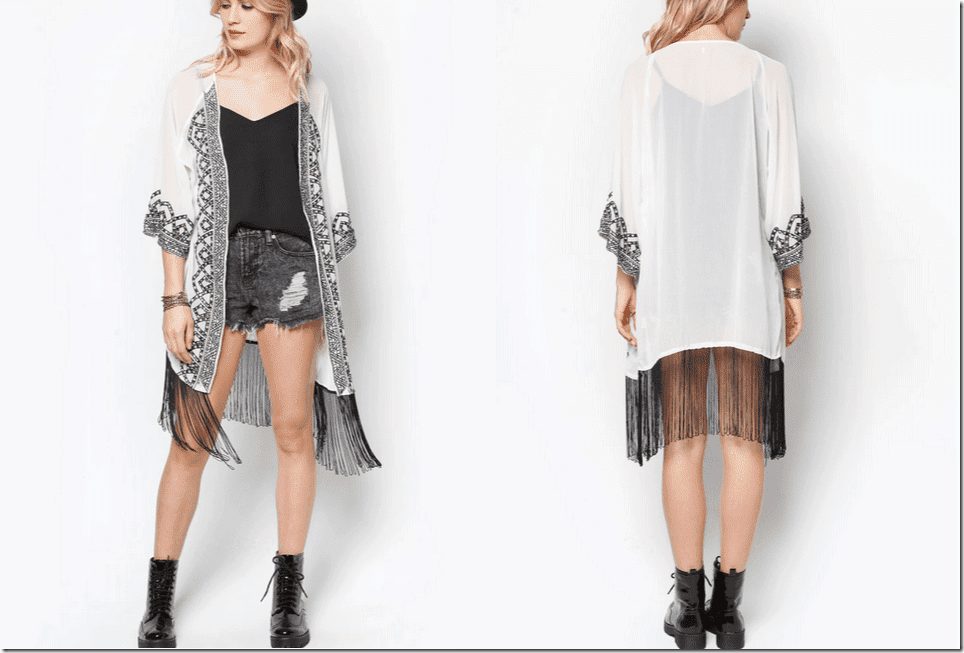 ♥ embroidered fringed kimono ← SHOP HERE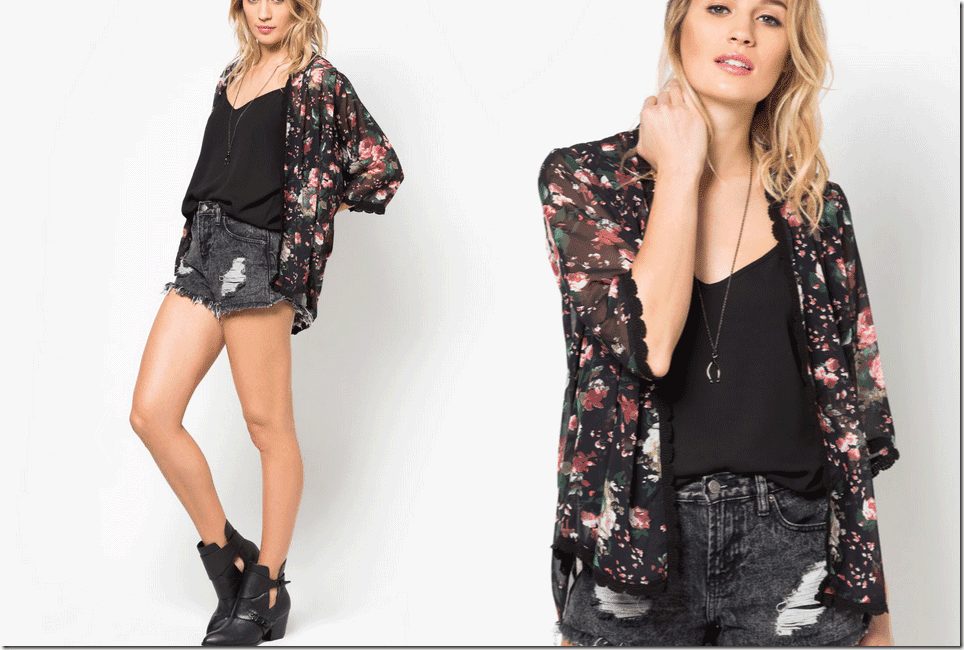 ♥ floral scallop kimono jacket ← SHOP HERE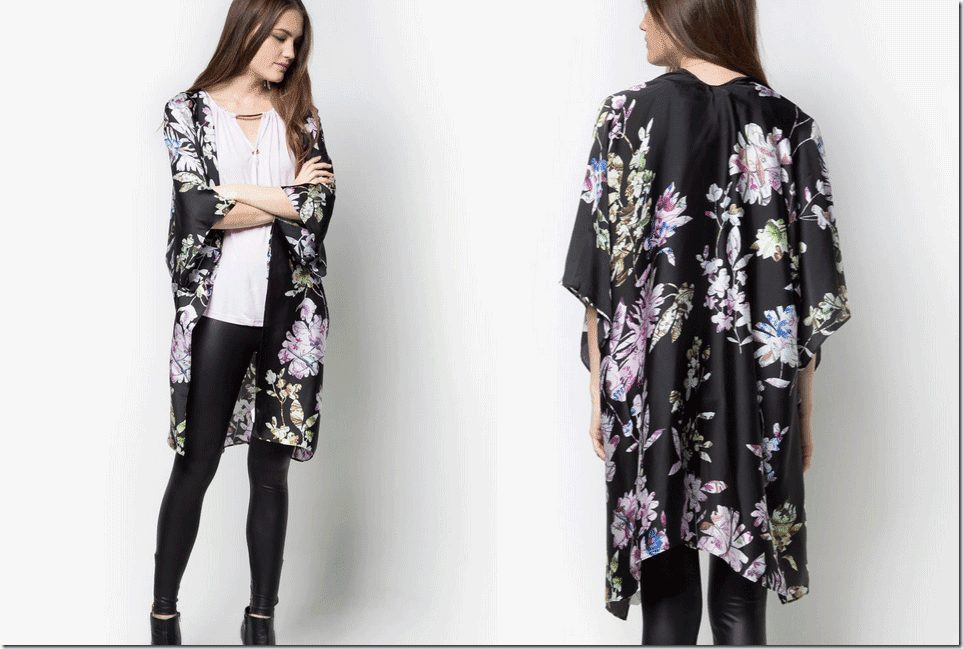 ♥ long floral kimono vest ← SHOP HERE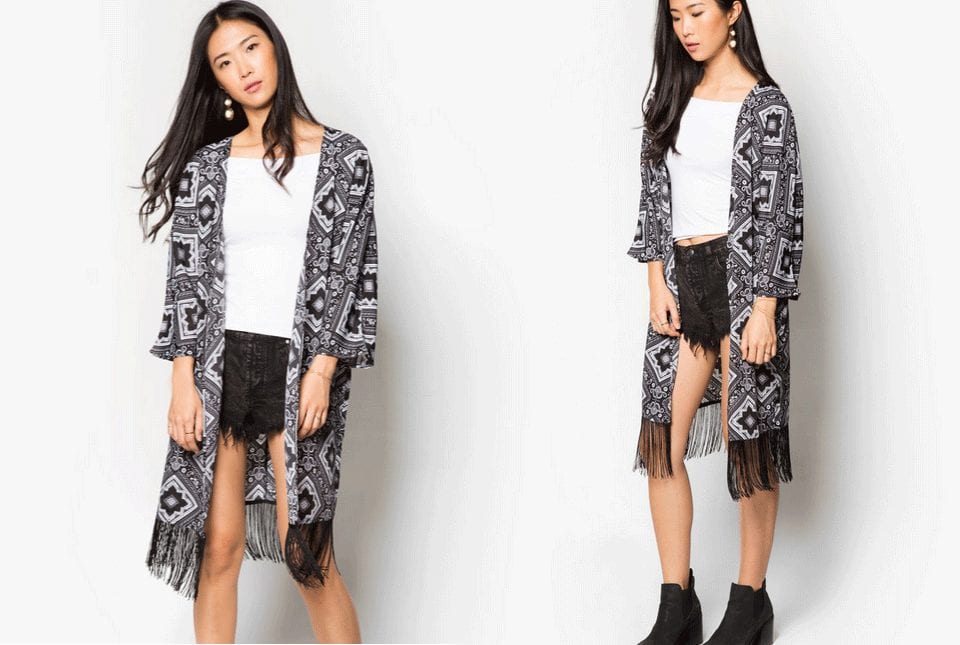 ♥ black and white abstract fringed kimono cardigan ← SHOP HERE
SHOP YOUR FAVORITE KIMONO NOW:
Use code ZBAPedJ to get 15% OFF on your first time order on ZALORA Malaysia.
For a style guide on how to wear kimono outerwear, check out my previous post here.
So, which is your favorite? Do you own any kimono jackets or cardigans? If so, how do you style the flowy outerwear? Share your thoughts below as I'd love to know!
"I think fashion is the best value way, the most affordable way in the 21st century, that men and women can express their personality." — Stuart Rose
Disclosure: This post contains affiliate links, which means that if you click on one of the product links, a small commission may be credited to this site.
Love this post? Share it with your friends! Follow us for more fashion inspiration:
♥ Twitter ♥ Facebook ♥ Google+ ♥ Bloglovin ♥ Pinterest ♥ Polyvore ♥
© All images are copyrighted by their respective authors.
Here on Fashionista NOW, our one and very own Miss Reverie showcases the latest in fashion trends and its various social implications in our everyday lives. You may read more of her at REVERIE SANCTUARY.