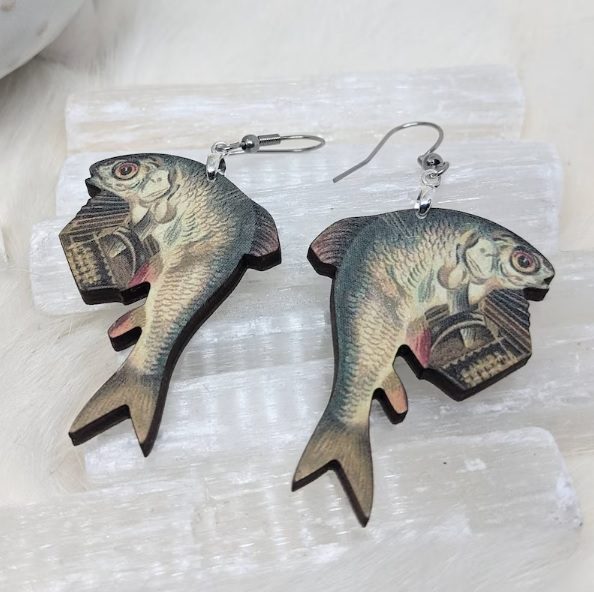 Disclosure: This post contains affiliate links, which means that if you click on one of the product links, a small commission may be credited to this site.
© All images are copyrighted by their respective authors.
Say yes to strange earrings that open conversations easily this summer
Summer earrings are endless and usually perky, cheery and bold. While some prefer classical dainty looks, others may be ready for something a tad unusual, strange and utterly unpredictable. For today's post, we are dipping our toes into the world of strange earrings that will give your summer ears a spotlight and trigger convos!
It's been a while since we've posted on our fav topic: strange but potent earrings. If you're one to love earrings as we do here, it's only natural that you're currently eyeing for some new ear bling to get you excited again.
We love classy earrings, yes we do, but we also adore earrings that make us think of break into laughter when they're totally out of the usual box in terms of the designs we usually see in earrings. After all, earrings are often made in shapes that are perceived as pleasant to the eyes and more often, 'kawaii' in interpretation.
NOT TODAY!
Dedicated especially for our unusual earring lover, this year's list entails a lot of strange but fun objects that your lobes will happily display for the season.
Enjoy!
TEN strange earrings to wear for ears that spark conversation:
Notice how the objects are very much the usual mundane elements of our everyday lives? It's only unusual when they're a feature on earrings as we often are used to the more cutesy/expected shapes when it comes to earring designs. Would you wear these 'unusual' earrings, then?
Share below – I'm always thrilled to hear from you!
Till the next earring post, take care of your health, do what you love, smile a little bit bigger, laugh a little bit louder and most of all: let all you do spring from that gooey soft corner in your heart!
To independent jewelry makers: Get in contact with us so we can share your unique creations in this space!
Cheers!
Are you an independent jewelry artist with a collection of unique earrings you're excited to show to the world? Drop us a message so we can have your designs featured here!
Stay inspired, eat healthy and be emphatic to others you meet in your path! We may be outwardly different but we're all the same life stuff on a journey. Take care!