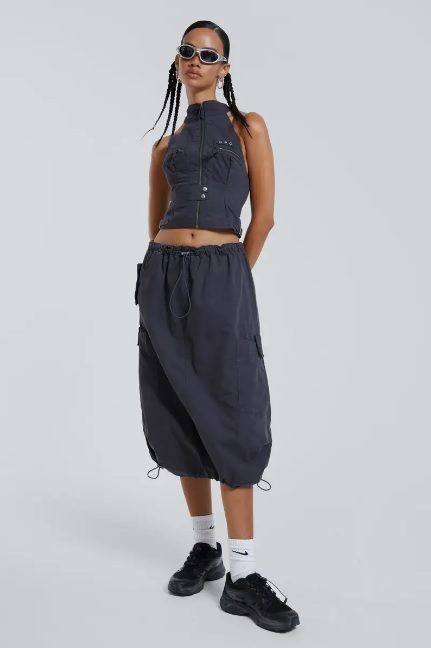 © All images are from and copyrighted by their respective authors.
This affiliate post features a look into the cargo style fashion  that is guaranteed to make your wardrobe brimming with edgy utilitarian personality. Keep the space bookmarked if you're into keeping up with cargo fashion inspiration.
Get your wardrobe infiltrated by edgy cargo style articles of clothing so you can go cargo style everything!
Not just cargo pants, be prepared to get swooned by other articles of clothing that's cargo style-inspired. From shorts to skirts, the cargo style fashion is quite the chic but utilitarian vibe.
I had worn cargo pants growing up in the late 90s and I thought those were some of the most comfy pants I had except that the material was a bit warm for hot equatorial days. At that time, I have not a single clue that there's more to the cargo style apparel than just the signature pants with plenty of pockets. If you're all about the cargo style aesthetic, then you'll be excited to know there are in existence cargo skirts and corsets, shorts and low-rise trouser option and even massive cargo PARACHUTE pants.
Without further ado, let's get into the world of cargo-inspired clothing now, shall we?
How to do cargo style for everyday casual edge:
There simply is no denying of the current fashion infatuation with voluminous trousers and these cargo pants showcase the craze pretty well. It's got that coveted oversized fit, metal eyelet detail, zip fly and cotton draw-cord that's adjustable. The knee is pleated and internal leg darts keep the fit snugged, six pockets for everything and a unique airpod pocket to give you added functional convenience. WOW!
The midi cargo skirt is crafted from a grey parachute fabric. It is rendered in a cargo-inspired shape and has a draw-cord waistband. Hurry please, this item is running out.
Sadly out of stock, the maxi cargo parachute skirt is a piece of creation we simply must showcase to you to just show how it interesting it looks. Made of parachute fabric in beige with a draw-cord waistband, the cargo maxi skirt is the picture of versatility and effortless style.
BAM! Something for the vibrant crowd… For those into bold statement colors, then do consider these your cargo pants! It comes with a fierce black dragon flock print, six pockets with added airpod pocket detail, adjustable waist and cuff and the very adored oversized fit.
The cargo corset top is made of 100% cotton in stunning khaki. It has a lace up front detail with of course, FUNCTIONAL pockets. Can be paired with a matching mini skirt of a similar style.
The cargo pants are slim-fitting with a low-rise design, multiple cargo pockets and branded hardware detailing. These pants are pretty chic in that very utilitarian fashion type of way and will be perfect for a mid-riff summer flaunt.
The shorts are made in a cool oversized fit design that carries a six-pocket styling. The elasticated waistband is adjustable via a cotton draw-cord through metal eyelets. These are the cool cargo style shorts to get for a look of ultimate comfort and functionality.
Use code: FREESHIPUS for over $100 purchase. Type FREESHIPUS to get free shipping at checkout. Offer starts Sept 4th, 2023 and ends Sept 30th, 2023. Aussie time zone.
So, what do you think of the cargo style fashion? Is it your cuppa tea?
What other cargo fashion trends are you looking forward to seeing (and wearing) this year? Share with us!
We love fashion that trigger all kinds of good feelings.
Kindly email us if you would love to have your own unique fashion collection featured in this space. We'd love to hear from you!
Till the next one, keep healthy, move your body, nourish it well and make time for meditation!
Stay free.