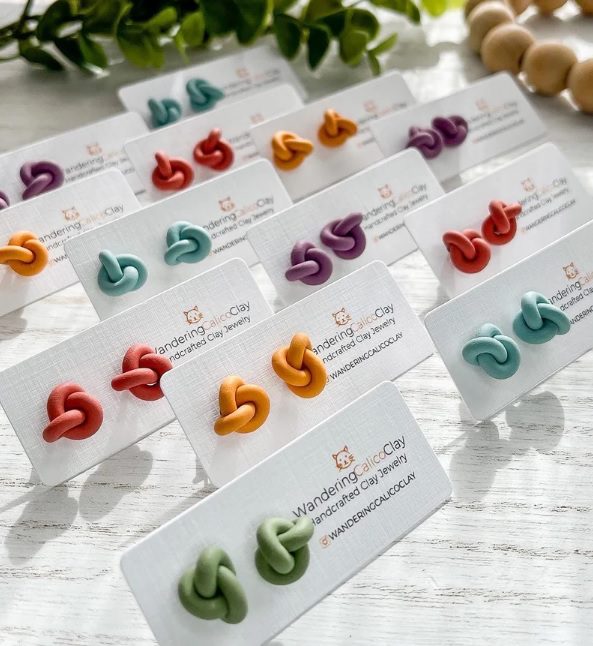 Disclosure: This post contains affiliate links, which means that if you click on one of the product links, a small commission may be credited to this site.
© All images are copyrighted by their respective authors.
Spruce up your stud earring game with a fun & unique polymer clay KNOT earrings.
Summer ears are colorful and fun and if you're all about novelty earrings that are also BIG on versatility and carry a distinct design statement, it's time to give knot earrings a consideration and the kinds that are made of polymer clay.
Polymer clay is a popular material in the world of handcrafted earrings. Together with a love for the signature knot shape, it's refreshing to see how knots are rendered with the use of clay and the variety of colour palettes that it gives birth to. A stud earring lover who is looking for something fresh to wear that's chic and minimal will definitely be into this modern earring style. It's interesting enough visually as it is also remarkably refreshing as one wouldn't usually expect a knot in the form of polymer clay.
For those dabbling in polymer clay as the primary material in earring making, these are the styles of knot earrings that you can get inspired by. For those just looking for the next earring buy, perhaps something knotty is right up your alley?
Enjoy!
The Clay Knot Earrings To Wear Everyday In All Kinds Of Colors:
Did you know that 'polymer clay' is a versatile art medium that is high in pliability and simplicty to work with?
What do you think of these polymer clay knot earrings? Which pair of knot summer stud earrings would you love to wear? Share below – I'm always thrilled to hear from you!
Till the next earring post, take care of your health, do what you love, smile a little bit bigger, laugh a little bit louder and most of all: let all you do spring from that gooey soft corner in your heart!
To independent jewelry makers: Get in contact with us so we can share your unique creations in this space!
Cheers!
Are you an independent jewelry artist with a collection of unique earrings you're excited to show to the world? Drop us a message so we can have your designs featured here!
Stay inspired, eat healthy and be emphatic to others you meet in your path! We may be outwardly different but we're all the same life stuff on a journey. Take care!