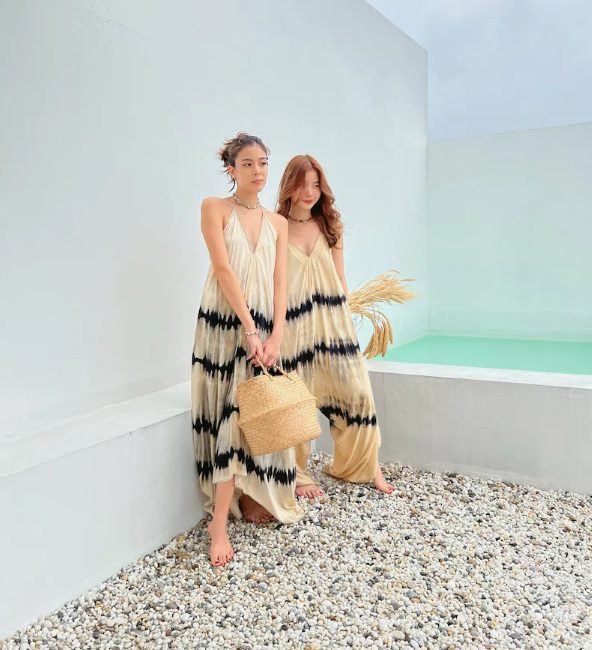 © All images are from and copyrighted by their respective authors.
This affiliate post features a look into the summer tie dye fashion that is guaranteed to make your summer day dressing super fun. Keep the space bookmarked if you're into keeping up with summer tie dye fashion inspiration.
Love tie dye? Then, you're about ready to whip the summer trend out by the beach.
My very first tie dye was a crop cotton shirt that had some pink and red tie dye prints on it and I wore it a lot in my early twenties.
Tie dye never dies and here we are in 2023, still very much under the spell of the whimsical summer print with very ancient historical roots. It goes to show that a versatile technique will stand the test of time and only get better. Today's tie dye feature post is all about tie dye toppers you can easily rock at the beach and look mighty chic. 
From a billowy maxi to an utterly chic kimono robe, this is the tie dye statement you want to make by the beach when you go on your summer vacation.
Ladies (and gents) with a love for tie dye will definitely be drooling over these tie dye maxi beach dress, flowy jumpsuit and kimono robe because they're such a vibe. Wear the maxi, jumpsuit or kimono over your beach swimwear and feel the cool vibes emanating from your direction as you glide across the scenic ocean with sands tickling in-between your toes as salty seaside aroma saturate your nostrills.
The tie dye pieces are suited for minimalist fashion folks as they're still within the neutral color pallette and the tie dye pattern is very highly versatile and can be worn even when you're away from the beach or dazzling bodies of water.
Check them out and see if you're in agreement that these tie dye separates are totally beach-worthy. Enjoy!
How to make a memorable tie dye fashion statement by the beach?
So, what do you think of these breezy tie dye pieces? Which is your favorite?
What other summer fashion trends are you looking forward to seeing (and wearing) this year? Share with us!
We love fashion that trigger all kinds of good feelings.
Kindly email us if you would love to have your own unique fashion collection featured in this space. We'd love to hear from you!
Till the next one, keep healthy, move your body, nourish it well and make time for meditation!
Stay free.