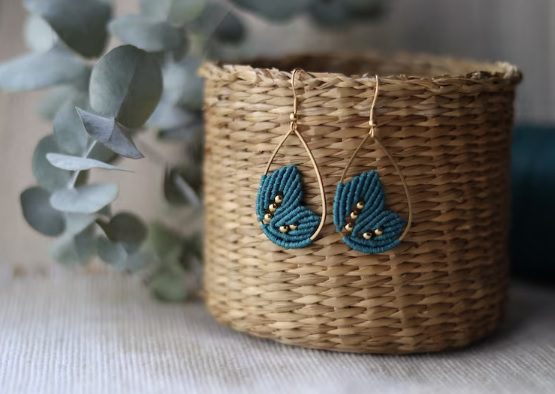 Disclosure: This post contains affiliate links, which means that if you click on one of the product links, a small commission may be credited to this site.
© All images are copyrighted by their respective authors.
Macramé earrings, how lovely!
MACRAME is the word of the day.
Earrings made of affordable materials you can even make them yourself if you have hands that are inclined to knit, knot, braid or thread things.
In the world of macramé, there just so many creative things to craft using your favorite piece of colored yarn in combination with other earth-friendly materials. Today's post takes a peep into the earrings that macramé have been a part of through the use of the knotting technique.
For someone who is has been lucky to have a family member venture into crafting something with macramé, I've been into wearing macrame earrings lately. They're absolutely lightweight, fun and quite colorful. Proudly handcrafted in Malaysia, you can view the macrame-themed pieces of wearable art here.
Now if you're wondering what designs have macramé been utilized in through the making of earrings, then you're in for a bit of a thrill as I've gathered 10 handmade macramé earrings from independent jewelry makers that do exactly that.
Here are 10 macramé earrings to inspire you to make something new perhaps to push the use of macramé in earrings even more. Enjoy!
10 macramé earring designs to appreciate and enjoy:
Macramé gems handcrafted by my mom:
Did you know that 'macrame' is used as a meditation technique or just an expression of creativity?
What do you think of these macrame earrings? Which pair of would you love to wear? Share below – I'm always thrilled to hear from you!
Till the next earring post, take care of your health, do what you love, smile a little bit bigger, laugh a little bit louder and most of all: let all you do spring from that gooey soft corner in your heart!
To independent jewelry makers: Get in contact with us so we can share your unique creations in this space!
Cheers!
Are you an independent jewelry artist with a collection of unique earrings you're excited to show to the world? Drop us a message so we can have your designs featured here!
Stay inspired, eat healthy and be emphatic to others you meet in your path! We may be outwardly different but we're all the same life stuff on a journey. Take care!