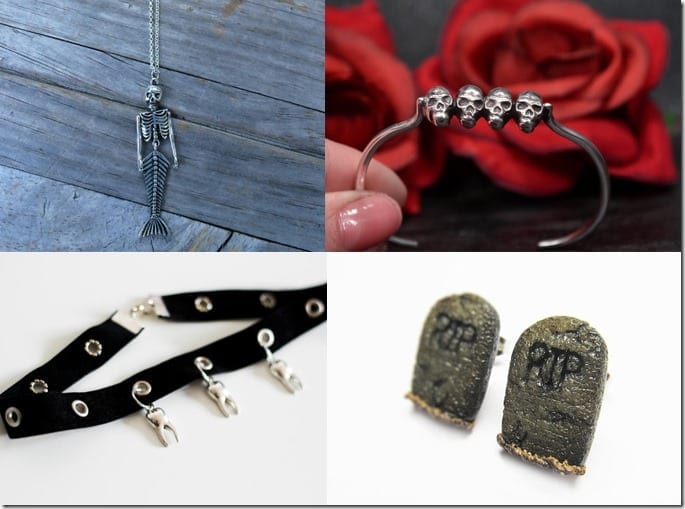 Halloween's about to creepily sneak up on us. And you know what? You don't have to be a mad fan of the spooky celebration to appreciate some bling-bling created in favor of the ghoulish bash.
I sat to think about why I personally enjoy Halloween for a bit just now. To sum up without going philosophical, it has everything to do with casting a light-hearted twist to the mysterious, unknown world beyond the living. And of course, some live for the thrills involved in scarring another poor soul with some kind of ghostly surprises and pranks; the latter isn't my cup of tea at all but if it floats your boat, go wild.
I feel Halloween is just like Valentine's where you're so not obligated to give a bother unless you really want to. For me, eyeballing jewelry inspired by Halloween is something I enjoy and making a list of the ones I find particularly wearable in such a way that they're not too disgusting (haha) that you can wear them easily in your day-to-day outfit is what engages me most. Okay, maybe not, the most. At the moment, taking photos of abandoned pieces of land or architecture appeals rather strongly.
Without further ado, let's look at the SEVEN Halloween-inspired jewelry ideas to wear and decide if you'll be wearing any of them for that extra special spooktacular vibe.
Enjoy!
Graveyard Stud Earrings

Halloween Mermaid Skeleton Necklace
Halloween Pumpkin Charm Bracelet

Obsidian Beaded Skull Bracelet

Ouija Board Charm Necklace

Sterling Silver Skull Cuff Bracelet

Tooth Pendant Black Velvet Choker

Which bling is your favorite? Share below – I'd love to know!
PS: If you're up for some spook time watching horror films, I highly recommend The Blair Witch Project. Not the remake, of course. The original one! Why do I feel like I've mentioned this last year or the year before. LOL **Indeed I did! One in a post about witch styles and another for Halloween 2015 and yet another time on a triangle jewelry post. This only means that it's a must-watch!
Find yourself and express yourself in your own particular way. Express your love openly. — Miguel Angel Ruiz
Disclosure: This post contains affiliate links, which means that if you click on one of the product links, a small commission may be credited to this site.
Love this post? Share it with your friends! Follow us for more fashion inspiration:
♥ Twitter ♥ Facebook ♥ Google+ ♥ Bloglovin ♥ Pinterest ♥ Polyvore ♥
© All images are copyrighted by their respective authors.
Here on Fashionista NOW, our one and very own Miss Reverie showcases the latest in fashion trends and its various social implications in our everyday lives. You may read more of her at REVERIE SANCTUARY.