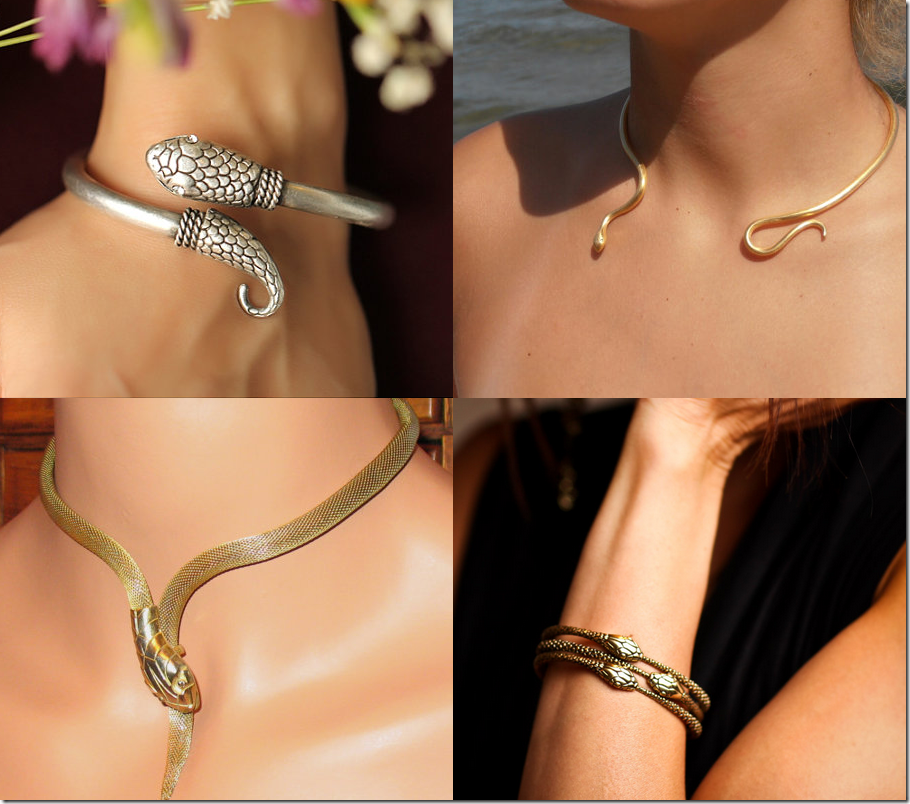 Jewelry got all slithery at Cannes 2015 with celebrities, Salma Hayek, Sophie Marceau and Natasha Poly all wearing some form of serpentine-inspired bling. Are you a snake lover? Then wearing snake-inspired jewelry must come right in your territory.
Naomi Watts propelled the snake jewelry trend back into the spotlight this year when she donned a magnificent Bvlgari snake-shaped Serpenti necklace at the 2015 Golden Globes.
At Cannes 2015, we saw no shortage of celebrities letting the slithery serpent decorate their necks and arms; Salma Hayek wore a snake arm cuff by Boucheron, Sophie Marceau, a serpentine necklace by Chopard and Natasha Poly, a snake necklace by Boucheron.
If you want to see how elegant a snake neckpiece can actually be, look no further than the actress Naomi Watts in her Bvlgari snake-shaped Serpenti warming up the masses to the cold-blooded animal as a cool jewelry statement.
While I've written previously about the snake print fashion trend seen on clothing and shared my discomfort about wearing the snake motif before, a snake-inspired necklace, cuff or ring, on the other hand do seem wearable as long as they don't look like an actual snake.
I'll let you decide if the prospect of sporting the slithery serpentine necklaces and bracelets below appeal to you.
7 Serpentine Neckpieces + Bracelets To Wrap Around Your Person: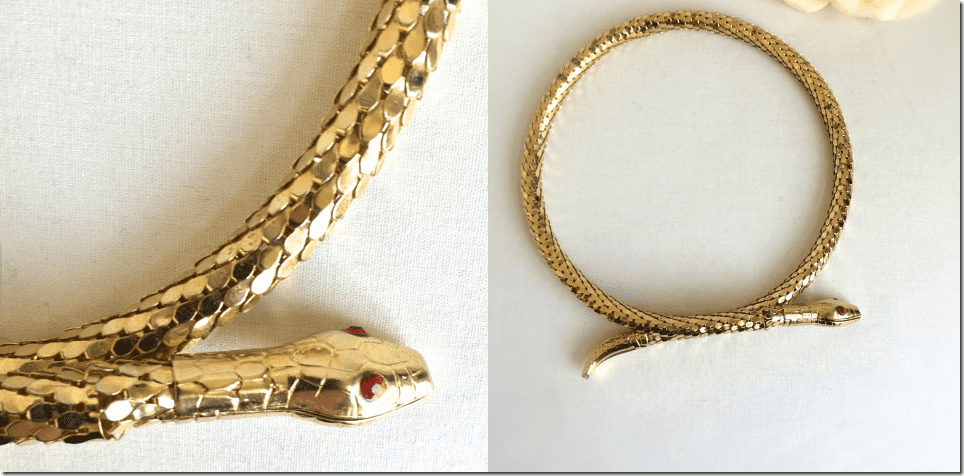 ♥ EllasAtticVintage | flexible vintage gold snake choker necklace ← SHOP HERE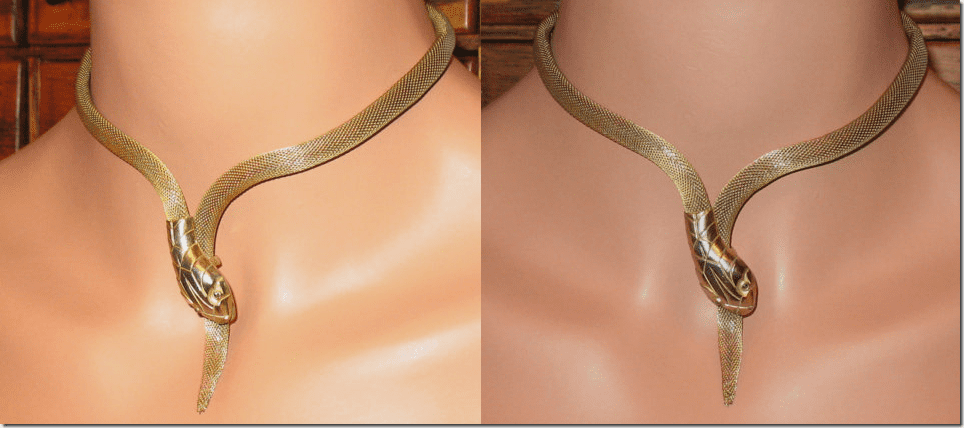 ♥ SpiderVintage | vintage golden mesh serpent choker necklace ← SHOP HERE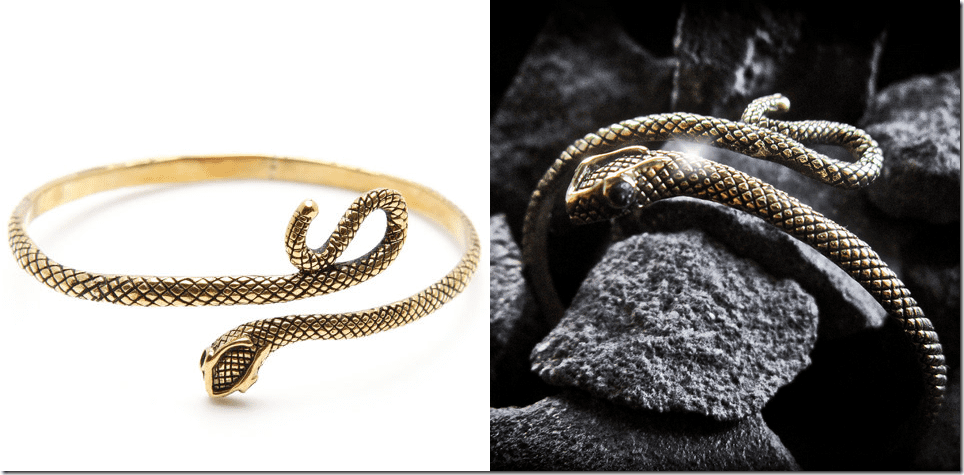 ♥ carpediemjewellery | gold snake bracelet with black diamond eyes ← SHOP HERE

♥ ConstantinosCollect| gold snake necklace with open design ← SHOP HERE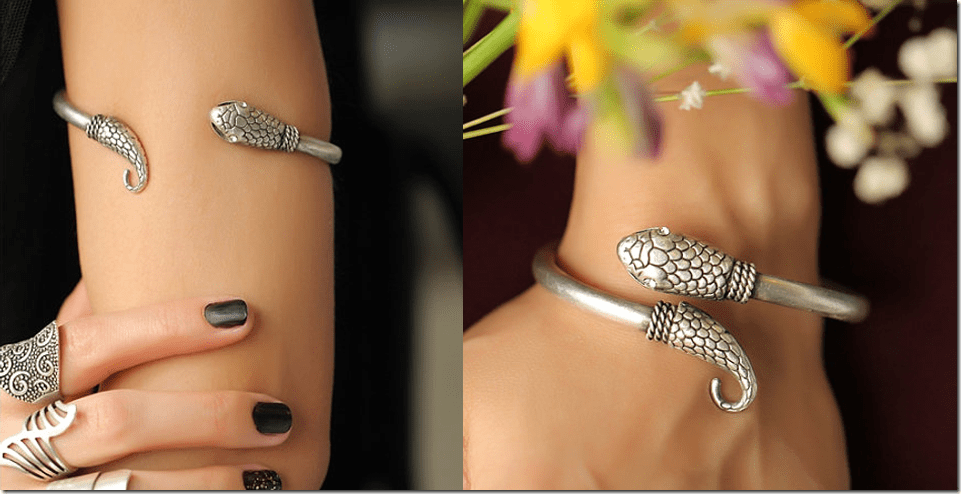 ♥ Trinketmart | silver gothic snake bangle ← SHOP HERE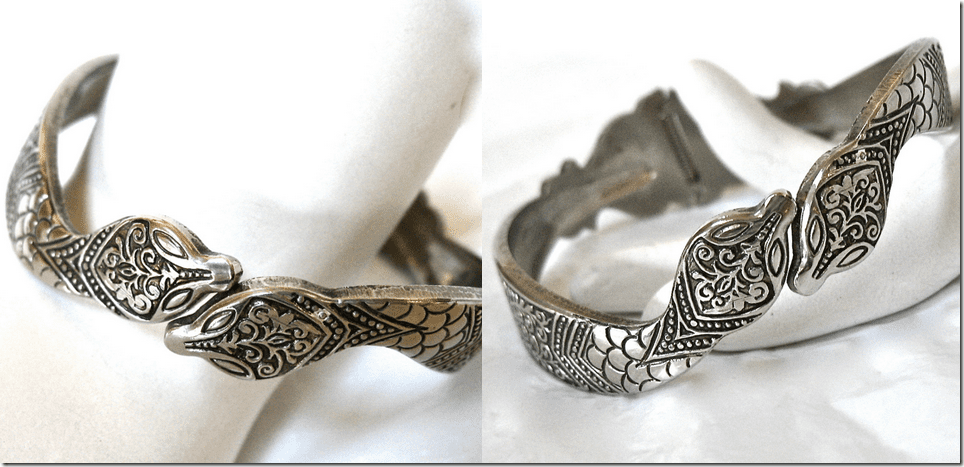 ♥ dstefanTreasures | vintage embossed silver snake clamp bracelet ← SHOP HERE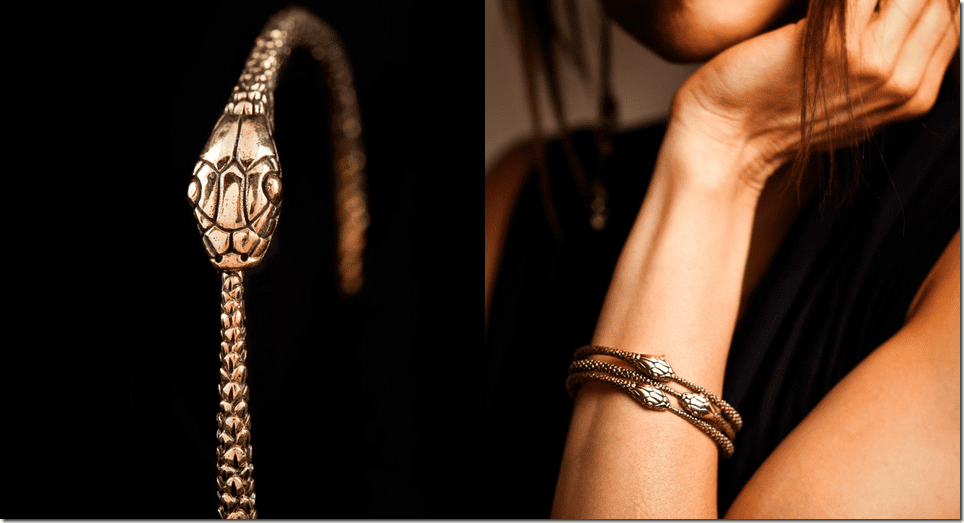 ♥ eleven44jewelry | stacking snake bangle ← SHOP HERE
Awed by the slithery sparkle? Share your favorite below – I'd love to know!
"The serpent is the embodiment of Heaven and Earth. It scares people in many ways." — Robert Graham
Disclosure: This post contains affiliate links, which means that if you click on one of the product links, a small commission may be credited to this site.
Love this post? Share it with your friends! Follow us for more fashion inspiration:
♥ Twitter ♥ Facebook ♥ Google+ ♥ Bloglovin ♥ Pinterest ♥ Polyvore ♥
© All images are copyrighted by their respective authors.
Here on Fashionista NOW, our one and very own Miss Reverie showcases the latest in fashion trends and its various social implications in our everyday lives. You may read more of her at REVERIE SANCTUARY.