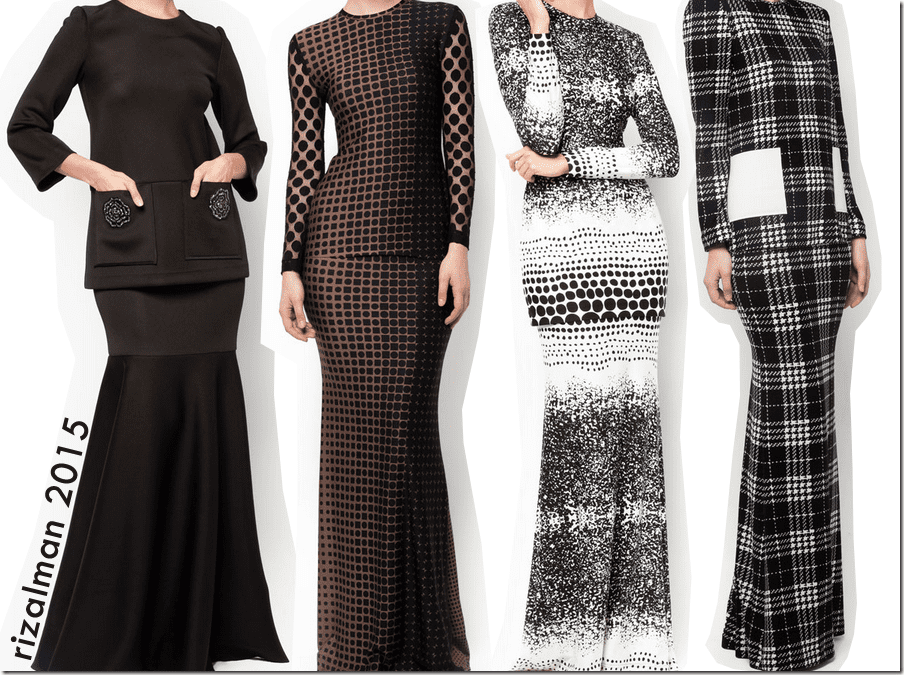 Rizalman's Raya 2015 collection is out. Find 7 elegant wearable pieces from the fashion maestro and why we can't help but to drool over them!
Renowned Malaysian fashion designer, Rizalman has officially revealed his collection for Raya/Eid 2015! What stood out for me is how structural his creations are especially with the use of neoprene! What a curious choice of fabric considering the humid Malaysia but if you'll be somewhere faux wintery within concrete walls blasted by powerful ACs, your neoprene baju kurung will not only keep you comfortably insulated, you get to bask in the adoration of those around who will be spellbound by designer baju kurung.
As always, we must showcase our favorites from his ready-to-wear collection that is available now on Zalora. While I seem to shy away from bold patterns and colors; for some reason, I'm rather smitten by the abstract and geometric motif used in Rizalman's Raya 2015 collection, in particularly the monochromatic ones. Let's jump right into it, shall we?
7 Designer Baju Raya To Go Nuts For:
♥ | floral abstract baju kurung
There is deliberate restrain in Rizalman's use of pattern (and color) in this outfit that reveals his keen eye for an understated option that still wows but much more suited for dressers who are not too color-adventurous. While there is a time for baju kurung with a more boxy top silhouette (as in the baju kurung Kedah), this figure-accentuating number that comes with a gold metallic belt ensures that you don't get lost in the printed piece. The v-neck and lacy sheer sleeves makes this baju kurung even more interesting.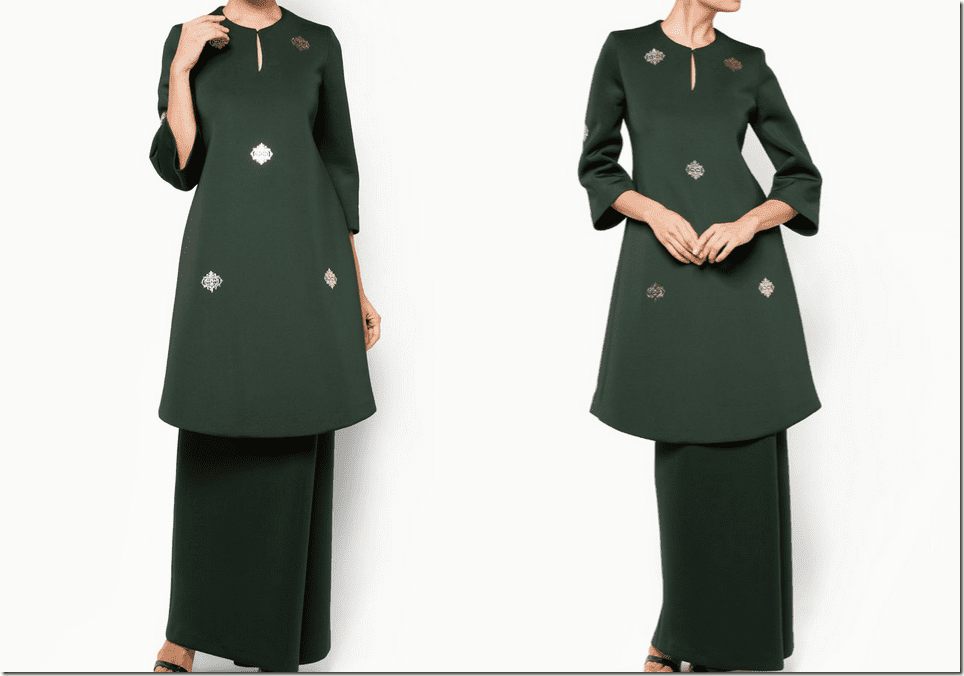 ♥ | forest green neoprene baju kurung with gold accents
The shape of this baju kurung grabs my attention as well as the broody green color. The long top is narrow up until the highest part of the waist and then it flares out quite dramatically making it look like it can be worn solo as a short dress. The folds at the side of the skirt designed for mobility retains of of the classic feature of the traditional baju kurung which Rizalman has cleverly made visible by keeping the skirt in a plain moody green palette.
This baju kurung flatters ladies who desire a bit of volume and poof in the hip area.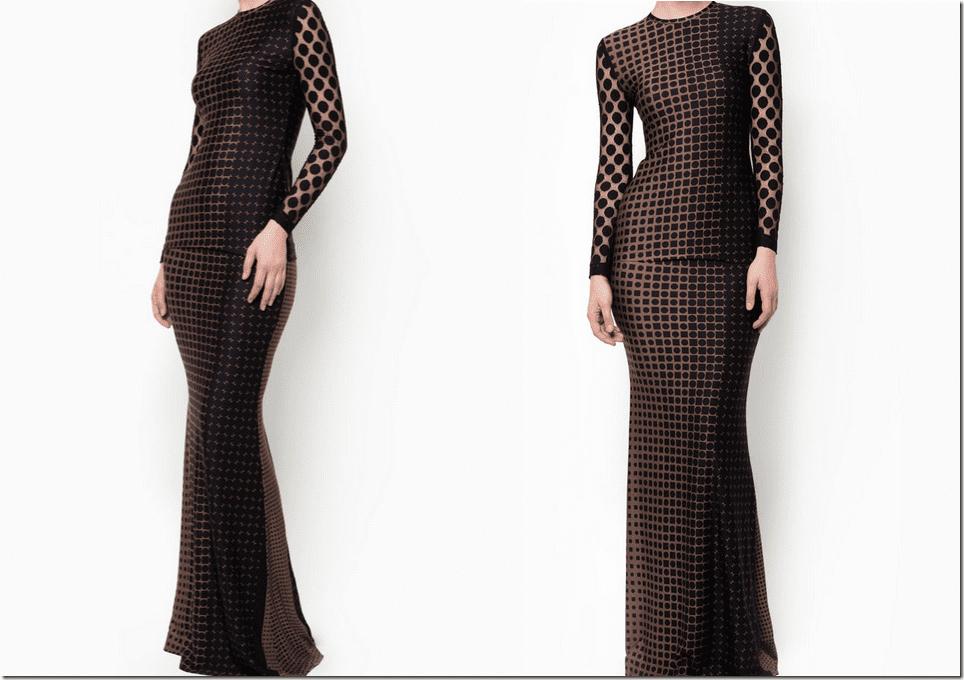 ♥ | geometric lace baju kurung
Another aspect of Rizalman's clever design in his Turkish-inspired collection is his strategic use of color and pattern to visually give the wearer of the dress above an the illusion of an even trimmer frame. The long lace sleeves is rendered in polka dots complementing the primary circle in a box motif. This baju kurung is a great pick for those whose love for geometric patterns is strong. The muted color scheme allows you to go all out with makeup — how fun!
♥ | houndstooth check monochrome baju kurung
Let me say that this is one of the most modern baju kurung interpretation that I am quite head over heels with particularly because of the use of the checkered houndstooth motif. It is so rare to find a chic baju kurung in this usually casual print that it is pretty refreshing. Rizalman's flair in giving the houndstooth motif a feature in his modern baju kurung and turn it into something so contemporary shows how boldly experimental he is. I like it!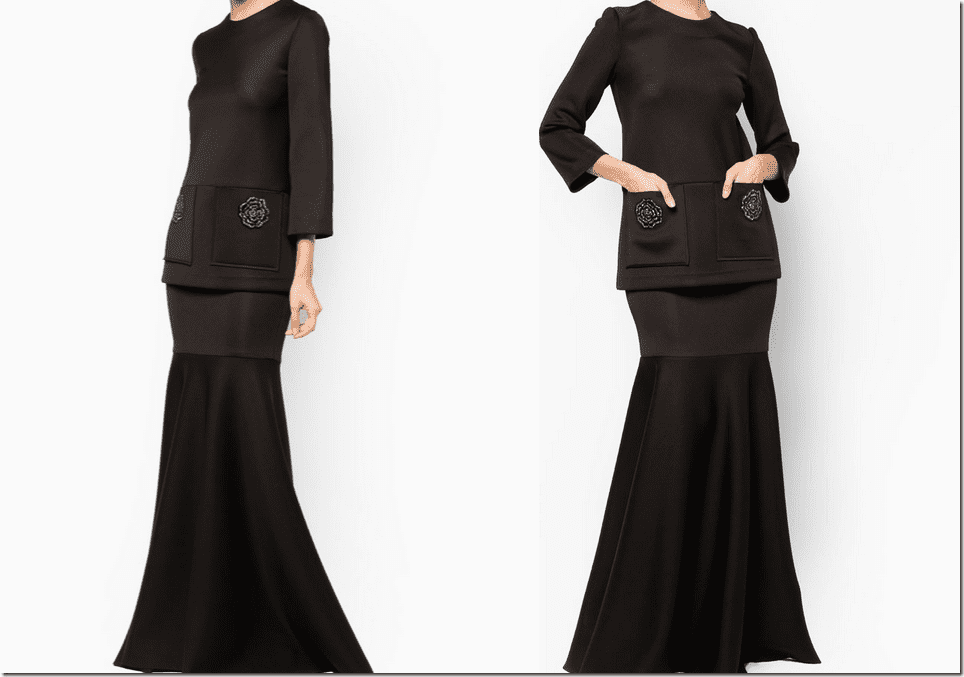 ♥ | matte black neoprene baju kurung with crystal embellishments
Black from top to bottom, this neoprene baju kurung is designed for only very special occasions set in chilly atmosphere. I wouldn't want to be caught wearing this outside even when it's raining! Because it is made of pure neoprene, it will hold its shape pretty well; a structured and elegant baju kurung (with functional pockets!) that will remain ever relevant even after Raya is long over.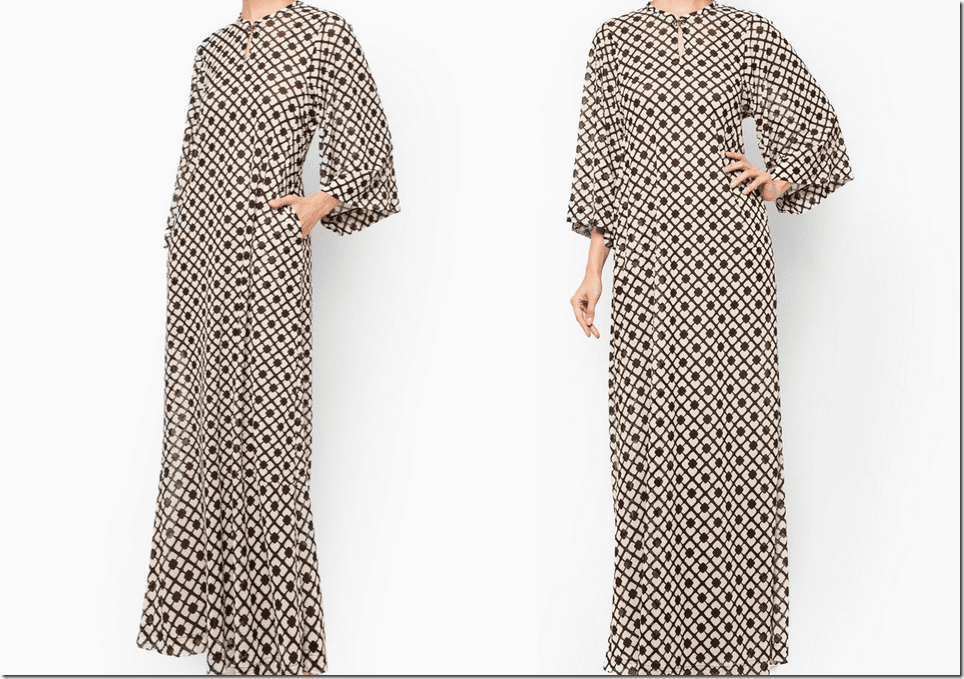 Once again, the use of geometric patterns prevails in Rizalman's breath-taking Raya 2015 collection. This flowy long dress boasts a roomy pair of sleeves and an equally roomy silhouette. The high round neck and front keyhole closure add to the effortless elegance of this relaxed number.
♥ | monochromatic abstract baju kurung
Last but not least, this baju kurung in monochomatic abstract print is easily one of my favorites. It looks like a long dress but lo and behold, it is a two-piece baju kurung with the black polka dots at the hem of the long top merging with smaller dots on the long mermaid style skirt. So far, Rizalman has quietly stole my heart in ways that I never expected and while this piece only shows a list that is much muted in terms of color, his collection does carry the more cheerful interpretations too! Be sure to check them out!
Find my selection a bit meh for your taste? No worries! Check out other baju raya choices below:
For budget-friendly Raya 2015 outfit ideas: SHOP Ravishing Raya Finds Under RM69.
"Appearances are a glimpse of the unseen." — Anaxagoras
Disclosure: This post contains affiliate links, which means that if you click on one of the product links, a small commission may be credited to this site.
Love this post? Share it with your friends! Follow us for more fashion inspiration:
♥ Twitter ♥ Facebook ♥ Google+ ♥ Bloglovin ♥ Pinterest ♥ Polyvore ♥
© All images are copyrighted by their respective authors.
Here on Fashionista NOW, our one and very own Miss Reverie showcases the latest in fashion trends and its various social implications in our everyday lives. You may read more of her at REVERIE SANCTUARY.