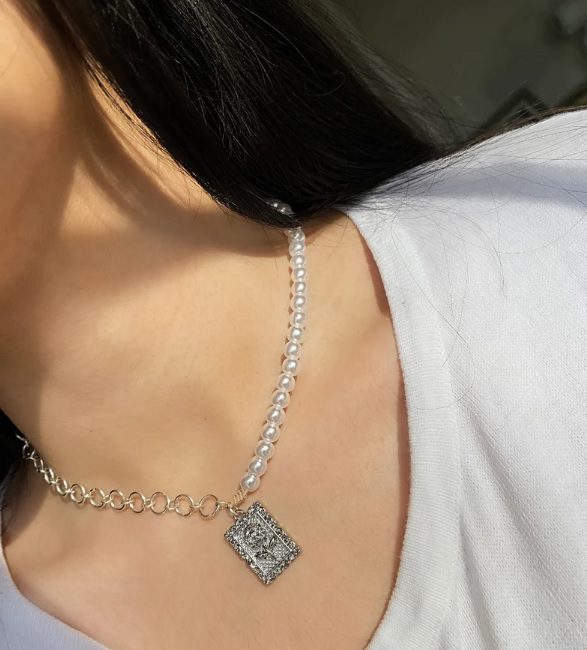 Disclosure: This post contains affiliate links, which means that if you click on one of the product links, a small commission may be credited to this site.
© All images are copyrighted by their respective authors.
There's something lovely in a string of pearls. The latest in pearl necklace design conjures a bit of an edge.
Pearls are in and I've rounded up a selection of unique modern neckpieces that will take your love for pearls to the next level.
Nope, it's not that disgusting tiktok necklace nor is it the stacked pearl necklace look that was the rave last year. We're looking at something exciting as far as pearls on a necklaces go. Don't worry you will be spared from twinning with your grandma either unless she's into the same new pearl neck embellishment. In that case, why not? 
These new breed of pearl necklaces are asymmetric on purpose, crafted with your favorite metals along with your love for vintage style charm/pendant. The look is adventurous and utterly modern. Worn with your fave minimalist outfit or something bold, you can be sure that your neck game will be on point!
These necklaces are also great for guys who love to wear something unexpected as a way to express their revolving love for fashion. Even if you're not exactly a guy/gal, these unisex pearl necklaces are a must-have modern accessory for pearl lovers of every type.
So, what are we waiting for? Let's dive into the curated list of unique pearl necklaces with an asymmetric design twist down below.
Enjoy!
Asymmetrical pearl necklaces are where it's at...
How dazzling are these pearl necklaces? Don't you just adore their unexpected asymmetrical design?
Which necklace is your favorite and why? Share below. I love hearing your thoughts.
Till the next post, take care of your precious self, do what you love, smile from your heart, laugh from the belly and most of all: let all you do spring from that gooey soft corner in your heart!
To independent jewelry makers: Get in contact with us so we can share your unique creations in this space!
Are you an independent jewelry artist with a collection of unique earrings you're excited to show to the world? Drop us a message so we can have your designs featured here!
Stay inspired, eat healthy and be emphatic to others you meet in your path! We may be outwardly different but we're all the same life stuff on a journey. Take care!
Other pearl bling styles you may fancy: