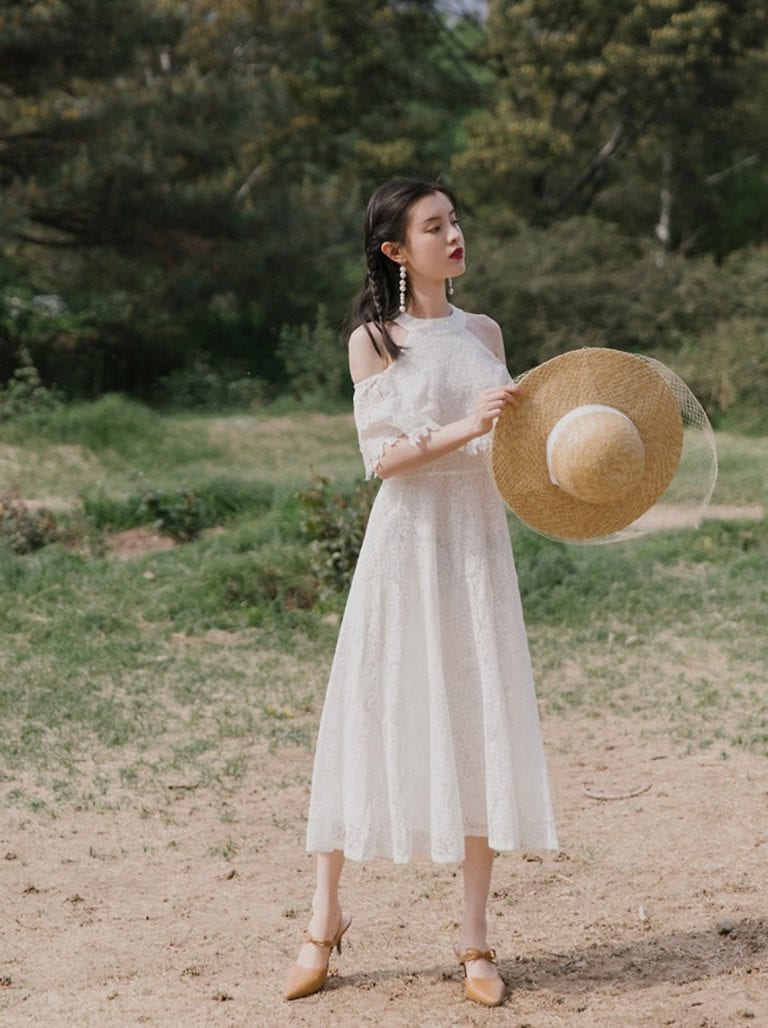 Disclosure: This post contains affiliate links, which means that if you click on one of the product links, a small commission may be credited to this site.
© All images are copyrighted by their respective authors.
Love the cottagecore dressing aesthetics to bits? Same! I have some really dreamy suggestions for you today: Why not refresh your wardrobe with dresses in dreamy laces, retro silhouettes and an overall prairie chic vibes?
Dresses in laces capture the kind of floaty dreaminess I can't quite put my finger on. Whether it's a picture in my head of a milkmaid massaging a hopefully happy cow's udders or a bored princess looking out of the windows of the tower, lace dresses transport us into a different corner in time. 
Alas, with the rise of modern fashion, you don't have to wait for a special occasion, or long for a different era to be slipping into a dress of such epic nostalgic dreaminess. With the pandemic here to stay, it's time to bring back the allure of romantic dressing in the form of midi dresses tailored with delicate vintage design elements. From delicate ruching, puffy flared sleeves, sweetheart necklines to breezy flared hemlines and restrained yet delightfully airy ruffles, these midi vintage style dresses will make your heart ache with awe that you'll want to wear them for days for no reason ever at all. You can make that day, right now.
Let's drool over these dreamy beauties, now shall we?
Dreamy Cottagecore Dresses To Wear For An Endlessly Romantic Look...
Whether you wear the beautiful lace dress for exchanging vows, simply celebrating a special occasion or dressing femme for a casual thing, you ought to be excited as there are tons of other lace masterpieces to choose from when you visit CiaoBellaByJune today.
Love our dress style inspo? Be sure to follow us in your favorite social platform! See you in the next one!