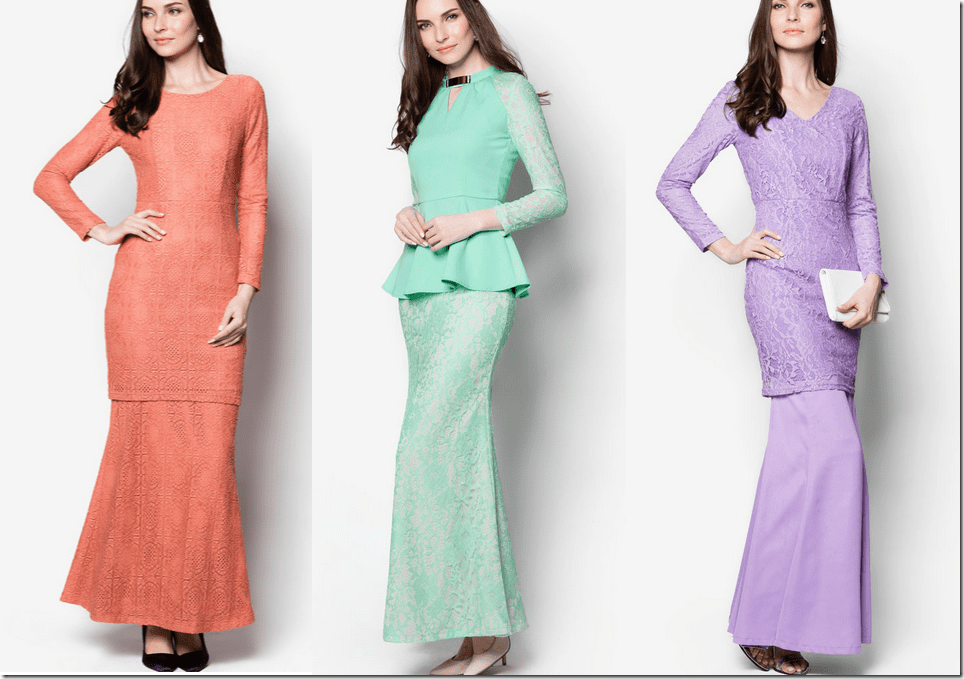 When a girl loves lace, you give her lace! This is a post dedicated to lace-loving gals who are caught up in their last minute shopping for baju raya.
I've been asked by a dear reader to give her some lacy baju raya ideas that she can maybe shop for (if she likes) and this is the post as per her request and I hope it can help others who are on hunt for lace outfits for the upcoming Eid as well. But first, mighty thanks to VERCATO, a fresh and upcoming clothing label for bringing in their latest elegant lace-laden collection of affordable modern baju kurung and dresses. I'm so thrilled to be sharing some lovely lacy picks with you today!
Are you ready? Let's just jump in, shall we?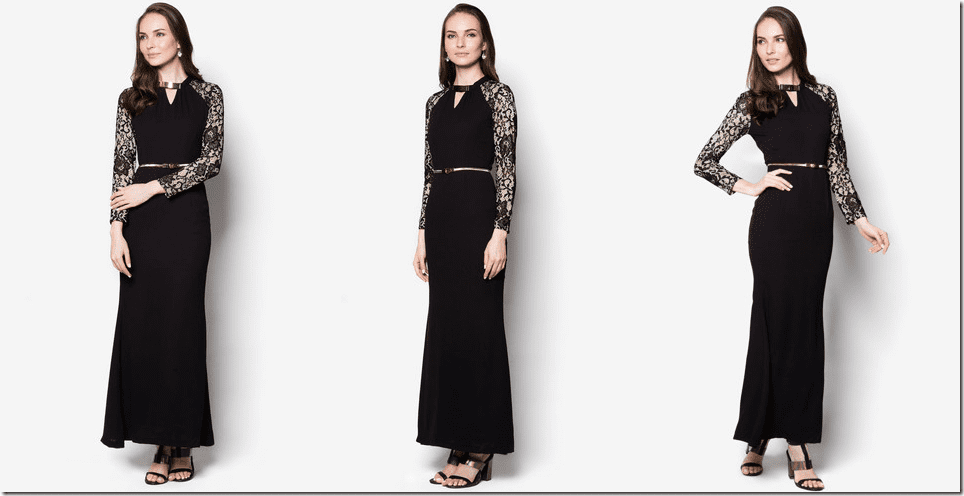 ♥ | gold metal bar lace black dress
Gold and black go together like bread and butter. This long dress features a high-neck metal hardware accent so that you don't have to bother with matching neckpieces. The skinny gold belt adds a definition to the waist and that extra sparkle you need for the festivities. The lace details on both sleeves are elegant and delicate, a beautiful contrasting embroidery set against the solid black of the dress. I'd so wear this dress.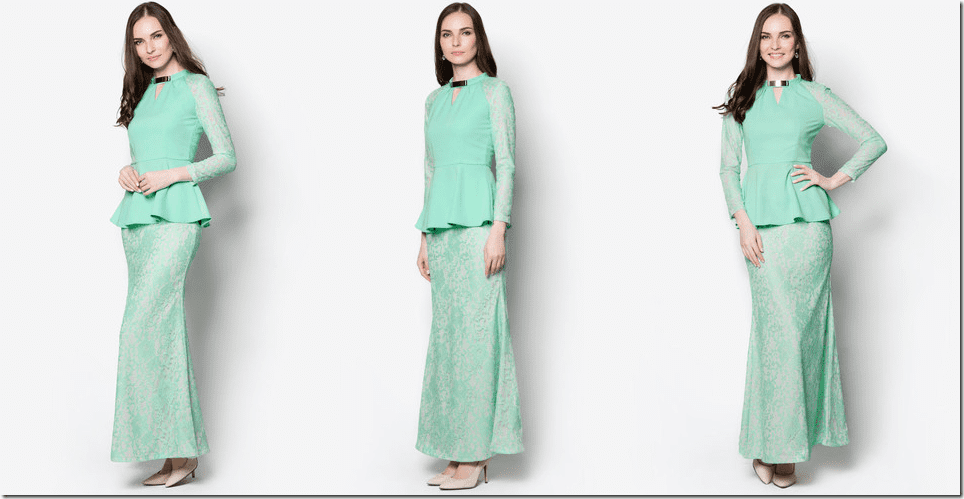 ♥ | mint metal keyhole peplum lace kurung
For lovers of sweet pastel, lace and peplum, this baju kurung begs to be reserved a spot in your Raya-ready wardrobe. Again, you need not bother with a necklace as the gold hardware decorating the neckline gives you an instant sparkle. Sweet, sweet lace embroidery decorates the sleeves and the long mermaid-style skirt.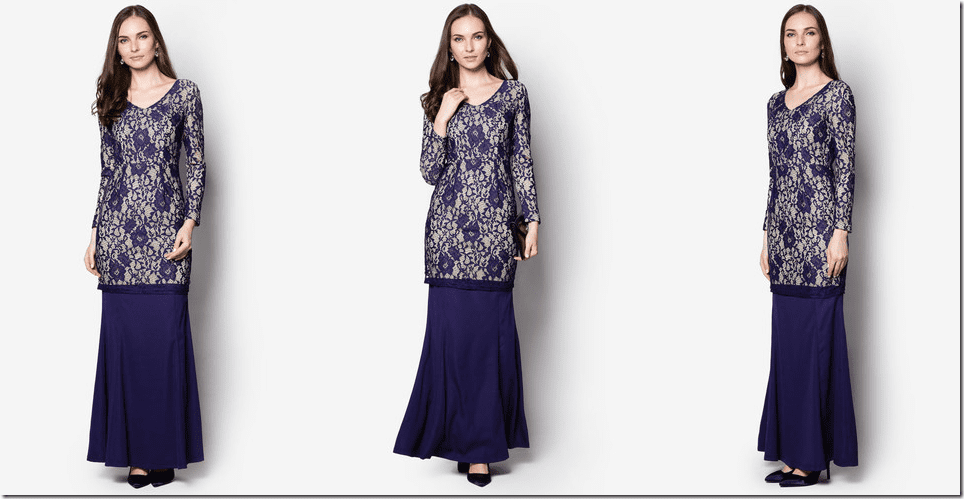 ♥ | navy blue v-neck lace kurung
For a much muted but still effortless Raya-ready pick, this v-neck baju kurung packs a punch in a long top that's rendered in delicate lace embroidery. The long skirt in solid navy made in a structured silhouette allows the lacy top to pop visually. I'd so wear this for the v-neck alone.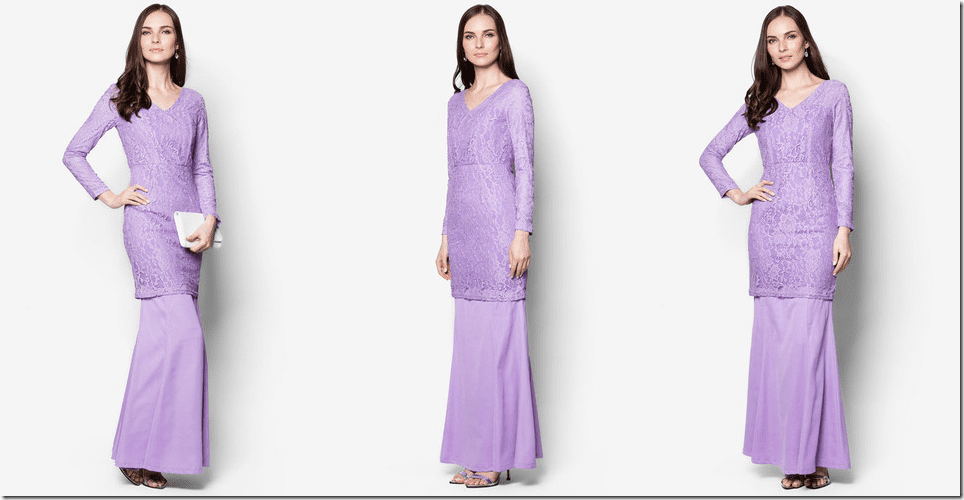 This is a purple rendition of a similar baju kurung you've viewed previously. It is sweet and again appeal to those who love pastel, lace and the long tunic-style top. I love the v-neck as it makes the top so much more modern.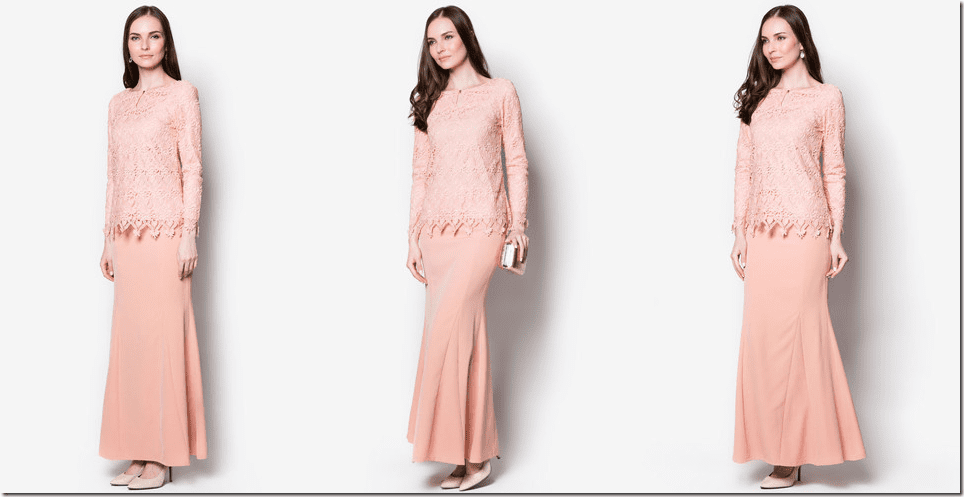 ♥ | salmon keyhole lace kurung
The peachy salmon, super feminine baju kurung will delight those who appreciate the barely-there color palette. This is such a must-have piece if dressing like an ethereal queen is your thing. The keyhole detail and the lace embroidery decorating the top are both features I just drool for!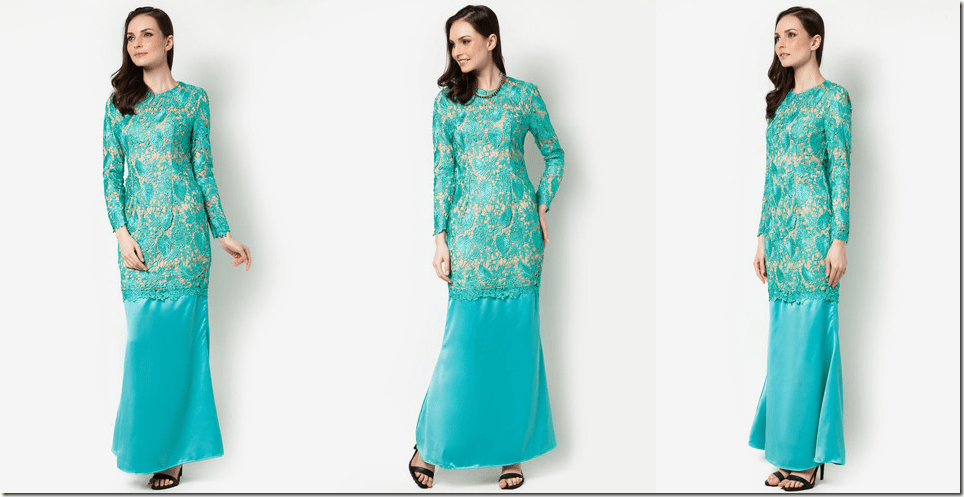 A pop of vibrant turquoise, enliven this lace baju kurung, making it a piece to have for those who love to make a color statement along with showing their love for the delicate lace. The form-fitting top is rendered all over in the lace overlay while the mermaid-style skirt is left lace-free for that strategic visual contrast. The round high neck style is pretty elegant, if I must say so.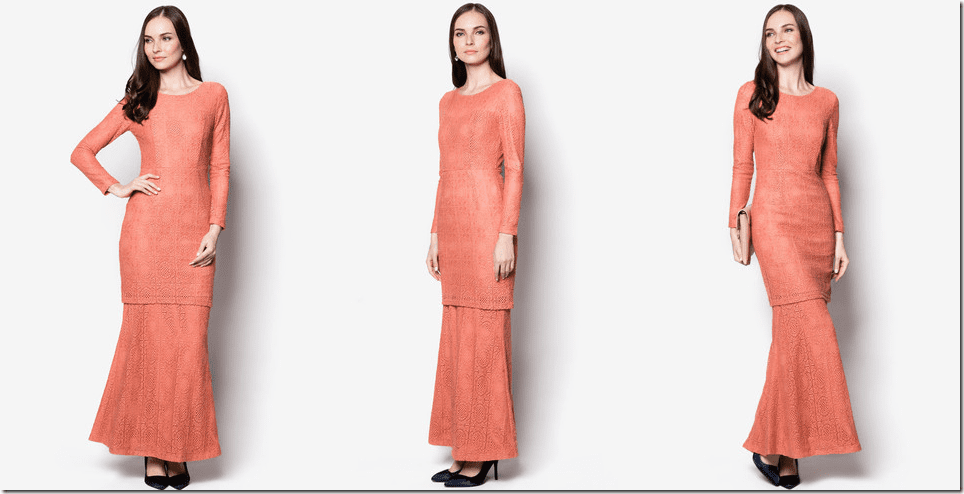 I love this baju kurung because of the gorgeous delicate texture. If you look closely, lace is seen decorating the surface of the top and skirt ever so subtly that it's just enough if you prefer a more toned down look of lace in an outfit. The round neck and a figure-accentuating top make this an extra charming choice. But, beware, salmon as a color is not for everyone, so do put that into consideration!
For other baju raya 2015 options:

So ladies, what do you think of this lacy list? Do you like any of the pieces shown here? Share with me below – I'd love to know!
"I only like decoration if it plays second to the architecture of a dress." — Madeleine Vionnet
Disclosure: This post contains affiliate links, which means that if you click on one of the product links, a small commission may be credited to this site.
Love this post? Share it with your friends! Follow us for more fashion inspiration:
♥ Twitter ♥ Facebook ♥ Google+ ♥ Bloglovin ♥ Pinterest ♥ Polyvore ♥
© All images are copyrighted by their respective authors.
Here on Fashionista NOW, our one and very own Miss Reverie showcases the latest in fashion trends and its various social implications in our everyday lives. You may read more of her at REVERIE SANCTUARY.