Credit | Stefani Avena
How to dress down a black dress? Learn chic ways to make a black dress look casual and some stylish yet casual black dress ideas here.
We all agree that an LBD or the little black dress can be the reliable go-to dressy garment no matter the style as long as the shoe, makeup and hairstyle are all on point. But what about ways to make a black dress look casual? We answer this very question for you below:
Acid Wash Layer
♥ | Jana Wind
A black lace number that is an epitome of the dark yet girly dressy wear can be toned down a notch by topping it off with an unexpected acid wash denim shirt worn unbuttoned. Instead of slinky dainty footwear, slip your feet into a platform style shoe. Wear your hair down in that windblown style and a no-makeup kind of makeup. You know the kind that's like your face minus all the charming pimple marks and such. Of course, the makeup's optional!
Sweater Top-Up
♥ | Masae. Y
The easiest way to turn a dressy black dress casual is to wear a sweater over it. This is an obvious method to keep warm in cold weather through layering but we all know that anything comfy worn atop a dress completely turn the mood of the wardrobe into a relaxed vibe, right? To keep it well-balanced, you may opt to wear a pair of structured booties and a minimalist style of black bag. Wear minimal makeup and let your hair down.
Cardigan Persuasion
♥ | Julia F.
A cardigan is your next best layering option to dress down a black dress every single time that you get to play up your makeup and hair should you decide to approach your wardrobe styling this way. To inject a dose of the 90s fashion element, wear a neck-hugging choker necklace.
Long & Slouchy Coat Mode
♥ | Alyssa Lau
A long dress rendered in black lace can be made casual by simply donning a long relaxed-fit coat that is left unbuttoned. Running shoes or trainers make for the unexpected sporty edge that screams casual. What a juxtaposition of relaxed dressiness, right? I so love this ensemble!
Footwear Comfort
♥ | Blertina Shabani
A faux fur coat? How can this ever be casual, you ponder. Well, if you make sure to wear a relaxed style of footwear like a mid-calf-high studded booties along with your maxi black dress, then, it will be!
Should you find it too humid where you are for layering through casual outerwear and for wearing boots, I'd recommend wearing black dresses in a relaxed shape, like a shirt dress or a shift dress for a more dressed-down look. Anything that is rendered in plain black minus fancy cuts and embellishments, will do.
Casual Black Dresses
Casual black dresses recommendations for summer dressing, casual V-day date or running errands in style: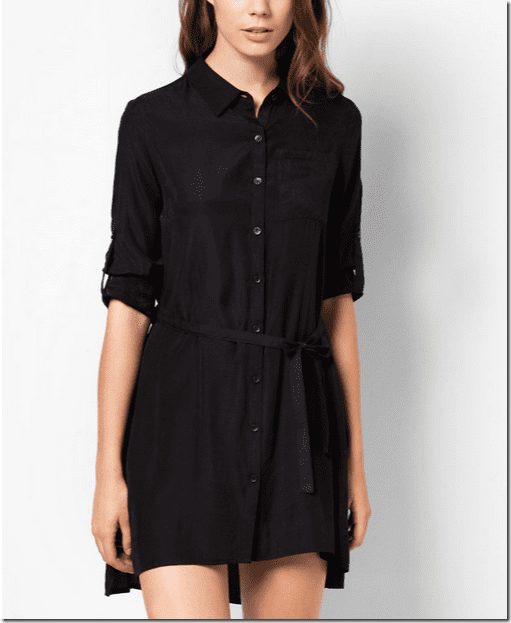 ♥ basic black shirt dress ← SHOP HERE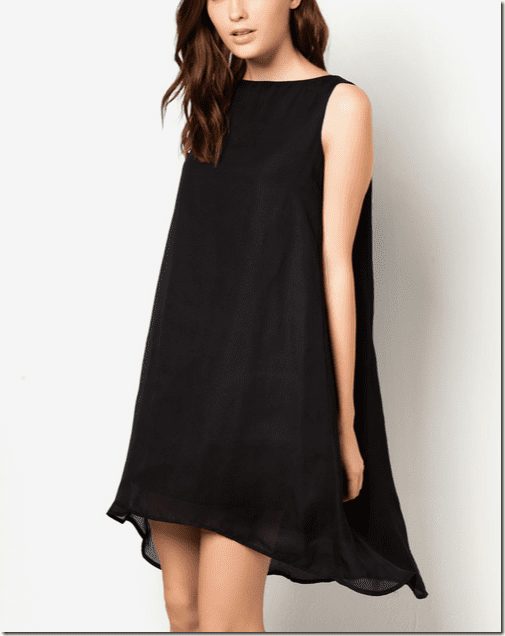 ♥ basic boat neck dress ← SHOP HERE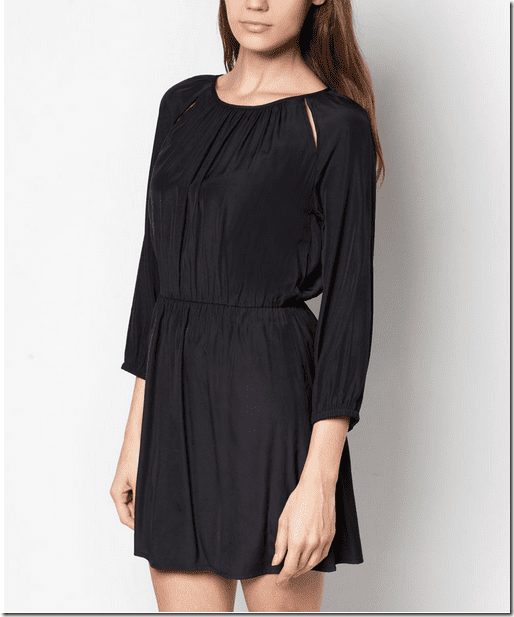 ♥ black peasant cutout dress ← SHOP HERE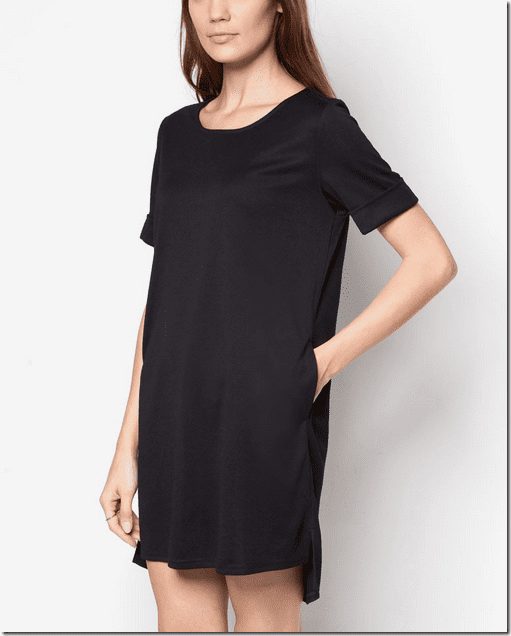 ♥ black t-shirt dress ← SHOP HERE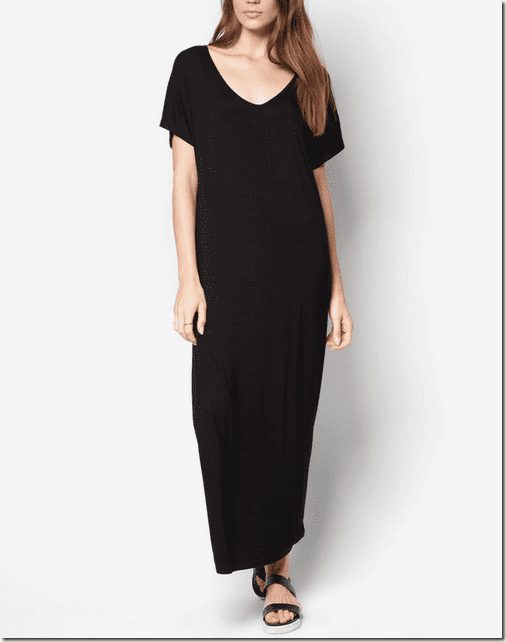 ♥ boyfriend tee maxi dress ← SHOP HERE
♥ long sleeve shirt dress ← SHOP HERE
What do you think of these casual black dress looks? Do you like the tango of dressy and relaxed fashion elements at play? How do you style a black dress to make it appear casual without looking too lounge wear? Share below – I love reading your thoughts!
"Dressing is a way of life." — Yves Saint Laurent
Disclosure: This post contains affiliate links, which means that if you click on one of the product links, a small commission may be credited to this site.
Love this post? Share it with your friends! Follow us for more fashion inspiration:
♥ Twitter ♥ Facebook ♥ Google+ ♥ Bloglovin ♥ Pinterest ♥ Polyvore ♥
© All images are copyrighted by their respective authors.
Here on Fashionista NOW, our one and very own Miss Reverie showcases the latest in fashion trends and its various social implications in our everyday lives. You may read more of her at REVERIE SANCTUARY.