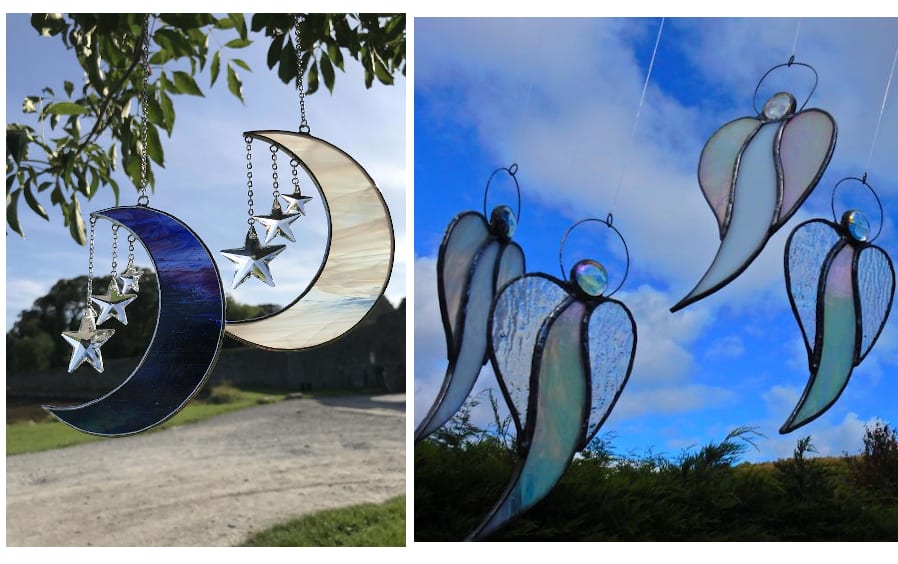 Disclosure: This post contains affiliate links, which means that if you click on one of the product links, a small commission may be credited to this site.
© All images are copyrighted by their respective authors.
Find yourself looking out of the windows to catch a break during the WFH quarantine life? Why not decorate the space with an ornament meant to raise the level of your mood? Consider: Suncatchers…
I was given a gift in a form of  a crystal suncatcher when I was in my early twenties. The twist, though? I was clueless that it was called a suncatcher. It was a flower-shaped  crystal prism. Some of the crystal petals broke away from the main piece and being completely clueless about fixing things, I chucked it away! In retrospect now, obviously I could have extended its lifespan. Anyway…
Just recently I spotted a pretty stained glass decor for placing near windows referred to as a suncatcher and I thought, well, that would pair up perfectly with a dreamcatcher. While perusing for visually-striking handcrafted suncatchers on Etsy for variety, I realize that peculiar feeling of having been missing out on having a light-catching decor! I must stay that I'm slightly enchanted by these reflective things. Okay, honestly, obsessed more like!
If you're one to love having things that catch little sun rays and turn them into a visual feast for the eyes, then these are some of the most exciting handmade suncatchers ever crafted for you to consider:
Sun to suncatchers: Catch me if you can...
Where to place suncatchers?
Anywhere where natural light comes through is a good place to start. You can have them hanging out or inside your home near a see-through glass window or door depending on the make. It's got to be a sturdy one if you're going to hang it outside. Take into consideration the weather and temperature of your locality.
Personally for me: inside near a window is the best so you know that the cute suncatcher you just pawed will be in a great condition and last a long time as it's not directly out there taking in all the intense weather elements.
What are the benefits of suncatchers?
They add a mood to the space and if you're about that, then you know that it's an instant visual delight, a quick pick-me-up. They bring in good Feng Shui. The suncatchers absorb the positive energy of the sun and elevate the energy of the space via specks of light and rainbows. I don't know about you but I love watching how light changes the feeling of an environment. It's soothing and can trigger a meditative mood.
So, folks: Which suncatcher is your favorite? Where do you usually hang your suncatcher? Spill everything below!