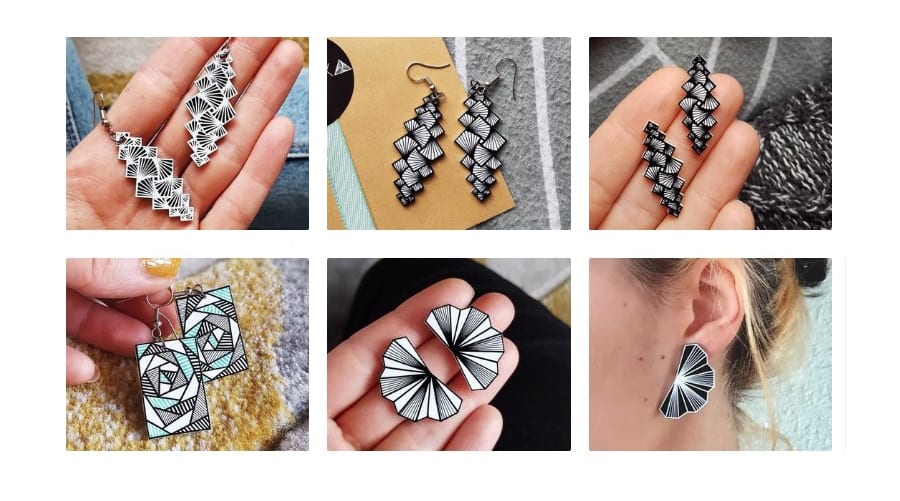 Disclosure: This post contains affiliate links, which means that if you click on one of the product links, a small commission may be credited to this site.
© All images are copyrighted by their respective authors.
Our first earrings inspo post of 2020 begins with something delightfully geometric and intricately-graphic. Are you excited?
Inspired by her black and white cat, Tina who is the creative mastermind of the jewelry label called TomikaDesign makes geometric jewelry exciting again for those who are smitten with anything and everything geometric. As a cat lady, she, of course, makes the earrings in cat format and is open to receiving new ideas suggestions for customized shapes to adorn your ears with. 
The design of her earrings in particular deserve a a spotlight it speaks to the simplicity of a primarily monochrome black and white palette, intricate use of lines in varying levels of thickness and arrangements over shapes that remind you of the origami. Although it seems so simple, it carries a distinct degree of complexity witnessed in the way the lines come alive over the geometric shapes. I can't help but to pause to take in the beauty of these exquisite earrings that a hoarder of geometric earrings would so appreciate!
Whether you hoard earrings or not, let's jump into the snaps down below as we feast on the selected handmade earrings from TomikaDesign. Enjoy!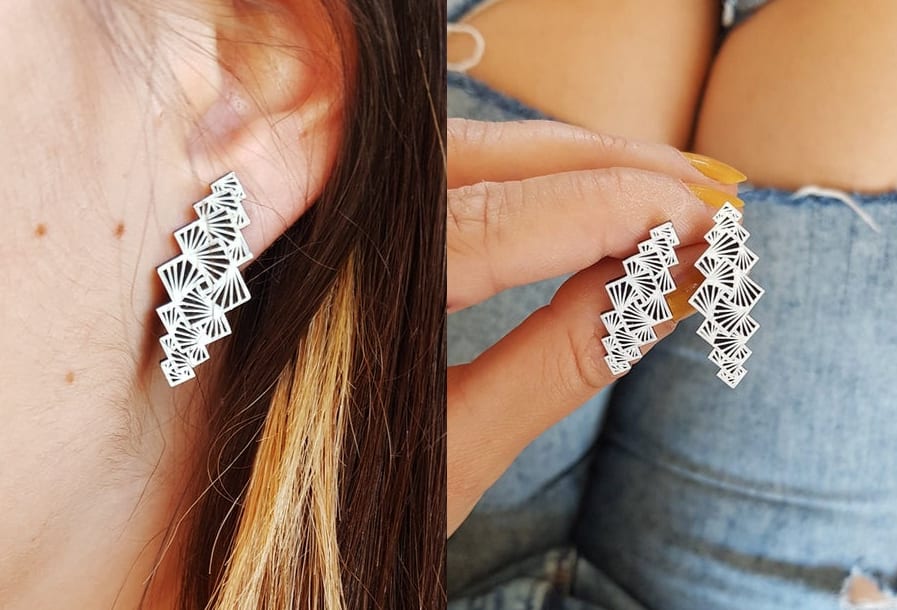 Up the ante of your stud earring game with something out of the box. Cue this pair of earlobe-transforming gems! Guaranteed to make those ears pop!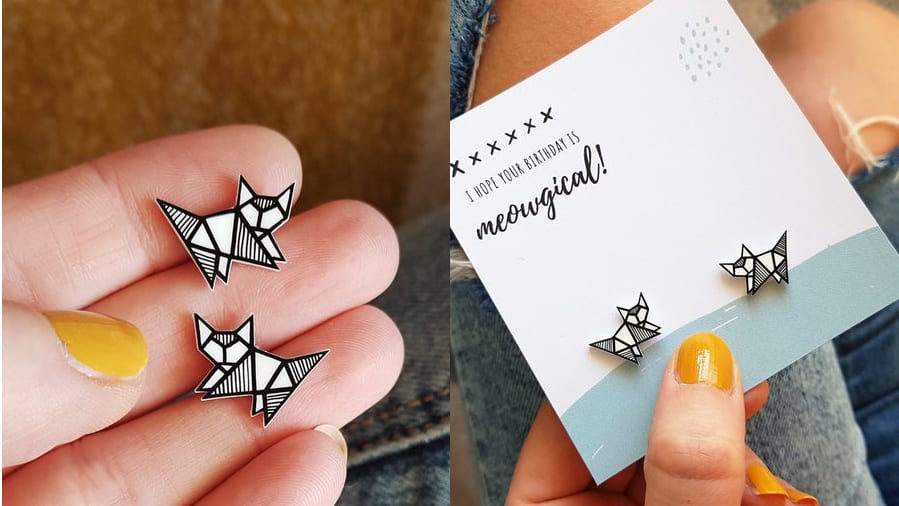 Know a cat lover? Whether it's you or a friend, he or she will never want to take these off because wll, the cat mood is for life! Aren't these just too super cute? They make me think of foxes too and I love foxes as well.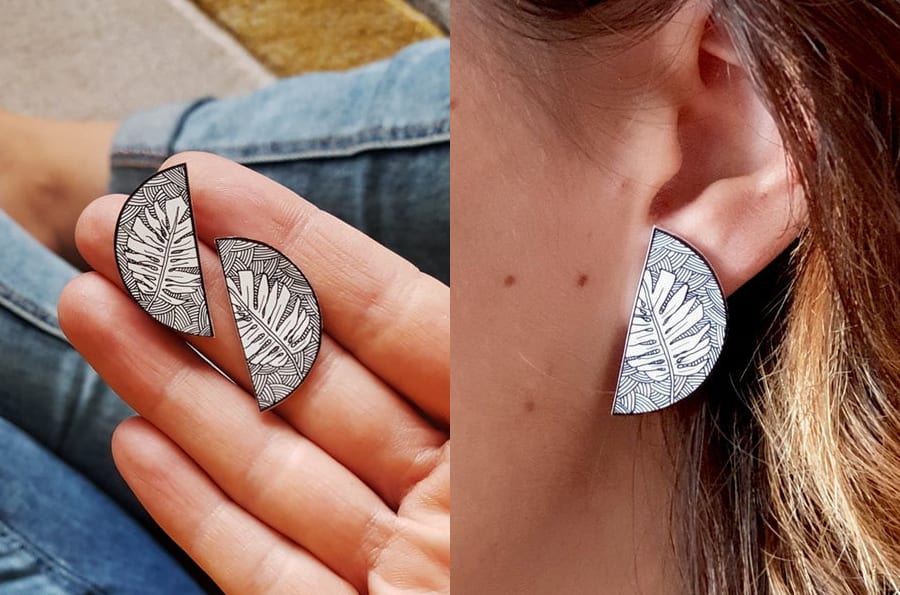 For plant parents, these stud earrings are a nod to your love for the Monstera deliciosa. Crafted over a half-pizza shape, it's terribly hard to say no to when you're a fan of anything botanical and pizzas.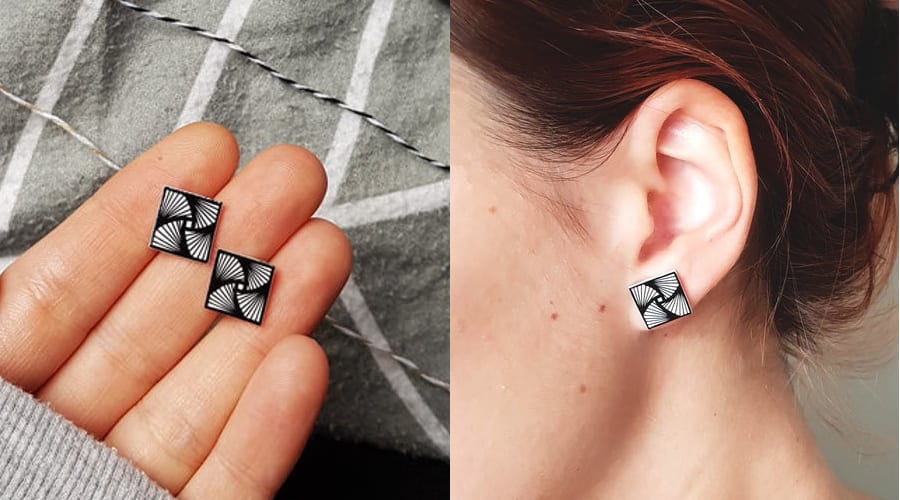 These squares aren't your usual squares. Crafted with lines that make your eyes tickle with delight, they're an absolute game-changer. Think of the ways these earrings would complement your edgy street style outfits. Simply rad, aren't they?
Can't wait to wear these geometric earrings?
Head on over to TomikaDesign to feast your eyes on them in detail and browse for the rest of their unforgettable handmade jewelry in the collection.
For more eye-catching geometric earrings to inspire you, you might find these posts helpful: