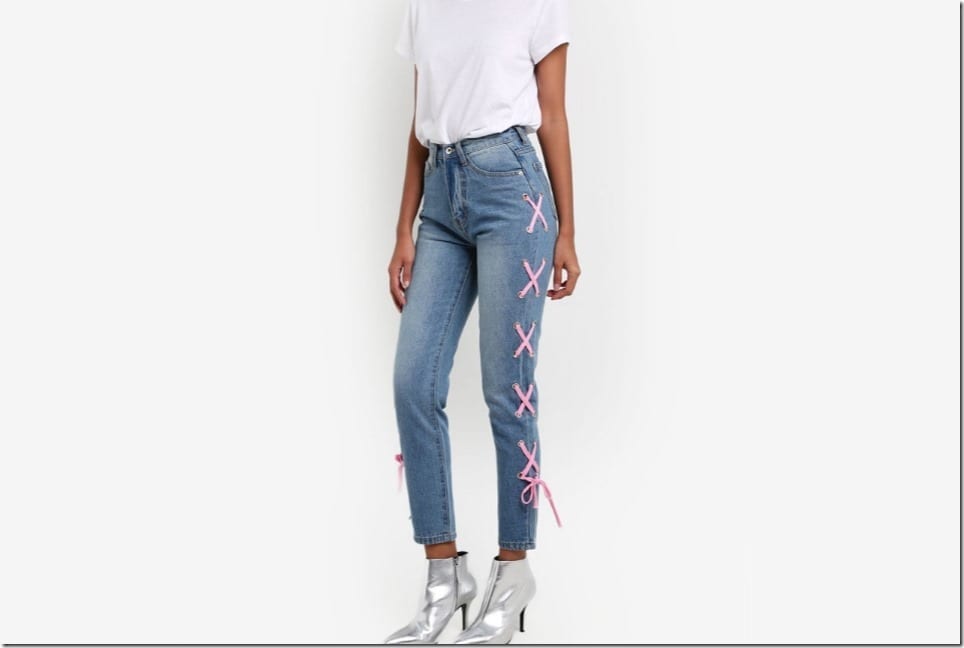 Blue jeans with personality.
Most of us probably have a few blue jeans of the usual sort. While the latest trends in jeans have seen them ripped, tattered, shredded, embroidered with flowery motifs or pearls and it might seem like we've seen it all, makers of jeans are continuing the path of transforming jeans with unexpectedness and if you're all about that, then this one's for you.
Looking at blue jeans is a hobby of mine of late. Even though I'd stopped wearing the extra skinny ones years back, I'm obsessed with the high-waisted mom jeans variety. I never quite got into the embroidered jeans but I'm so far from averse to the rest of the styles that are making blue jeans personalized and quite a character. If you're in Malaysia, these jeans are on the virtual shelves of ZALORA to be grabbed now as the holiday season promises you the grandest deals.
With ordering jeans online, it can be a challenge if you've never worn a certain jeans brand before. It's best to get your current form-fitting jeans' size and compare with the measurements on the charts. If you find it hard enough to fit in jeans in a physical store, then, please do take some time to go into a store that specializes in denim to really have a feel of the style of jeans that you can slip your lower torso into without too much fuss. Anyway, let's have an eyeball of the whimsical jeans style down below and understand why you might be in the mood to order them, pronto!
Enjoy!
The Hearty Jeans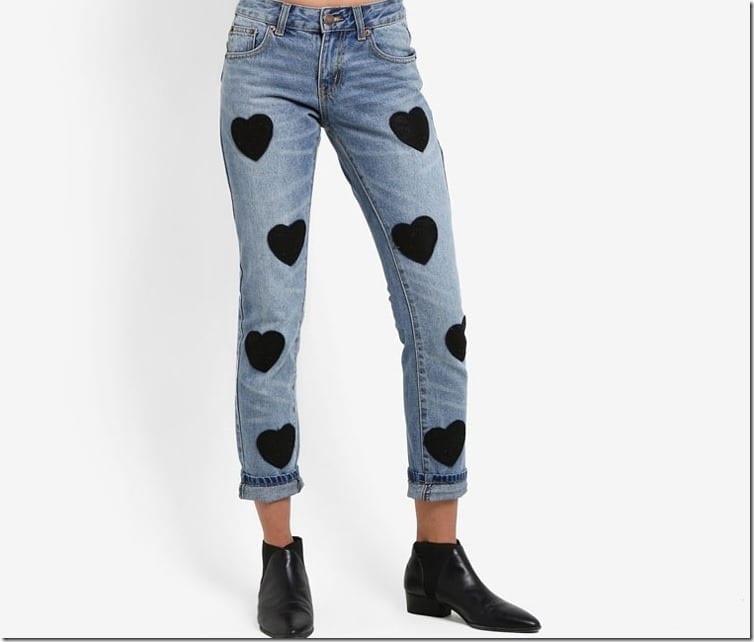 This one's for those in love with heart shapes. With a total of 8 heart patches decorating the front leg of this stonewash beauty, it's easily a heart-melting winner for those looking for a pair of unusual blue jeans.
The Subtle Peek-A-Boo Jeans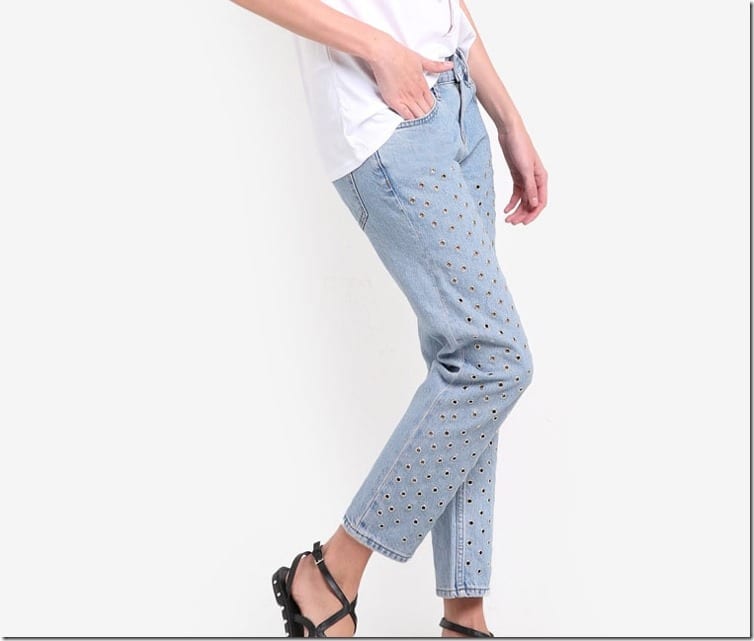 With eyelets dotting the space in the front leg area of this cropped jeans, this will be the pair you want to slip into on heaty days when you want some breeze to pass in and out of your jeans through tiny little holes.
The Side-Popping Jeans
Buttons on the side of your blue jeans make this an eye-catching pair to add into your casual street style repertoire. With a fit and flare shape, the jeans give you a chance to ooze that retro 70s vibe in a contemporary design.
The Color Block Blue Skinny Jeans
This one has contrasting panels in blue shades and a skinny fit. Sometimes, a little design tweak like this can be just the thing to set a blue skinny denim apart from the rest.
The Pink Ribbon Jeans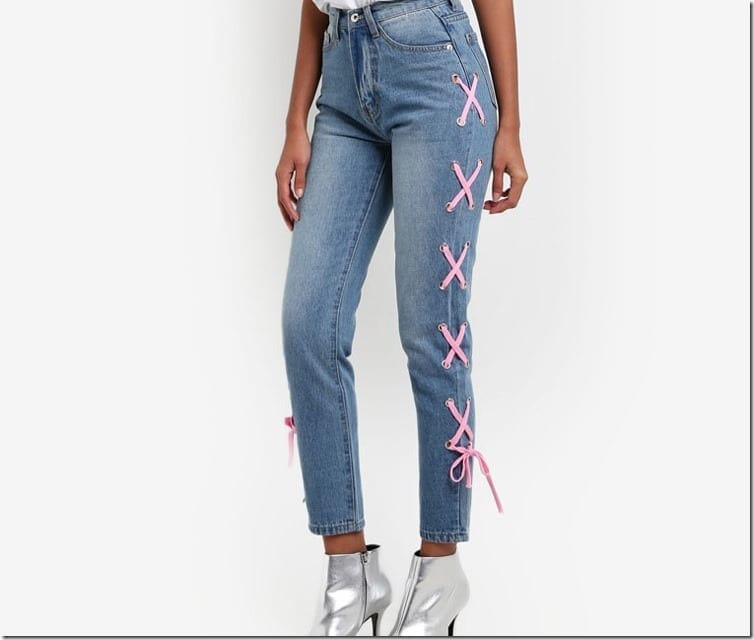 Being blue and often unisex, the blue jeans get a youthful and girly update with eyelet side ribbon decorations in sweet pink! A visual treat to your most casual OOTDs.
The Doughnut Jeans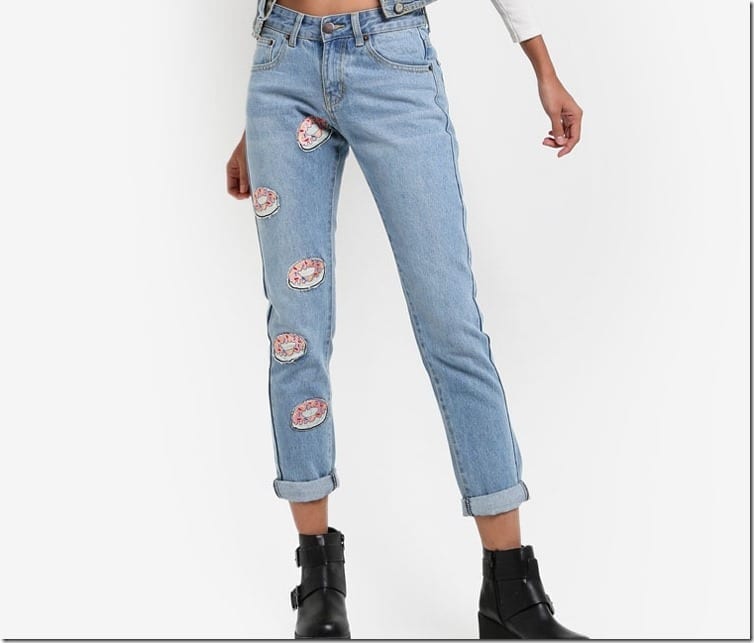 You don't have to have a love for doughnuts like the stereotypical cop in America, to wear this blue jeans. With the front right leg adorned with not one but five patches of doughnuts, this could be your go-to happy jeans.
The Side Trim Ring Jeans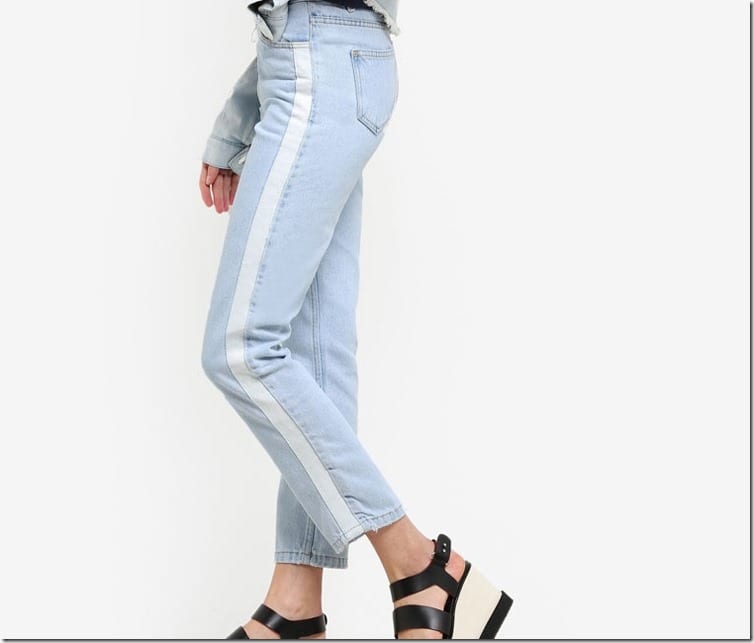 This one makes me think of those sporty athleisure pants with the outer leg stripe. For a blue denim with the same touch, this one stays true to the shape of the high waisted straight jeans. The extra detail? A front zipper with a statement ring loop chain to make it all chic and edgy.
Which blue jeans style would you love to wear? Share below – I'd love to know!
Remember to use our code ZBAPEDJ to get 15% OFF on your first-time shopping with ZALORA Malaysia.
"The same way that a tiny thought in our childhood can manifest thirty years later as an anxiety disorder, one tiny thought right now can manifest just six months from now as unconditional love and unshakable happiness." — Vironika Tugaleva
Disclosure: This post contains affiliate links, which means that if you click on one of the product links, a small commission may be credited to this site.
Love this post? Share it with your friends! Follow us for more fashion inspiration:
♥ Twitter ♥ Facebook ♥ Google+ ♥ Bloglovin ♥ Pinterest ♥ Polyvore ♥
© All images are copyrighted by their respective authors.
Here on Fashionista NOW, our one and very own Miss Reverie showcases the latest in fashion trends and its various social implications in our everyday lives. You may read more of her at REVERIE SANCTUARY.