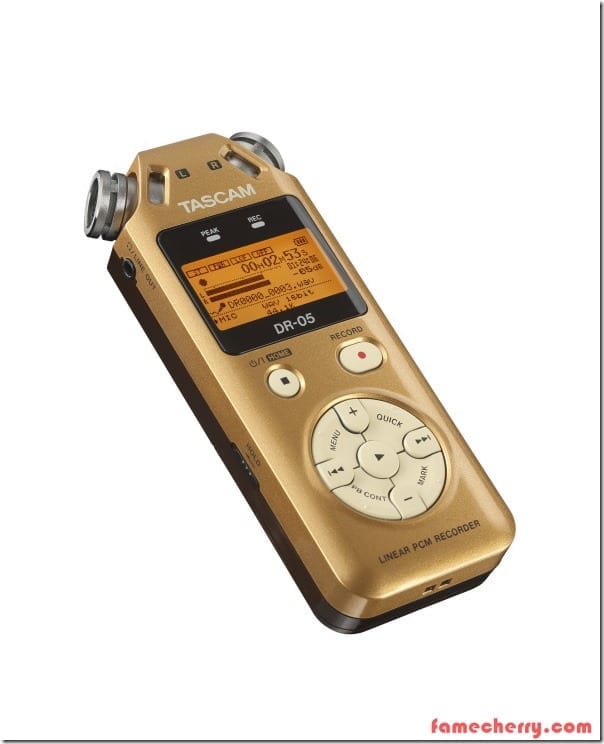 Price : RM 507
Description : TASCAM's DR-05 brings high-quality stereo recording to an easy-to-use portable powerhouse with a size and price that anyone can handle. The DR-05 records in MP3 or WAV format – including 96kHz/24-bit high-resolution audio – to microSD or microSDHC media. A pair of all-new microphones handles up to 125dB SPL with the sensitivity to capture every detail. With new recording features like Peak Reduction and Quick Menu, the DR-05 puts album-quality recording in the palm of your hand.
( We also accept payments in SGD ) ( Kindly Contact Us For Unbelievable Best Price )
Purchase Options : Shipping Available To All Parts of Malaysia, Self Pick Up Is Available at our branch in Cheras
Community
Join The Zenit Worldwide Community : https://www.facebook.com/groups/zenit-world 
Orders & Enquiries

Please email us at shops.famecherry@gmail.com or call us at 012-3375629

( We are also available on Whatsapp but if urgent please make phone call ya )



Video Inspiration :
Description :
Premium-quality Sound
Everything about the DR-05 is designed to get the best quality recordings of your music. A new pair of built-in microphones withstands up to 125dB SPL – the volume of a jet plane from 200 feet away – yet still have the sensitivity to capture every detail of a performance. You can add your own microphone or line-level source through the 1/8" stereo input, including plug-in power for microphones that need it.
Internally, the DR-05's digital and analog circuit boards are built separately to increase noise performance, with a low-impedance design to further decrease hiss. A separate power supply is sent to the A/D and D/A converter for even better audio performance. The result is clean sound quality – over 92dB signal to noise ratio, under 0.05% total harmonic distortion and 20Hz to 40kHz response (-1/+3dB) at 96kHz/24-bit resolution.
Simple to Operate
The layout of the DR-05 has been revamped to be quick and easy to work with one thumb. Operations like recording, adjusting levels, deleting bad takes and adding markers are just a button press away. Dig deeper to find features like limiting, low cut filtering, a built-in chromatic tuner and more.
One new feature that makes the DR-05 easy to operate is the new Peak Reduction feature. This setting automatically sets your recording level by listening to the input and adjusting for the best level. Unlike Auto Gain settings, this one only goes down to prevent accidental distortion after a period of low level like a break. Peak Recording works in rehearsal mode or in record, so if the performance is louder than the soundcheck you're still safe. Used with the built-in limiter, it's unlikely you'll distort your career-making live recording.
Other classic TASCAM features are included, like Variable Speed Audition to loop and slow down music without changing the pitch – perfect for transcribing or learning new music. A Level Align function can be switched on for playback, to smooth out any sudden volume jumps, and a built-in speaker is also provided. The two AA batteries are enough to power the recorder for 17 1/2 hours, even while recording at CD quality.
For musicians and recordists at any stage of their career, there's no easier way to get great-sounding recordings than TASCAM's DR-05.
Demo Sound :
Features :
Easily create high-quality recordings
Stereo condenser microphones for lively, high-quality sound and high-resolution recording
The "DR-05" is equipped with omnidirectional stereo condenser microphones that can not only record sounds directly in front of the microphones but also record ambient sound from all directions. This is great for capturing the excitement from the audience such as at live events, producing realistic recordings. The recording format is compatible with 24bit/96kHz, which is higher than CD quality.
Proven high sound pressure design for capturing loud sounds of up to 125dB SPL, making it ideal for loud band recordings
Proven high sound pressure design that is perfect for loud recordings such as bands or passing trains. It can be used for recoding quiet sound sources such as lectures or for loud sound sources such as rock bands.
Peak reduction function that detects peaks and automatically sets the optimal level
The peak reduction function automatically lowers the level when a peak sound is detected and continues recording. The level can be set automatically according to the sound source, so it is easy for anyone to set the optimal level.
The "DR-05" has a total of three different input signal level adjustment functions including a peak reduction function.
Peak reduction : When a peak is detected, the input signal level is automatically lowered and recording continues. It is perfect for music recordings that have variation in volume, which can be difficult to listen to.
Auto level : The input signal level is automatically adjusted according to the input sound volume. It is good for when the volume fluctuates such as when recording meetings.
Limiter : Prevents distortion of excessively high input signals.
Enhanced playback functions
Tempo change (VSA) function for adjusting the speed from 0.5 to 1.5 times (in 0.1 increments), which is great for practicing music and language study
Playback speed can be adjusted without affecting the pitch. This is helpful in various situations such as when arranging and practicing music, for slowing the speed of recorded conversations, and for speeding up playback of meetings.
* The VSA function is only available when playing back files recorded at 44.1kHz/48kHz.
Level align feature prevents uneven volume levels for enhanced listenability
When recording meetings or interviews, there are cases where it is difficult to listen to the playback because the volumes of different people vary. In such cases, the level align function automatically adjusts the sound volume for playback, making it easy to listen.
– Equalizer setting for adjusting playback sound quality
– Divide/delete functions make it easy to organize files after recording
– Loop/repeat playback function that is convention for practicing music and studying languages
– Self timer recording function that is helpful for recording your own musical performances
– Three low cut filter levels that cut unnecessary low frequency noise such as from air conditioning equipment
Additional Features of Version 2
Nondestructive Overdubbing Function for Music Creation
The overdubbing function allows for overdub recording while playing a recorded file. This can allow you to record other parts of a musical production such as a guitar solo over a recording made at a rehearsal studio later at home. Overdubbing creates a new file, leaving the original file unaffected, making it easy to rerecord.
Reverb Effect for Vocal and Instrument Resonance
Reverb can be added for music demo recordings and overdub recordings to add a more natural resonance. Reverb can also be used during playback, making it possible to express the 'live' feeling at a hall by adding reverb to created music.
Auto recording function that can start recording automatically
Records and pauses automatically. If the input signal level falls below the nominal level for more than 5 seconds during recording, it automatically switches to standby. If the input sound level rises above the nominal level again, recording restarts as a new file. This is useful when you do not want to record unnecessary portions such as lecture intermissions.
Auto mark function that can put the mark automatically
If the input signal level falls below the nominal level for more than 5 seconds during recording, it sets a mark when it rises above the nominal level again. This is useful when you want to search for a song position after a recording such as for live recordings. Marks can be used by BWF compatible software.
Auto tone function Provides Easy-Adjustments for On-Site Movie Editing, ideal for DSLR filmmaking
The internal slate tone generator produces various tones for easy track making and recognition. Please use dedicated accessary kit (AK-DR11C) for connecting.
Summary of Features
– Stereo condenser microphones for lively, high-quality sound and high-resolution recording
– Proven high sound pressure design for capturing loud sounds of up to 125dB SPL, making it ideal for loud band recordings
– Peak reduction function that detects peaks and automatically sets the optimal level
– Self timer recording function
– Seamless gain control
– Three low cut filter levels that cut unnecessary low frequency noise such as from air conditioning equipment(40/80/120Hz)
– Speed change (VSA) function for adjusting the speed from 0.5 to 1.5 times (in 0.1 increments), which is great for practicing music and language study
– Level align feature that prevents uneven volume levels
– Equalizer setting for adjusting playback sound quality
– Divide/delete functions
– Loop/repeat playback function that is convention for practicing music and studying languages
– Resume function that retains the last stop position and starts playback from that position when power is turned back ON
– Jump back and play that skips back a preset number of seconds during playback (1 to 10 sec in 1 sec increments, 10 sec, 20 sec, 30 sec)
– QUICK menu button for easy access to various functions
– High-quality 24-bit/96kHz WAV/BWF linear PCM recording and long recordings as MP3 files possible
– microSD/microSDHC cards can be used as recording media
– A 4GB microSD card is included. Up to 149 hours of recording is possible with the included card (MP3 at 32kbps)
– Mark function that can set up to 99 points for a single track Mark information can be utilized by BWF compatible software
– Audio files created on computers can be played (Only in formats compatible with this product)
– Built-in monaural speaker with an output of 0.3W
– Pre-recording buffer that can record up to 2 seconds prior to starting recording
– When a predetermined maximum file size is reached, a new file is created to continue recording
– Track increment creates new files at arbitrary locations during recording
– File name format can be set to use a user-defined word or the date
– The first six characters of the file name for recording can be set freely
– Playlist function
– A chromatic tuner is equipped which is helpful for practicing musical instruments
– Stereo mini headphone jack for external stereo microphones (provides plug-in power) / External line input
– Stereo mini headphone line output / Headphone output connector
– 128×64 pixel graphic LCD with backlight
– High-speed file transfer to a computer is possible using USB 2.0
– Powered by 2 AA batteries, USB bus power, or optional AC adapter (PS-P515U)
– Mini USB cable included
– Tripod attachment screw-hole built in to the unit