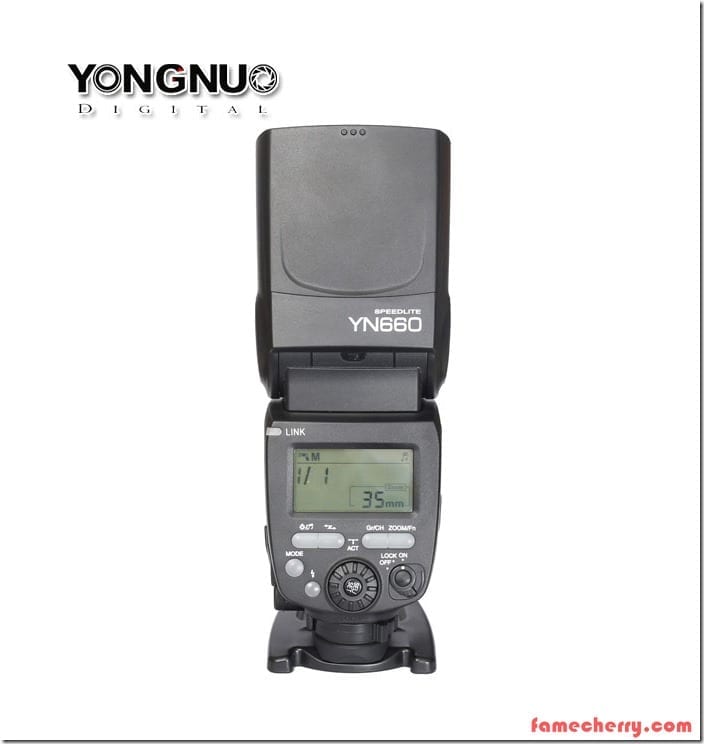 Price : RM 319 Approx
( Actual Price In Cost Sheet )
Description : The Yongnuo YN 660 speedlight is built upon the YN-560 range of manual speedlights with 2.4GHz remote manual radio transceivers built inside.
( We also accept payments in SGD ) ( Kindly Contact Us For Unbelievable Best Price )
Purchase Options : Shipping Available To All Parts of Malaysia, Self Pick Up Is Available at our branch in Cheras
Community
Join The Zenit Worldwide Community : https://www.facebook.com/groups/zenit-world 
Orders & Enquiries

Please email us at shops.famecherry@gmail.com or call us at 018-3737197

( We are also available on Whatsapp but if urgent please make phone call ya )



Video inspiration For YN-560 speedlight range :
Description :
Yongnuo 2.4GHz Speedlite YN660
Ultra High GN66,Creative Type Wireless Flash Leading Product
GN66
GN66@ ISO100, 199mm
High guide number 2.4G wireless speedlite,supports M/Multi/– mode.
Master control
Supports wireless master control function,realize six groups of light control
YN660 can be used as master control unit,be equipped with six groups of independent grouping control ability, realize remote control the flash mode,output and focal length of YN660, YN560 IV, YN560III.
Off camera
Supports wireless slave function, fully supports the YN660, YN560 IV, YN560-TX, RF605, RF603II, ?RF602 wireless transmitter
One YN660 can respectively accept the signal transmitted from the YN660, YN560 IV, YN560-TX, RF605, RF603 (II), RF602 wireless transmitter, with 16 channels for option; when the YN660, YN560 IV and YN560-TX used as transmitter, it can realize remote flash parameter adjustment.
Trigger
Multiple flexible trigger synchronous ways
YN660 can be triggered through the camera, 2.4G wireless triggering, S1 and S2 pre flash trigger avoidance.
Custom
Supports automatically save settings and custom settings Fn
The parameters on the flash will automatically save when the flash turned off; the users can customize setting the flash function as needed.
Sound
Special sound prompt system
Turn on the sound prompt function, the speedlite will prompt the working state, allows you to focus on the creative process (note:the sound prompt can be turned off).
Zoom
Supports electric zooming function
Through short press the ZOOM button and rotate Select Dial,the flash coverage can be changed between 24 ~ 199mm with cyclical variation. (note: 199 mm is equivalent to 200 mm focal length).
Ultra fast Charging Recycle System, supporting External Power Supply
Equipped with Big Size LCD Display Screen, standard PC Synchronous Interface