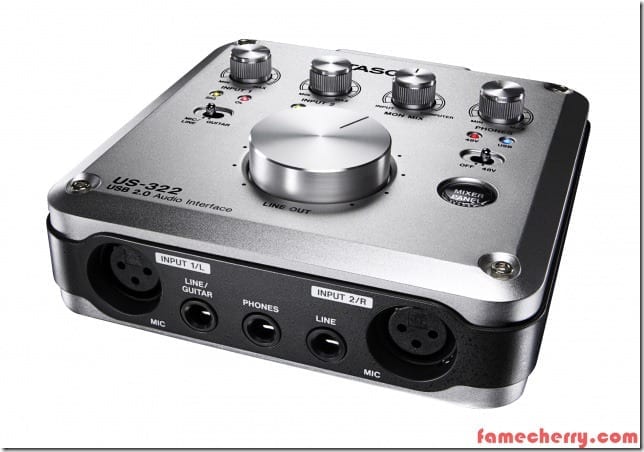 Price : RM 559
Description : The Tascam audio interface US 322 provides high-quality HDDA mic pre-amps and a wealth of features for superior sound. The US-322 has a USB 2.0 audio interface with on-board DSP mixer and up to 96/192kHz recording.
( We also accept payments in SGD ) ( Kindly Contact Us For Unbelievable Best Price )
Purchase Options : Shipping Available To All Parts of Malaysia, Self Pick Up Is Available at our branch in Cheras
Community
Join The Zenit Worldwide Community : https://www.facebook.com/groups/zenit-world 
Orders & Enquiries

Please email us at shops.famecherry@gmail.com or call us at 012-3375629

( We are also available on Whatsapp but if urgent please make phone call ya )



Video Inspiration
Features
1. High-Performance Hardware For High-Quality Sound Recording
High-Quality HDDA – High Definition Discrete Architecture – Mic Pre-Amplifiers
To ensure superior sound, TASCAM organized months of tests and trials to design the HDDA mic pre-amplifier. Manufactured with a discrete structure and select premium parts, the HDDA pre-amp achieves wider frequency response (10Hz to 68kHz), high S/N ratio, low noise and low THD+N.
US-322:Up to 96kHz/24bit Recording
In the process of creating music, many engineers have started utilizing high-resolution formats while recording to ensure the best quality sounds. The US-322 and the US-366 are suited perfectly for these high-quality minded recordings.
(Included CUBASE LE can not record by 192kHz)
Two XLR/TRS (MIC/LINE) Inputs with Full +48V Phantom Power Supply
The US-322 and the US-366 are designed with two XLR with +48V phantom power and two TRS inputs. Having both options for condenser mics and line level inputs ensures you are getting the best possible sound and lowest-noise when recording. In addition, INPUT-1 can connect any high-impedance equipment directly, like a guitar.
2. On-Board Digital Mixer (DSP Mixer) for Easy, Convenient Professional Recording
The DSP Mixer Has Two Operational Modes Designed for Music Creation and Podcasting
The DSP mixer function provides a multi-track mode and a stereo-mix mode.
Multi-track Mode
The multi-track mode is ideal for music creation. This mode delivers independent monitor-mixing from a send-level like an inline-console to a PC. In addition, this mode delivers monaural-monitoring.
Stereo-mix Mode
The stereo-mix mode makes podcast recording or broadcasting convenient and easy. An output audio signal from any PC can relay that signal back to the PC again via your DSP mixer. Any BGM from a PC can mix your voice by microphone then the mixed sound will transfer back to the PC again.
On-Board Effects Supports High-Quality Recording (Send Effects and Insert Effects)
The US-322 and the US-366 are designed with on-board effects such as compressor, 3-band EQ and Reverb all located on-board the DSP. While recording, you can use the input effects for any input signal and the reverb effect on any monitoring signal at the same time.
(DSP effects can use on 44.1/48kHz operating)
Insert Effects
The input effects can be selected from compressor or 3-band EQ. Input effects can use various recording. For example, while recording vocals you can boost your high-frequency range with the 3-band EQ. Also, the compressor effect is very convenient at recording especially for bass guitar, vocal and drums.
Send Effect
The send effect include just reverb. The reverb effect is necessary articles at recording. Monitoring sound will get wet-sound by this reverb effect, but a send-sound to a PC keeps just dry sound.
Dedicated MIXER PANEL Button Recalls The DSP Mixer with One-Click
The US-322 and the US-366 are built with a "MIXER PANEL" button located conveniently on top. This button provides a one-click recall function for the DSP-mixer. When pushed a second time the mixer panel will be conveniently hidden.
3. Suited for Various Recording Environments with Adaptable Features
Low-Latency Monitoring via DSP Mixer for Stress-Free Recording
The US-322 and the US-366 provide low-latency monitoring via the on-board digital mixer. Volume can be monitored and adjusted easily with the dedicated knob on the top-panel.
Oversized LINE OUT Volume Knob for Easy Monitor Level Setting
This oversized volume knob can be an integral setting for easy and speedy fine level adjustments.
Classy Desktop Design, Luxurious Feel and Rugged Aluminum Body
The US-322 and the US-366 look so good, you'll be motivated to use it. The adopted "Desktop Layout" makes these models easy-to-use even in tight spaces.
Specifications
US-322 2×2 USB Audio Interface
Supported sampling frequency
44.1/48/88.2/96kHz
Supported bit rate
16/24bit (Internal operation is 24bit)
Analog audio Inputs
MIC IN
(INPUT 1/L, 2/R)
XLR-3-31(1:GND, 2:HOT, 3:COLD), BALANCED
Input impedance
2.2kohms
Nominal input level
(INPUT:MAX) -65dBu
Nominal input level
(INPUT:MIN) -22dBu
Maximum input level
(INPUT:MIN) -6dBu
LINE IN (INPUT 1/L, 2/R)
6.3mm(1/4″) TRS-jack(T:HOT, R:COLD, S:GND), BALANCED
Input impedance
15kohms(LINE)/1Mohms(GUITAR)
Nominal input level
(INPUT:MAX) -39dBu(LINE)/-55dBV(GUITAR)
Nominal input level
(INPUT:MIN) +4dBu(LINE)/-12dBV(GUITAR)
Maximum input level
(INPUT:MIN) +20dBu(LINE)/+4dBV(GUITAR)
LINE OUT (LINE OUT 1/L, 2/R)
6.3mm(1/4″) TRS-jack(T:HOT, R:COLD, S:GND), BALANCED
Output impedance
100ohms
Nominal output level
+4dBu
Maximum output level
+20dBu
LINE OUT (LINE I/O 3-4)
RCA pin-jack
(When set to "OUTPUT" at LINE I/O switch)
Output impedance 200ohms
Nominal output level -10dBV
Maximum output level +6dBV
PHONES
Connector 6.3mm(1/4″) stereo phone jack
Maximum output level 18mW+18mW or more(THD+N 0.1% or less, 32ohms loaded)
USB
Connector USB B type 4-pin
Format USB2.0 HIGH SPEED mass storage class
Power
USB bus powered (5V, Max 500mA)
Power consumption
2.5W
Dimensions
140(W)—42(H)—140(D)mm
Weight
500g
Operating temperature
5-35C
Bundle software
Cubase LE6
Accessories
CD-ROM (includes dedicated driver), USB cable (1.5m), DVD-ROM (Cubase LE6),
Insert sheet for Cubase LE, Warranty card
Audio performance
ADC chip set dynamic range 102dB *1
DAC chip set dynamic range 106dB *2
Frequency response
Mic preampr 10Hz to 68kHz, +0.5/-3.0dB
MIC IN to LINE OUT 10Hz to 40kHz, +0.5/-3.0dB
MIC IN to PHONES 10Hz to 30kHz, +0.5/-1.0dB
THD 0.0045% or less *3
S/N ratio 98dB or more *4
EIN -120dBu or less *5
Operating system requirements
Windows
OS Windows XP:32bit SP3 or more, 64bit SP2 or more
Windows 7:32bit, 64bit
Windows 8:32bit, 64bit
DRIVER ASIO2.0, WDM(MME)
Macintosh
OS Mac OS X Snow Leopard(10.6.8), OS X Lion, OS X Mountain Lion
DRIVER Core Audio