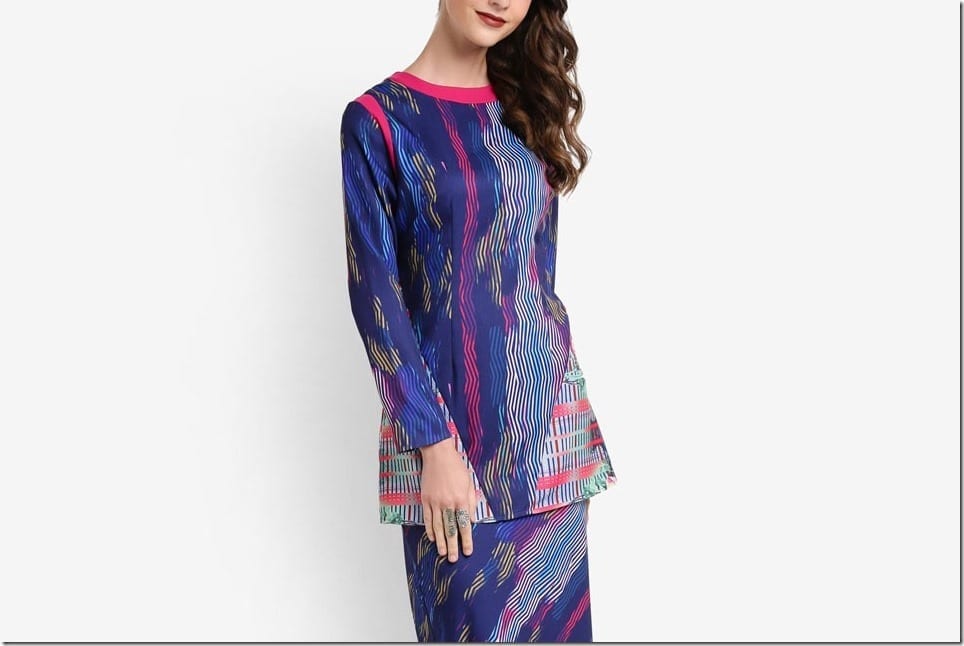 Stop everything – Melinda Looi's collection for Hari Raya 2017 will offer you the perfect baju raya solution.
Melinda Looi's new Raya 2017 pre-order collection of baju kurung modern is out and you may just want to call a set or two your own, after I give you a sneak peek of 5 styles of the designer modern kurung that I'm in love with from her latest beautifully vibrant collection.
Seeing and appreciating Melinda Looi's previous years' collections and comparing them with the latest one, you will without a doubt recognize the designer's unique touch that prevails throughout each piece. Boasting an array of modern kurung kedah and the usual kurung selection rendered in exclusive abstract prints and floral motif, the Emel by Melinda Looi Raya 2017 collection is designed to impress the fashionable woman who appreciates exclusive patterns that are very Melinda Looi in essence.
You just simply cannot un-notice the thread of familiarity when it comes to her use of print play as the designer truly knows how to stick by her memorable signature look.
Whether you prefer a kurung set with a shorter blouse or a long tunic variety, there shall be more than three you will proudly want to call your perfect baju raya. The lace kurung collection is a character on its own. With the use of a versatile color palette of grey, beige and blue, the lace panel detailing in the kurung top is subtly sophisticated. The skirt style for the modern kurung is of the bias-cut variety where there will be room for stretch and drape. Skimming the hip and thighs, while flaring mildly about the knee zone, this is a long skirt design that is considered universally flattering.
Creatively, each kurung set is named in Malay by spices we can find in the kitchen. Looking for something extra edgy and utterly unexpected in versatility?
The cengkih kurung would make the perfect choice as the top alone can be worn THREE ways! The same top can be worn like an unzipped long sleek bomber jacket. Or, worn simply with the striped organza on display along with the patched floral and gemstone. Or you can alternative wear it inside out, so that what you get is a solid-colored kurung set from top to toe! How amazing is that? Melinda Looi really takes it up many notches with this particular design.
And not only just that, another kurung set called the oregano shall appeal to lovers of texture and movement. Featuring a feathery waist statement, all-over plisse-pleated details and the elongating asymmetrical hemline, this is another one baju kurung style by ML that I find personally compelling in its aesthetic.
Have a feast on the styles of baju kurung modern designed by one of my favorite talented Malaysian fashion designers down below.
Asymmetric Plisse Feather Waist Kurung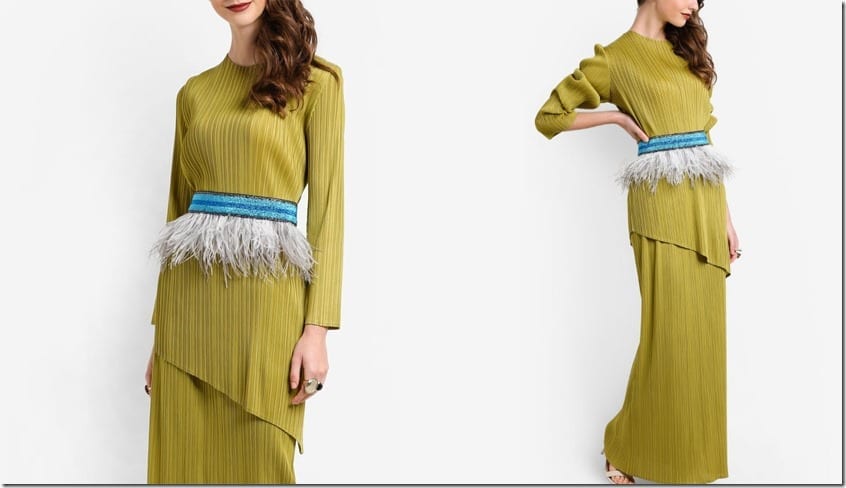 Graphic Abstract Print Modern Kurung
Grey Lace Long Sleeve Modern Kurung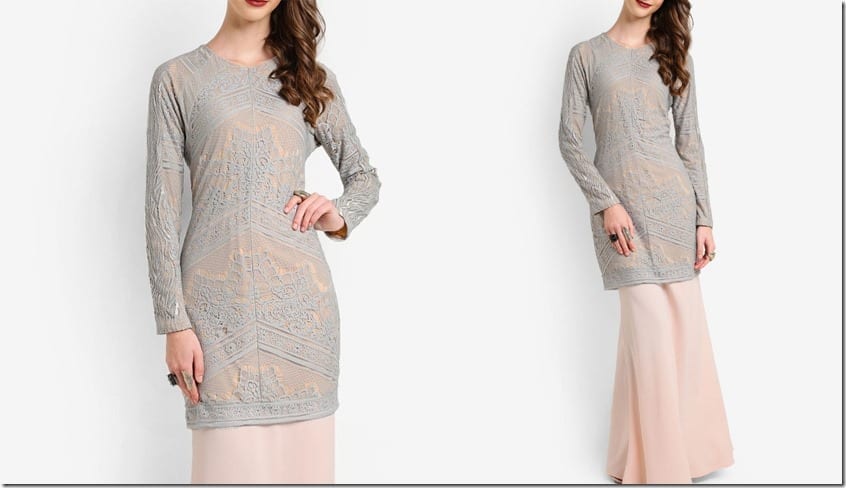 Sleek Black + White Floral Patch Mod Kurung ( 3 Styles In ONE! )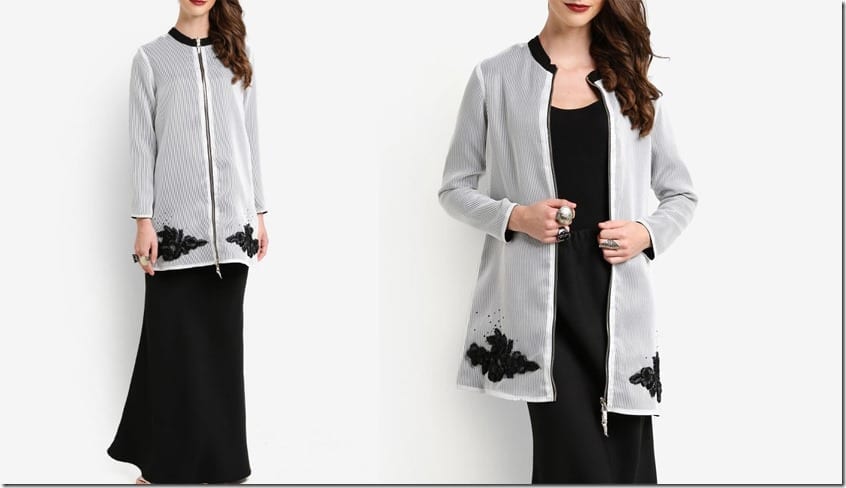 White Asymmetric Embellished Mod Kurung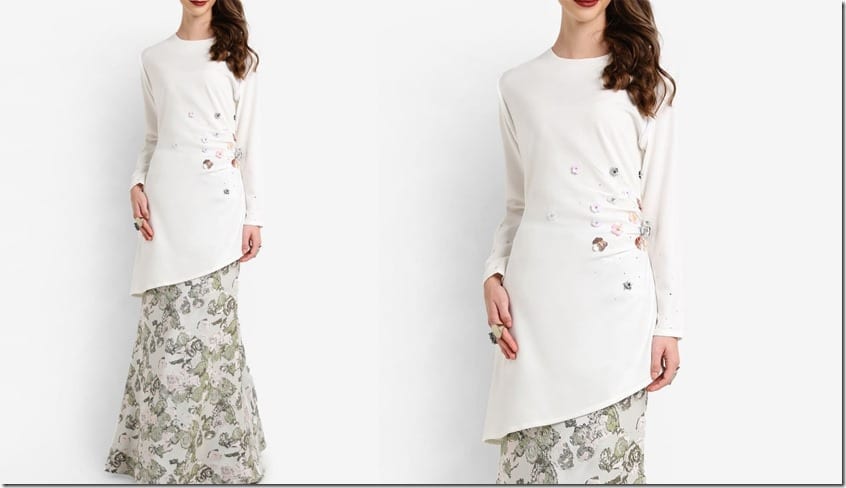 Which modern baju kurung style would you love to wear? Share below – I'd love to know!
"To truly laugh, you must be able to take your pain, and play with it." — Charlie Chaplin
Disclosure: This post contains affiliate links, which means that if you click on one of the product links, a small commission may be credited to this site.
Love this post? Share it with your friends! Follow us for more fashion inspiration:
? Twitter ? Facebook ? Google+ ? Bloglovin ? Pinterest ? Polyvore ?
© All images are copyrighted by their respective authors.
Here on Fashionista NOW, our one and very own Miss Reverie showcases the latest in fashion trends and its various social implications in our everyday lives. You may read more of her at REVERIE SANCTUARY.