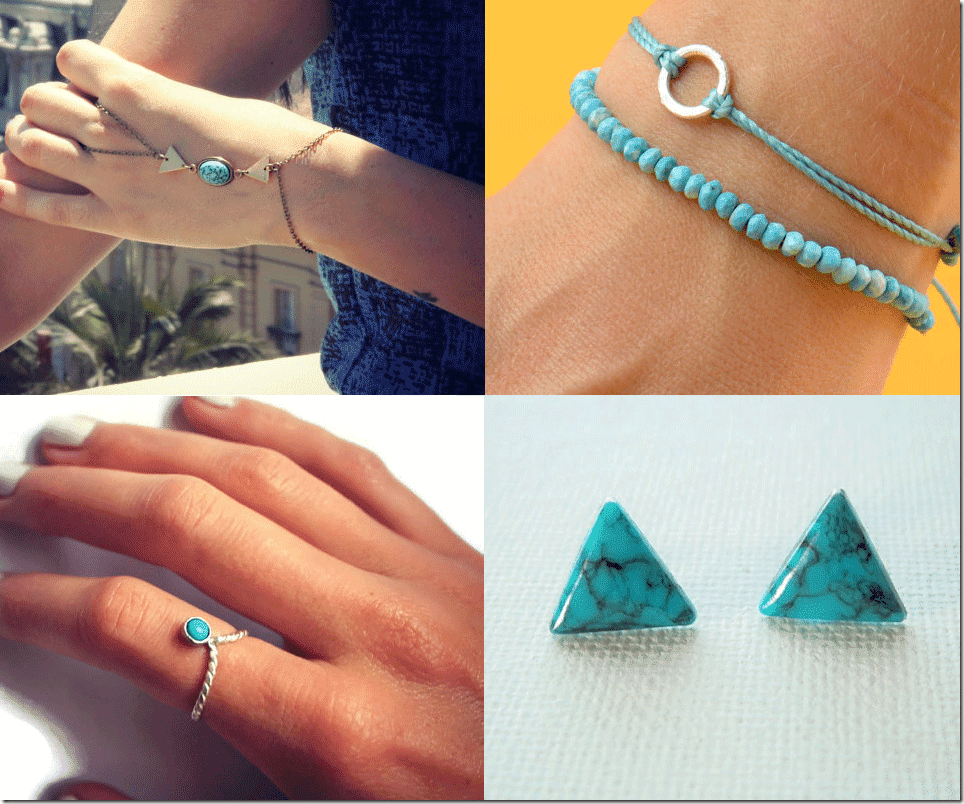 The turquoise season is in the air. Want to bling up with chic turquoise accessories as you step out to bask in the sun? Let our gem list help you get started.
Cate Blanchett wore a statement turquoise bib necklace at the Oscars 2015 and Jessica Simpson Spring/Summer 2015 Collection features turquoise bling bling as part of her modern bohemian theme. Celebrities aside, we sure don't need any excuse or validation for coveting this hot jewelry trend. After all, it features a color that is practically in every spring and summer.
When it first came into my attention years back (2012, I think?), I gave the jewelry trend a shrug as I was rather hardcore conservative with colors back then and this was when I thought being in the emo scene was cool. Ever since I gradually allowed colors back into my wardrobe, I surprised myself with kind of liking the presence of turquoise in the jewelry department.
At the moment, I have one beaded bracelet in turquoise that I wear stacked with another vibrant green one. Noticing my sparse collection of gems in this color, I'm really feeling like an update is in need of happening in the horizon. And you know what happens next…
Check out my current I-so-want-them-all turquoise jewelry list below.
7 Tranquil Turquoise Gems To Wear For Spring/Summer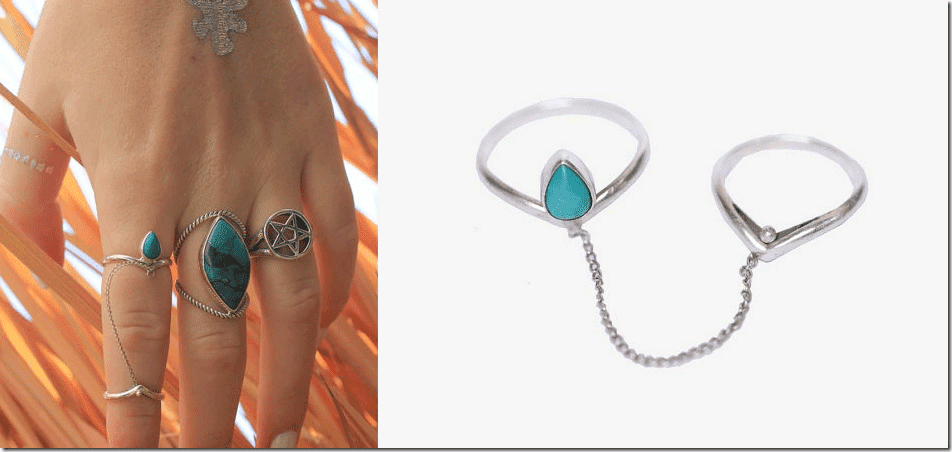 ♥ DonBiuSilver | chevron turquoise sterling silver chain rings ← SHOP HERE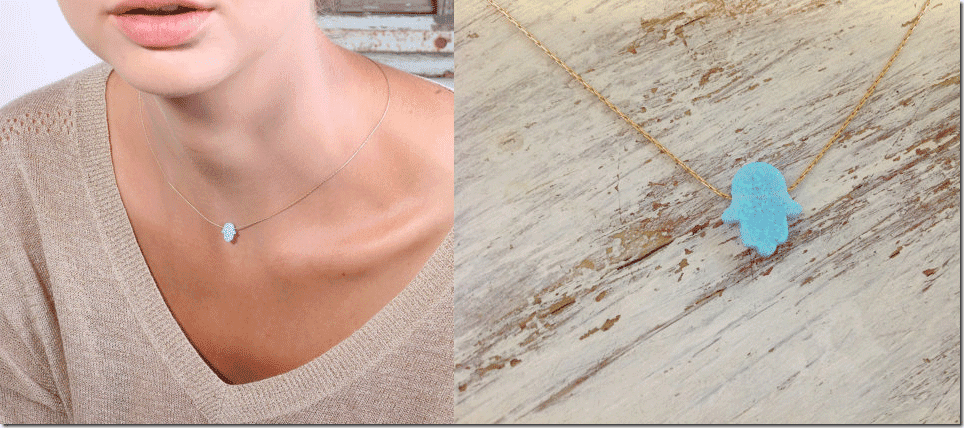 ♥ Avnis | dainty gold hamsa necklace with turquoise opal ← SHOP HERE

♥ ChildrenofFlowers | turquoise chevron sterling silver ring ← SHOP HERE
♥ zzaval | turquoise faceted beads bracelet ← SHOP HERE

♥ mysticdukkan | turquoise gold bangle bracelet ← SHOP HERE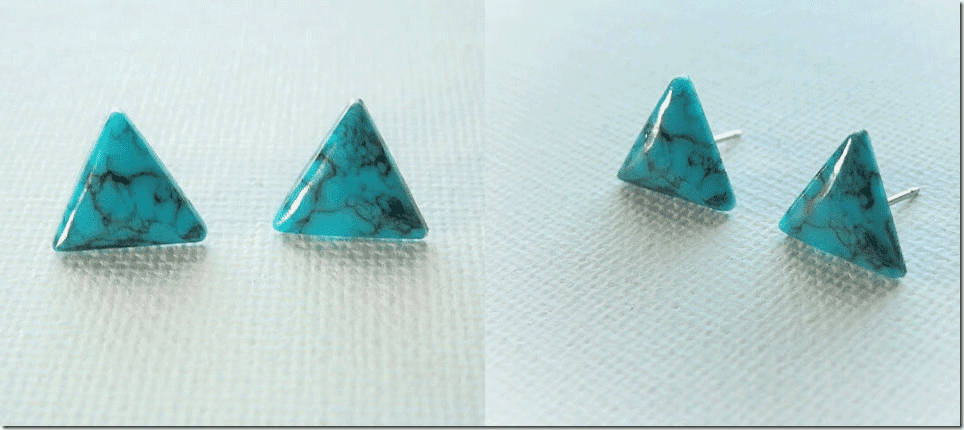 ♥ AHoleyMoleyLyfe| turquoise triangle stud earrings ← SHOP HERE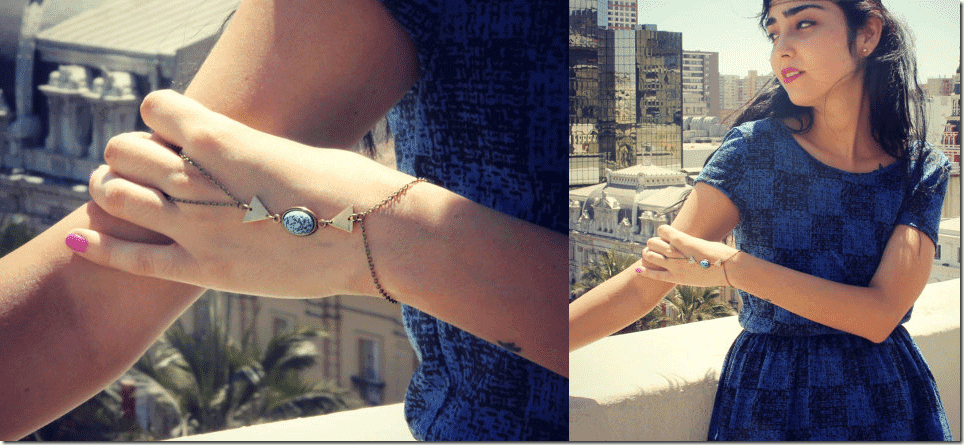 ♥ alapopjewelry | triangle turquoise bracelet ring chain ← SHOP HERE
What do you think of my selection? Tell me which one is your favorite below. Do you own any turquoise jewelry? Spill your thoughts on how you first warmed up to the trend – I want to know!
"Fashion is a tool… to compete in life outside the home. People like you better, without knowing why, because people always react well to a person they like the looks of." — Mary Quant
Disclosure: This post contains affiliate links, which means that if you click on one of the product links, a small commission may be credited to this site.
Love this post? Share it with your friends! Follow us for more fashion inspiration:
♥ Twitter ♥ Facebook ♥ Google+ ♥ Bloglovin ♥ Pinterest ♥ Polyvore ♥
© All images are copyrighted by their respective authors.
Here on Fashionista NOW, our one and very own Miss Reverie showcases the latest in fashion trends and its various social implications in our everyday lives. You may read more of her at REVERIE SANCTUARY.