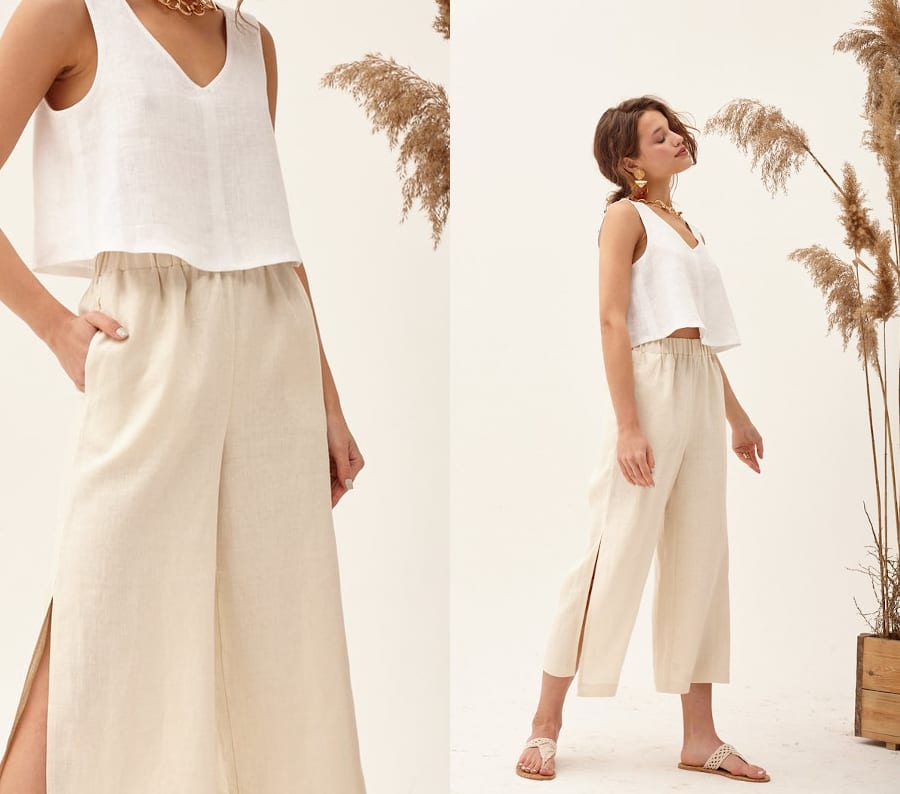 Disclosure: This post contains affiliate links, which means that if you click on one of the product links, a small commission may be credited to this site.
© All images are copyrighted by their respective authors.
Beige bottomwear for summer of 2020 is loose fitting with a waist cinch and is such mood.
These loose fit pants are so beige, you can wear them with anything!
Call it nude, beige, cream, camel, a shade of khaki or your flesh-toned brown, there's nothing like a pair of oatmeal-hued pants to make you feel at ease and one with hay while taking a stroll in nature. A comedian l enjoy watching likens these particular pants palette to barf-like color quality but I think that's too limiting for puke comes in an array of shades depending on what's consumed and decided to come out.
Back to these pants: the summer of 2020 easy breeze bottom is the picture of laidback carefree spirit that loves spacious trousers capable of being a partner to all kinds of tops. A pair of nude pants in a relaxed construction, high-waisted and comfy easily falls into the neutral category that then makes them a versatile piece to go with your ever-changing wardrobe needs whatever the season.
So, ladies and gents, here are the ten pants in various shades of beige to get excited about if you are the kind to be excited about such things…
Relaxed Beige Pants As A Canvas For Everything Else
So, which beige pants would you love to wear and how would you style them? Drop your style ideas down below – I enjoy reading them!
Not news: Palazzo pants are not going anywhere. Terazzo pants were mentioned as a serious contender somewhere on the internet but terazzo refers to the composite tiling style of a terrace, folks. Just because the name rhymes doesn't mean they are of a comparable trousers category. Argh!