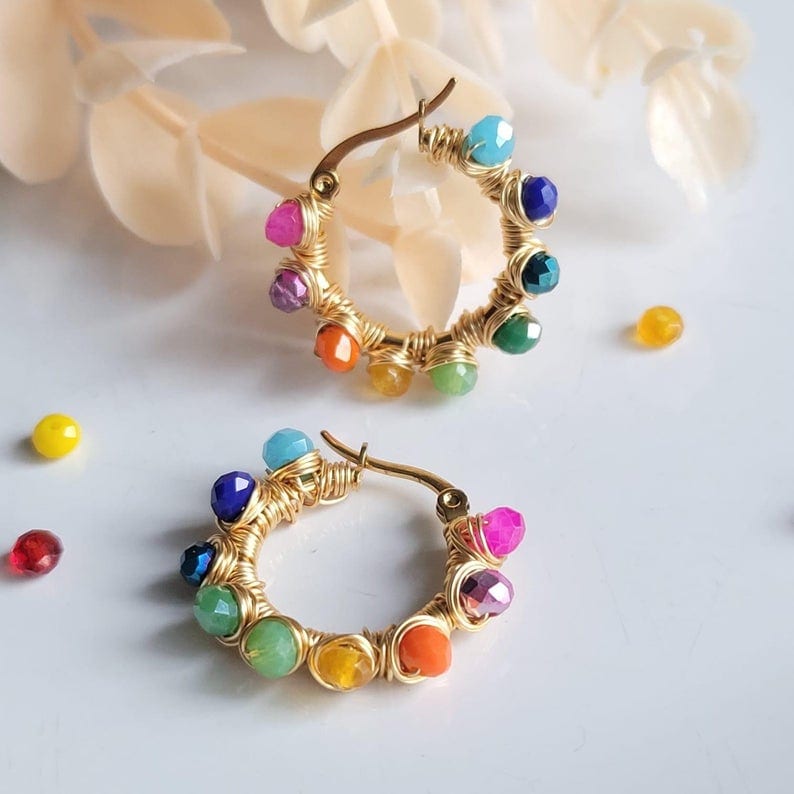 Disclosure: This post contains affiliate links, which means that if you click on one of the product links, a small commission may be credited to this site.
© All images are copyrighted by their respective authors.
Rainbow hoops in various styles to make sure your lobes are a sprinkle of happy colors.
Everyone needs a rainbow especially now as we weather through a global pandemic storm that is the theme of the year 2020. There's so much doom and gloom one can take at a single time but through it all, we can also use this time to appreciate the beauty amidst the chaos.
If you are here at this space, then you best know we'll be looking at earrings! Rainbows and hoops are the theme for today's curation. Handcrafted in various techniques and used with various media such as enamels, resins, crystals and beads, jewelers everywhere explore and expand the horizon as they inject their brand of creativity and craft into making hoops with a splash of rainbow goodness. From colorful beads to paved crystals so visually-mesmerizing, there definitely is a style for everyone looking for some spicy hoops to decorate your ears with.
Please find below our selected collection of rainbow hoop earrings to get your inspiration from. As always, enjoy!
Spruce Your Ears Up With Colorful Rainbow Hoops...
What do you think of our rainbow hoop earring selection? Which pair would you love to wear? Share below!