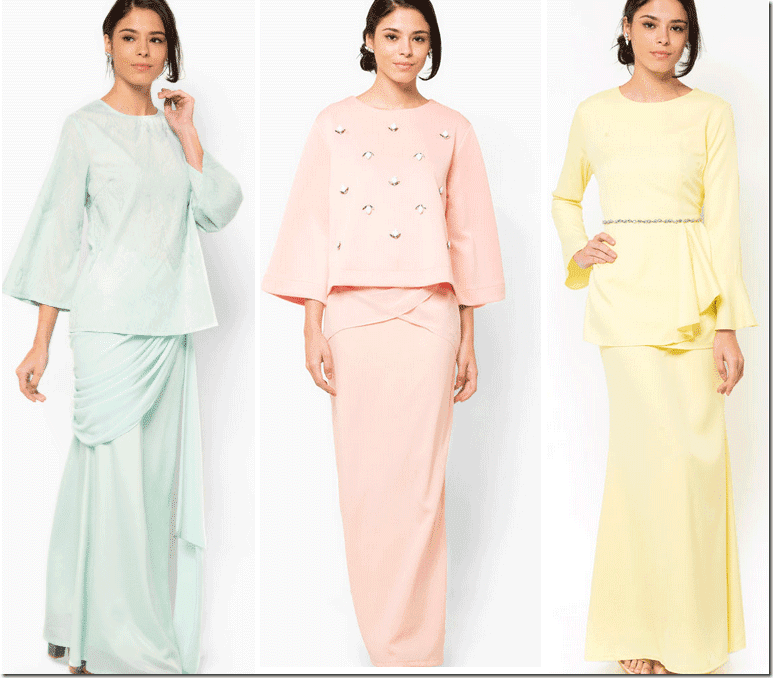 A short history of the baju kurung, its fashion evolution and a list of 7 ready-to-wear pastel modern baju kurung for you to wear come Raya 2015.
Baju kurung is a national pride of Malaysia as it is a traditional costume worn by all women regardless of social and ethnic backgrounds. The traditional baju kurung is long and shapeless, with the blouse reaching the knee worn with a long skirt that features foldings on the one side, designed this way for mobility.
By a loose definition, baju kurung is a Malay term to refer to a 'confined blouse' but it is commonly used to describe the the combination of the baju (blouse) and skirt that make up the traditional costume. Worn in schools and official events, the baju kurung is part and parcel of life in Malaysia. It is also worn in Brunei, Indonesia, Singapore and Thailand.
During the 70s and 80s, where the period of Islamization of Malaysia occurred, the baju kurung's shapeless silhouette was embraced by women who preferred to dress without revealing their feminine figure. The color palette of the baju kurung started off more muted with subtle floral motif. With the introduction of chemical dyes in the fabric industry, more vibrant colors and geometric print elements were incorporated, resulting in a gaudy explosion of hues and patterns.
It's 2015 and the contemporary baju kurung style much loved by the young fashion-aware Malaysians has evolved. They are of the sweet pastel inclination, with charming peplum waists and bell sleeved. The waist-cinching feminine silhouette of the modern baju kurung is celebrated and worn by local celebrities and street-style fashionistas alike.
This year, LUXE by Ethnic Chic collection for the upcoming Hari Raya 2015 features a lot of fashion elements that I like and I cannot wait to show you 7 of my top favorites which you will find below. Enjoy!
7 Pastel Modern Baju Kurung To Wear Come Hari Raya 2015: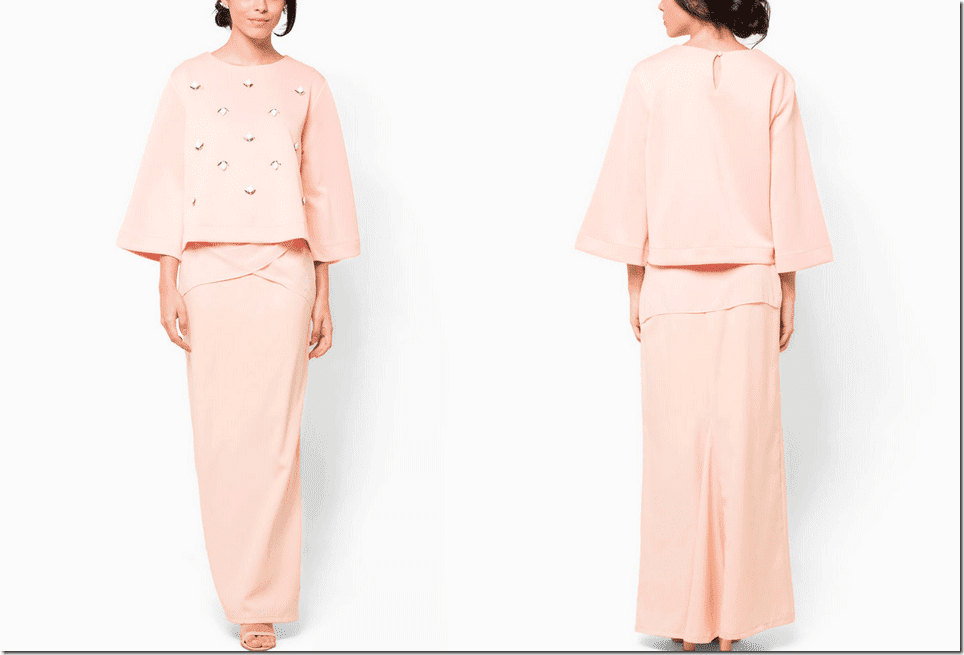 ♥ | blush pink modern baju kurung with delicate beadwork ← SHOP HERE
What makes this modern baju kurung stand out for me lies in the boxy cropped top and roomy three-quarter sleeves. The blush pink color is soft and the high rise long skirt has a lovely waist criss-cross folded fabric detailing.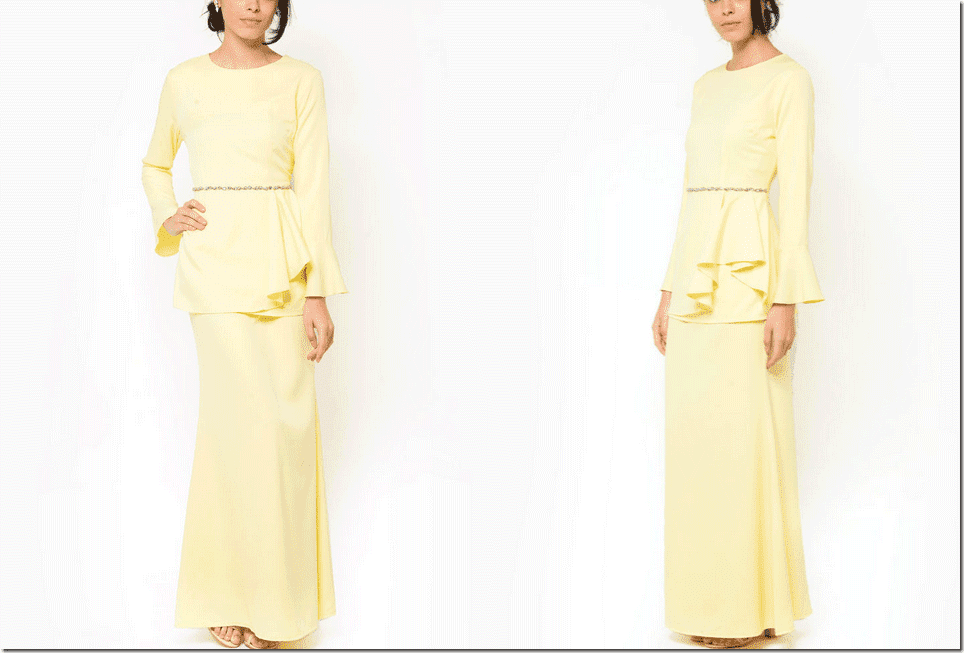 ♥ | embellished peplum waist yellow baju kurung ← SHOP HERE
Bohemian-inspired bell sleeves and waterfall peplum waist completely transform this baju kurung. The waist line is defined with the presence of diamante embellishments for a pop of sparkle and interest.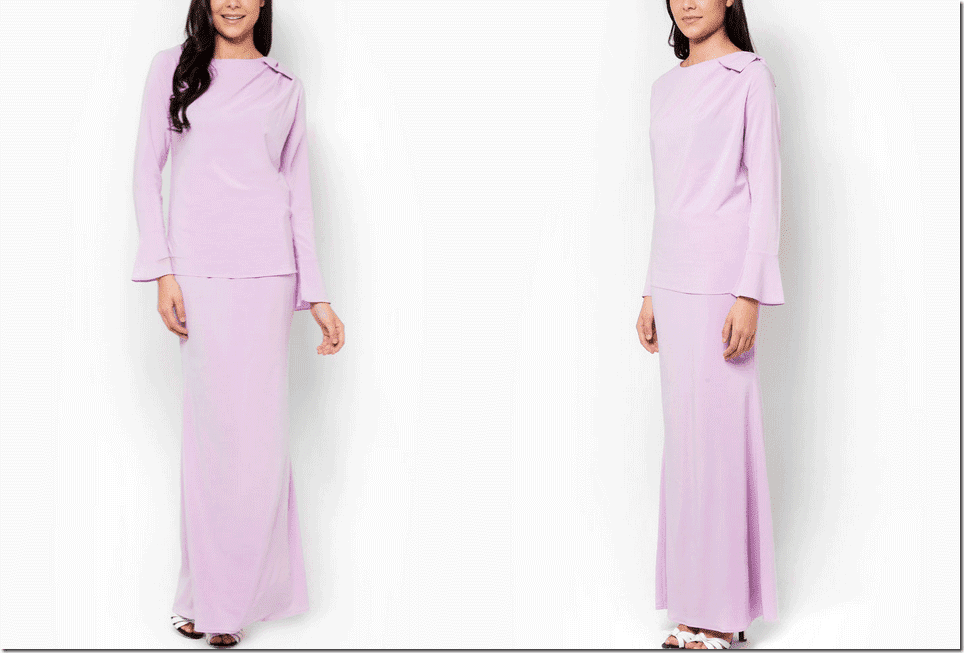 ♥ | lilac baju kurung with subtle bell sleeve ← SHOP HERE
This lilac number embodies the simplicity that I'm really fond off in any baju kurung design. The high neck, cropped blouse and the long sleeves that flare out a bit at the cuff area are all features that I admire. There is a bow-like shoulder detailing for a little visual edge.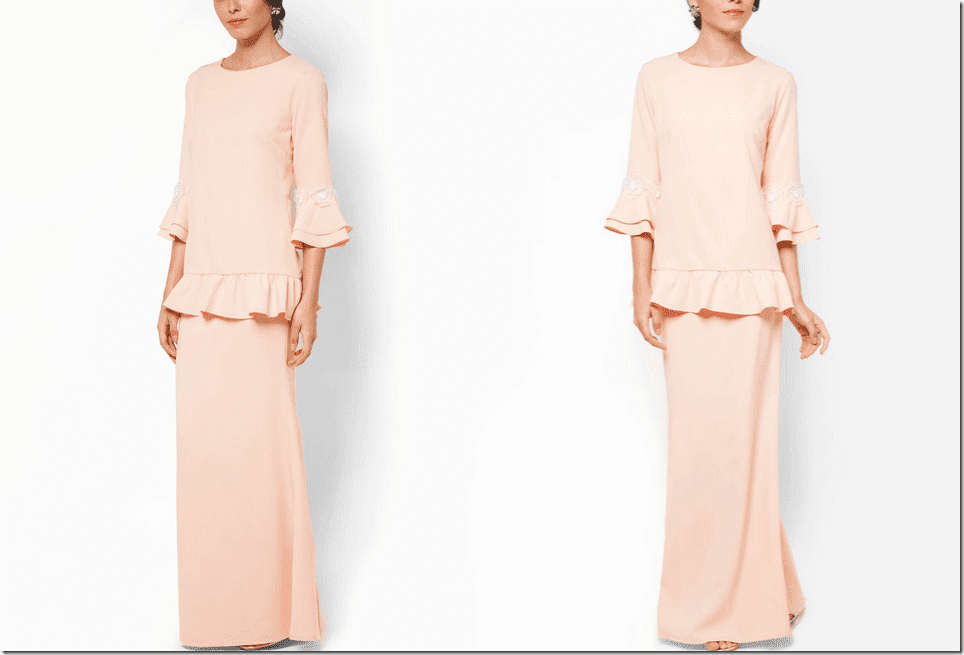 ♥ | peach baju kurung with flounce sleeves ← SHOP HERE
What a peachy pick this baju kurung is for lovers of flouncy sleeves and ruffles. Right above the flouncy sleeve, there is a floral lace applique that looks super sweet up-close. The long skirt has soft pleats the back so that you can move easily.
♥ | pastel lilac modern baju kurung with delicate beadwork ← SHOP HERE
Delicate beadwork covers the front of the lilac long blouse that is cut in a figure-flattering shape. The long skirt is designed with a flared hemline that starts after the fabric gathers.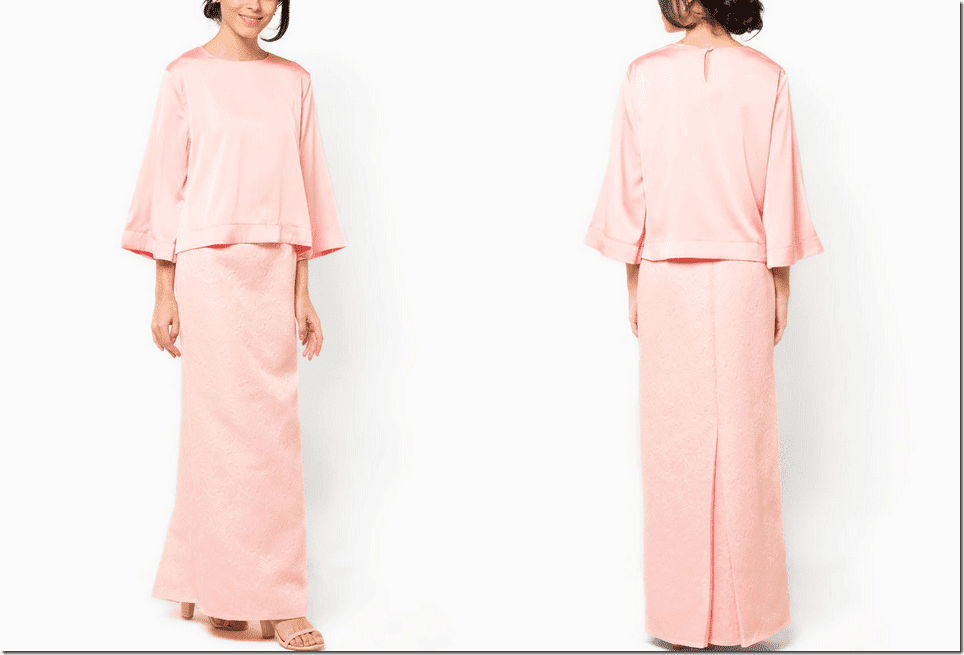 ♥ | pastel pink jacquard modern baju kurung ← SHOP HERE
This is another favorite of mine as I love the top to be cropped, boxy and flowy. The long skirt is high rise and has back/side pleats (depending on how you wear it). Look closely and you'll notice that the skirt is rendered in jacquard.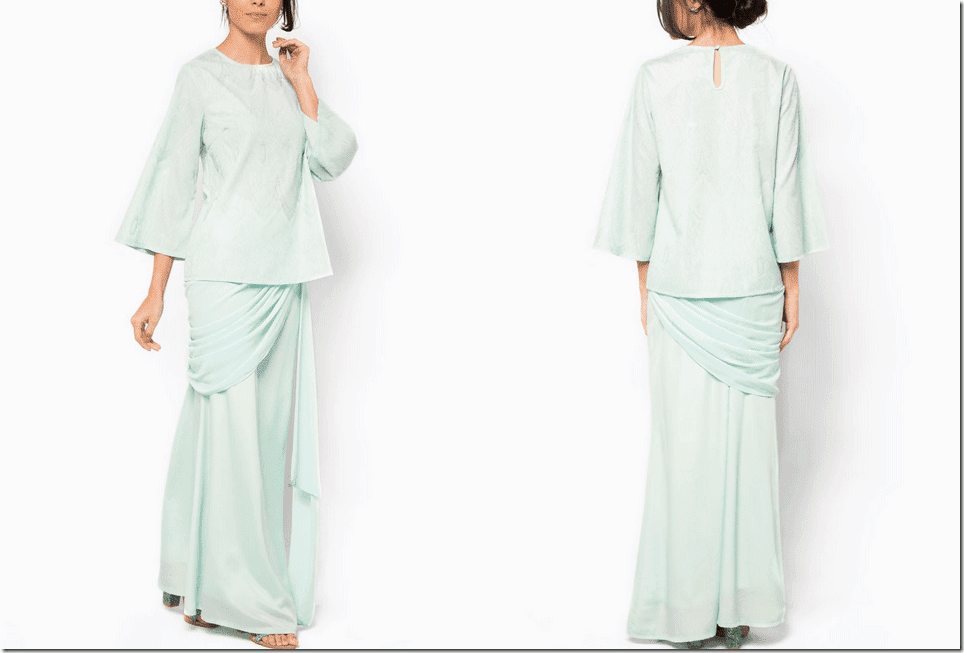 ♥ | mint lace trim modern baju kurung ← SHOP HERE
Here's another modern baju kurung with a boxy crop top that I like. The extra pizzazz in the form of a dramatic ruched detailing on the long skirt adds a wow factor. Look closely and you'll notice that the blouse has delicate lace trims all over. The minty color palette is just lovely, don't you think?
SHOP THE BAJU RAYA BOUTIQUE
For more baju raya that you can shop/pre-order right now, be sure to raid the boutique available on ZALORA below:

Don't forget to use the code AMAZING15 to get 15% OFF on your purchase at checkout!
What other baju raya ideas do you want us to showcase here? Leave a comment – Your thoughts are delightfully welcome!
"The baju kurung's resilience is a story of practicality and climate, of religion and beauty." — Thomas Fuller, NYTimes.com
Disclosure: This post contains affiliate links, which means that if you click on one of the product links, a small commission may be credited to this site.
Love this post? Share it with your friends! Follow us for more fashion inspiration:
♥ Twitter ♥ Facebook ♥ Google+ ♥ Bloglovin ♥ Pinterest ♥ Polyvore ♥
© All images are copyrighted by their respective authors.
Here on Fashionista NOW, our one and very own Miss Reverie showcases the latest in fashion trends and its various social implications in our everyday lives. You may read more of her at REVERIE SANCTUARY.