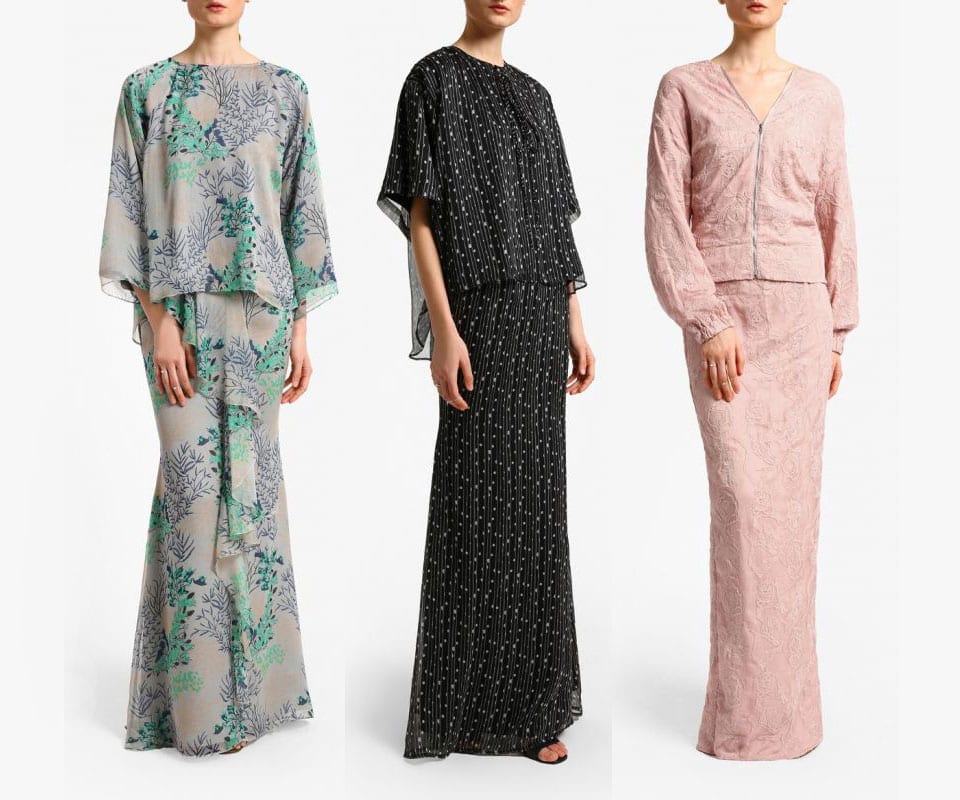 Credit // Alia B.
Boring baju raya thoughts keep you in a rut? Drop everything NOW because a bird whispered there's a new mod kurung collection made EXTRA contemporary by Alia B. that will just excite every cell on your body.
Kurung for raya isn't groundbreaking as is mod kurung in all kinds of spins you've seen before. Not this season! With Alia B.'s latest Raya 2019 collection, you're going in for a brilliant surprise.
When you think of a kurung top in general, you'd have thought of necklines with keyhole designs, perhaps a V-neck in a wrap style cut that's à la kebaya. Alia Bastamam decided to give a real refresher to the usual kurung tops by introducing popular modern trends like the bomber jacket, tie-front blouses, high boat neck boxy tops and ruffle tops into the equation. The results show for themselves and one can't help but to want to wear all of the Eid pieces.
Since practically, we can't, I've taken to select 5 styles of mod baju kurung by Alia B. so we can all admire each one and perhaps, grab a set that speaks to you.
Maia Kurung In Black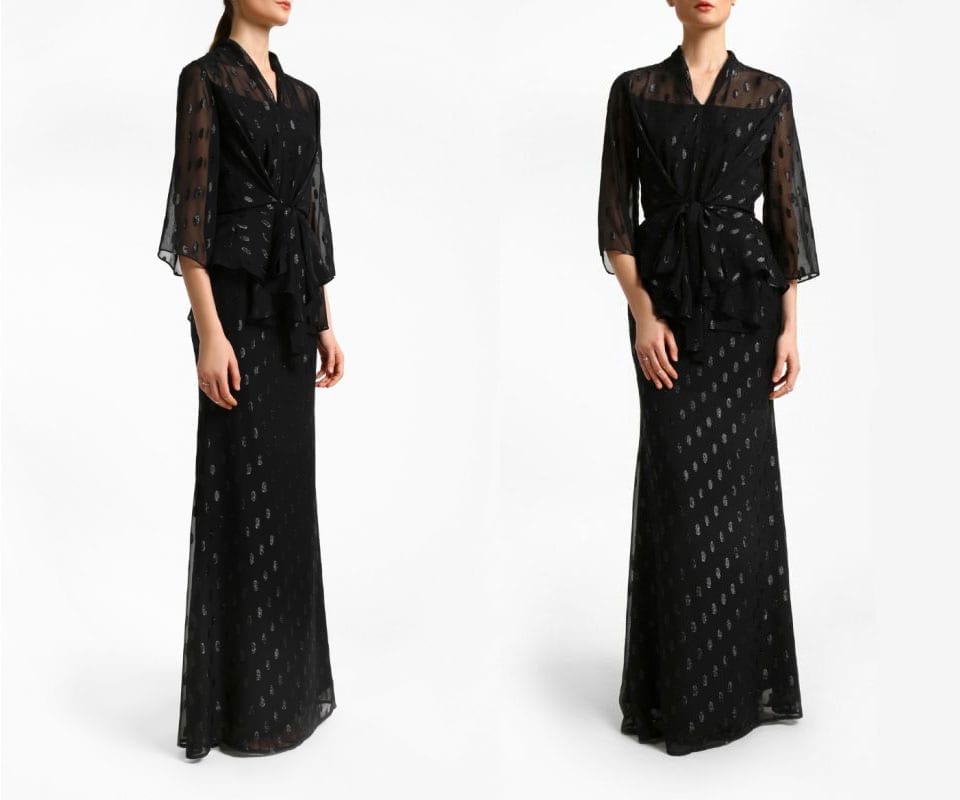 This gorgeous two-piece set is designed especially for those into the non-color black. Sleek and chic, the kurung top features a tie-front detail that when is knotted into a pretty ribbon gives the front bit of the waist a delightful cascade of ruffly fabric. The iridescent chiffon fabric dazzles in an understated yet impactful way and it is the kurung style edgy fashionistas drool after.
Luna Kurung In Pink And Grey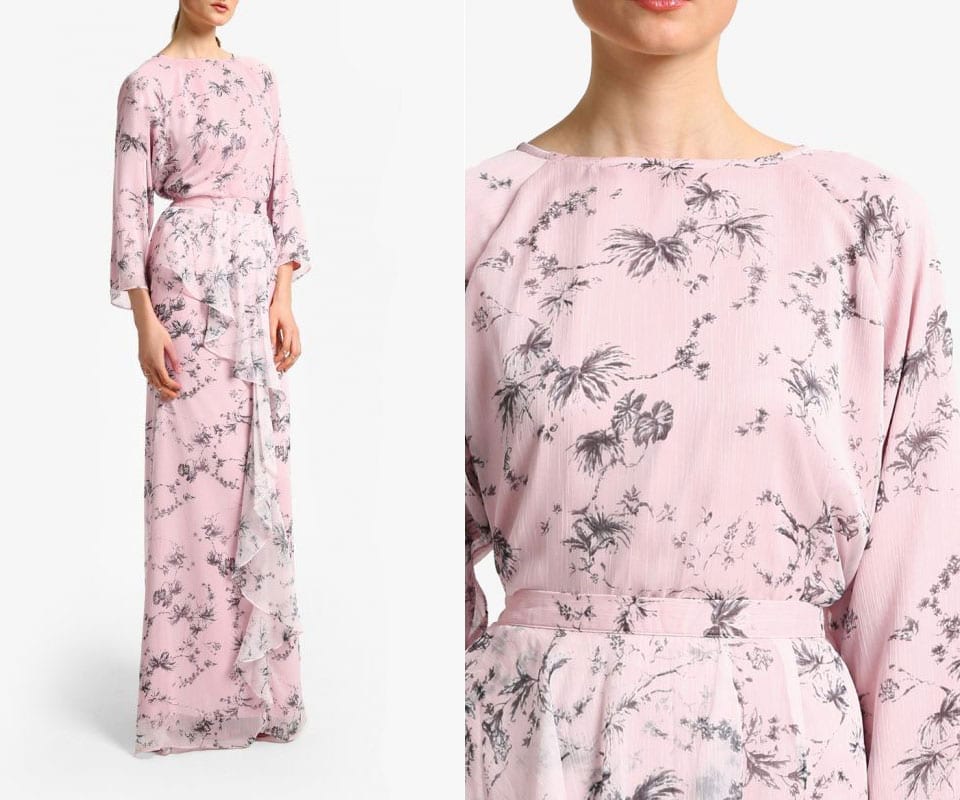 There's always something in PINK come raya because some of us love the color it's worn every season under the sun.
The chiffon kurung set by Alia B. features a high neck set against a streamlined waist-cinched top (for the pink one) and a Kedah kurung style top (for the grey one). The long skirt has front cascading ruffles to make the look even sweeter. Delicate floral motif keeps it highly-wearable even the print-shy can wear it. The grey set is a stunner too and I'm just in love with the vibe of the two-piece kurung. If you're not a pink fan, then make way for the grey one, as seen below!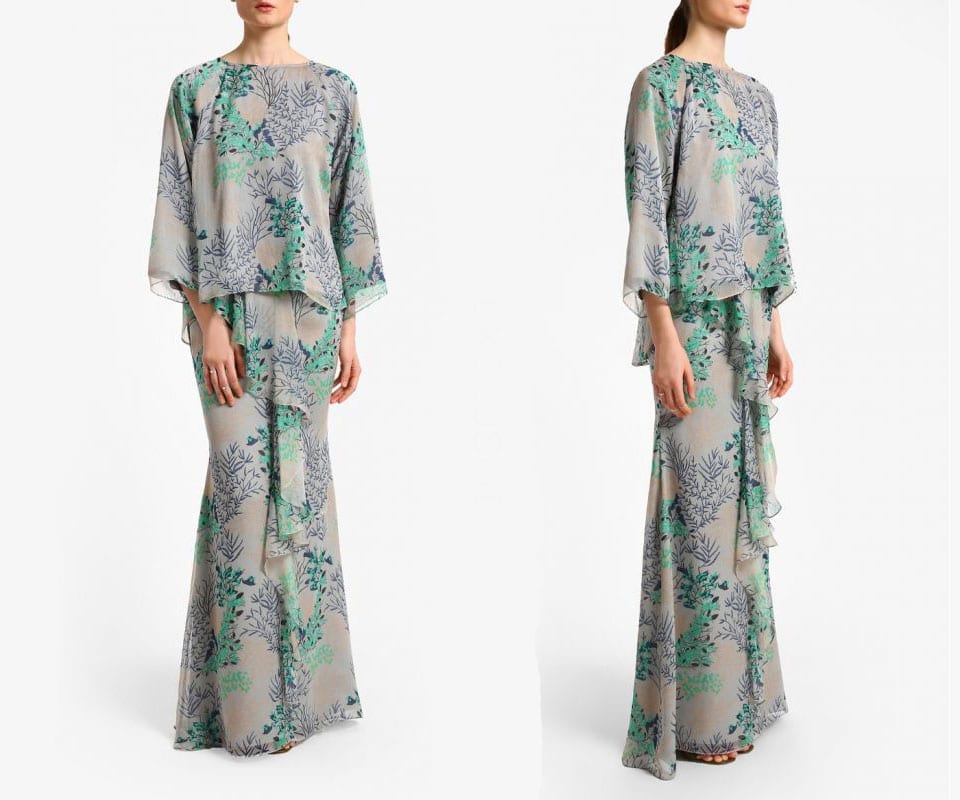 Naia Kurung In Soft Grey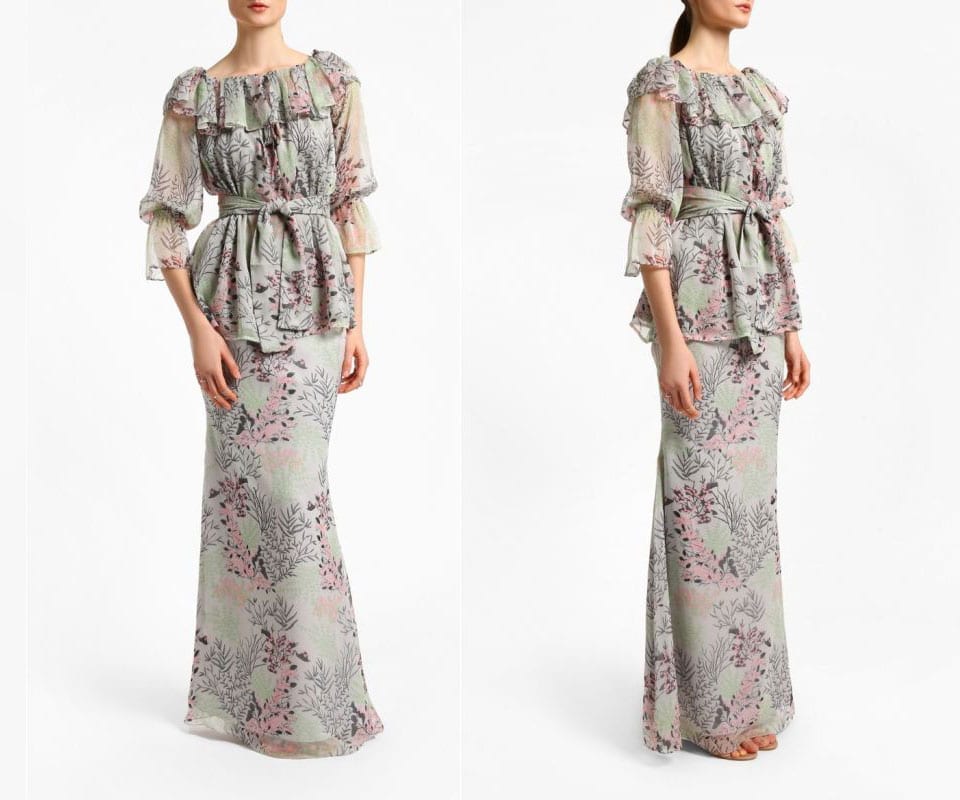 For those of us still riding the grey color bandwagon, this gorgeous set is made for you. It's far from the monotonous grey that can be chic but barren. With sweet floral prints in a peach or pink hue, the grey is all sweetened up. The kurung top is designed in a ruffle peasant blouse style with a waist sash for definition. It's not hard to say yes to this one, is it?
Inez Kurung In Black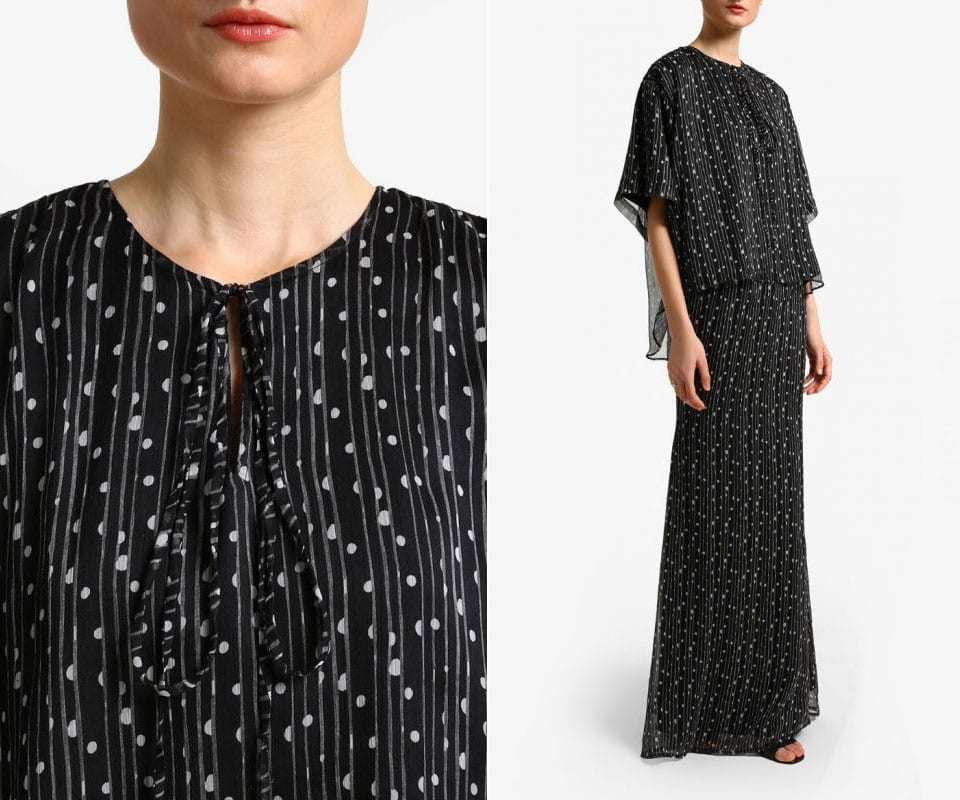 Another edgy minimalist kurung for those all about it. I personally love the way the Kedah style top is made modern with roomy butterfly sleeves, high low hem and a keyhole neckline with a long ribbon! For those looking to wear something flowy yet stylish, this one could be it. Prints are kept simple yet highly-wearable in dots and lines.
Gia Kurung In Nude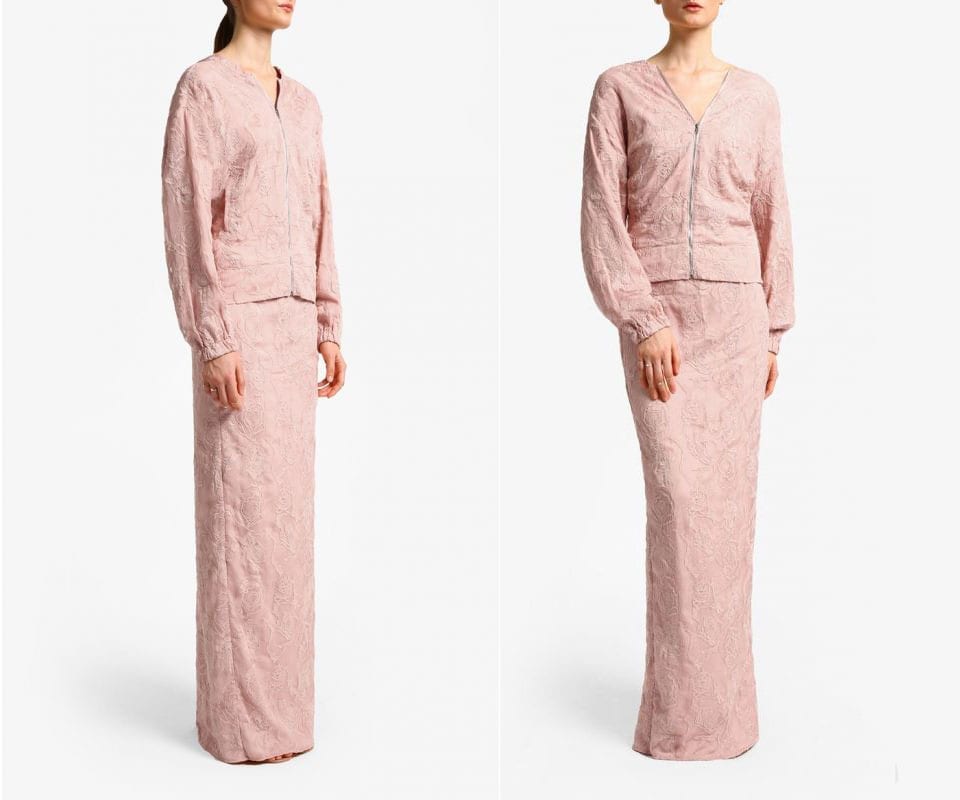 Are you a fan of bomber jackets? Then, this kurung is dreamed up by you into reality through the mind of Alia B. It's a sporty baju kurung that will appeal to those who ADORE the athleisure trend. The kurung top style is definitely something new and unexpected. Full lace kurung with a sporty touch? I mean, come on! Casual sporty femme embodied! Love the seemingly opposing fashion elements introduced here.
So ladies, what do you think of Alia B.'s latest Raya collection? Will you make one of it your baju raya? And if so, why? Share your thoughts, down below!
Love this post? Share it with your friends! Follow us for more fashion inspiration:
© All images are copyrighted by their respective authors.
Here on Fashionista NOW, our one and very own Miss Reverie showcases the latest in fashion trends and its various social implications in our everyday lives. You may read more of her at REVERIE SANCTUARY.