No one wants a tattoo choker that breaks upon stretch or sag down the neck, right? Find our personal review on Mahuis' sturdy black tattoo choker here.
Everyone's heard about the 90s choker necklace's return to the cool jewelry scene and this post is dedicated to the ones nostalgic for the era and the young crowd who have only just known of its existence. This is also a review on a black tattoo choker I've recently purchased for my sister.
Emma Stone, Ariana Grande and Willow Smith have been spotted wearing the tattoo chokers and the latter two are quite into the stretchable tattoo style chokers making their fans all gaga over the said 90s necklace trend. Although I grew up in the 90s and not exactly a true fan of the choker necklaces, I can see why they deserve a sweet spot for being outside of the box when contrasted against your standard necklace.
First of all, the look of faux tattoo around the neck is forgiving than actually having a real one. The impermanence of it appeals to youngsters whose parents will inevitably lose it should they tattoo their neck as an impulsive bold fashion statement. Even those who are free to carve out their flesh above a certain age rejoice in the faux look of the choker necklace and the same can be said of flash tattoos.
Scouring the internet for personal reviews on black tattoo chokers, I found that a lot of people are tired of being taken for a ride by irresponsible quarters who push out incredibly lousy tattoo chokers at bloated price points just because they are on trend again.
Let's dig into the meaty part of the review, shall we.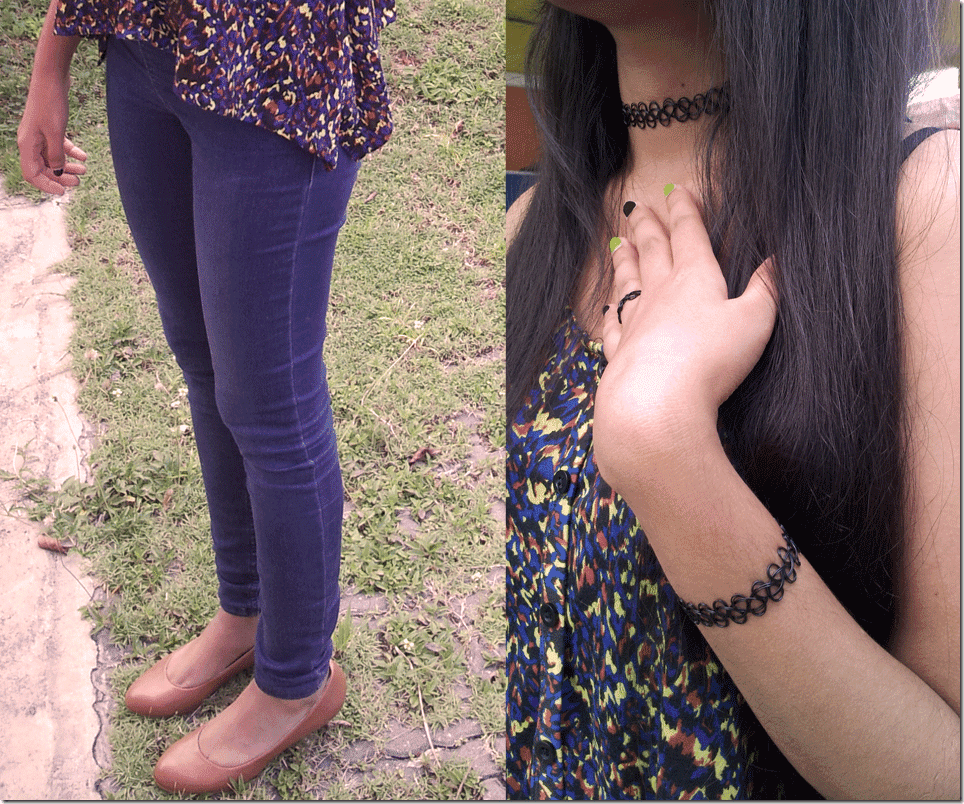 First of all, I am not affiliated or sponsored by Mahuis, an online store based in Kuching, Sarawak. I ordered the black tattoo choker in particular after finding out that my sis is completely nuts over the trend, which she only warmed up to just a few years back when an ex gave her one choker style necklace as a gift.
I was excited when the package arrived after Labor Day but skeptical of the quality as I've never bought anything from Mahuis before. It is an online jewelry shop I stumbled upon after googling for black tattoo chokers in Malaysia. Once the scrolling was performed on their Instagram just like your typical modern-day online-shopper-stalker, I made my order for a black tattoo choker set which included the necklace, ring and bracelet all styled in the much loved tattoo design.
I initially requested for them to be packed ready for gift-giving but unfortunately, the message was lost and Abigail apologized for the error immediately but by then the package had been mailed to fly across the South China Sea.
From the very light package I gave my sister to unwrap, came out the tattoo choker necklace, tattoo ring and tattoo bracelet.
When we first saw the set, we were excited and laid the necklace, ring and bracelet for a flat lay snap but of course, the lighting was poor but we managed: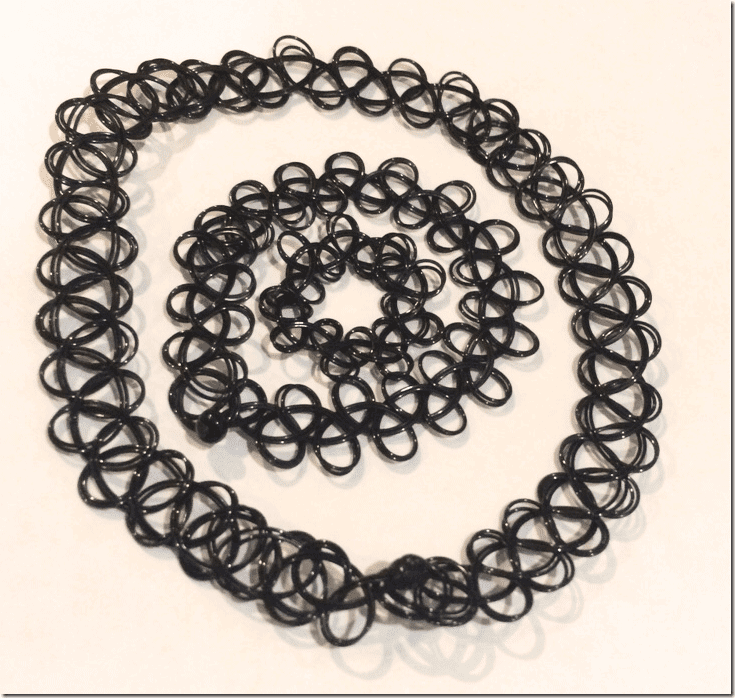 My sister tried them all on at once immediately due to sheer excitement. The first thing you'll notice about them is how sturdy they look positioned flat in the plastic wrapper they came in with. There were no weird knots or anything like that. Upon touch, they're all made with the same sturdy plastic wire material. The tattoo style design were consistent throughout.
If you're expecting them to be extremely thin, they are actually not as you can judge for yourself in the photos.
To wear, you have to stretch the choker over your head as it is made without the hook and clasp, staying true to its original 90s form. The choker is sturdy and will not break when you stretch it so you can eliminate the biggest problem related to orders you see a lot of online tattoo choker orders.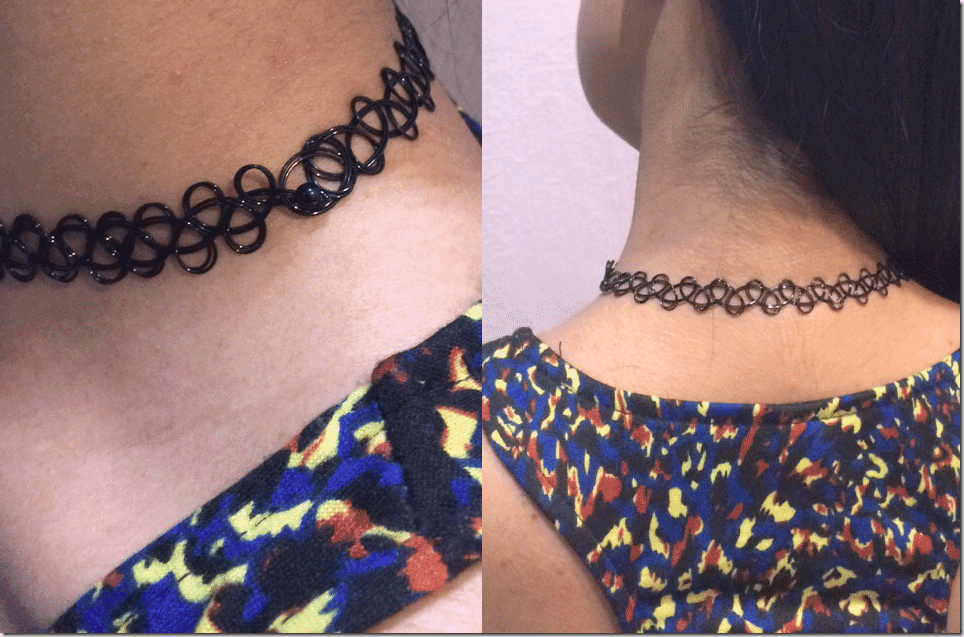 The knot at the end that holds the choker necklace, ring and bracelet in shape is well-made and not at all bulky or distracting. They can be positioned to stay hidden at the back of your neck, bottom part of the finger or wrist. All three items have are very stretchable and quite tight when you first wear them.
Should the choker become stretched over time, Mahuis' owner Abigail advised to push the loops together to try and get it back to its original shape.
If you like the feeling that the choker hugs your neck as opposed to sagging down, the Mahuis choker set doesn't disappoint and you can see how it hugs the middle part the neck of my sis (who is petite). I will report back in a week at how they're performing. Just drop me a comment below if you want the update!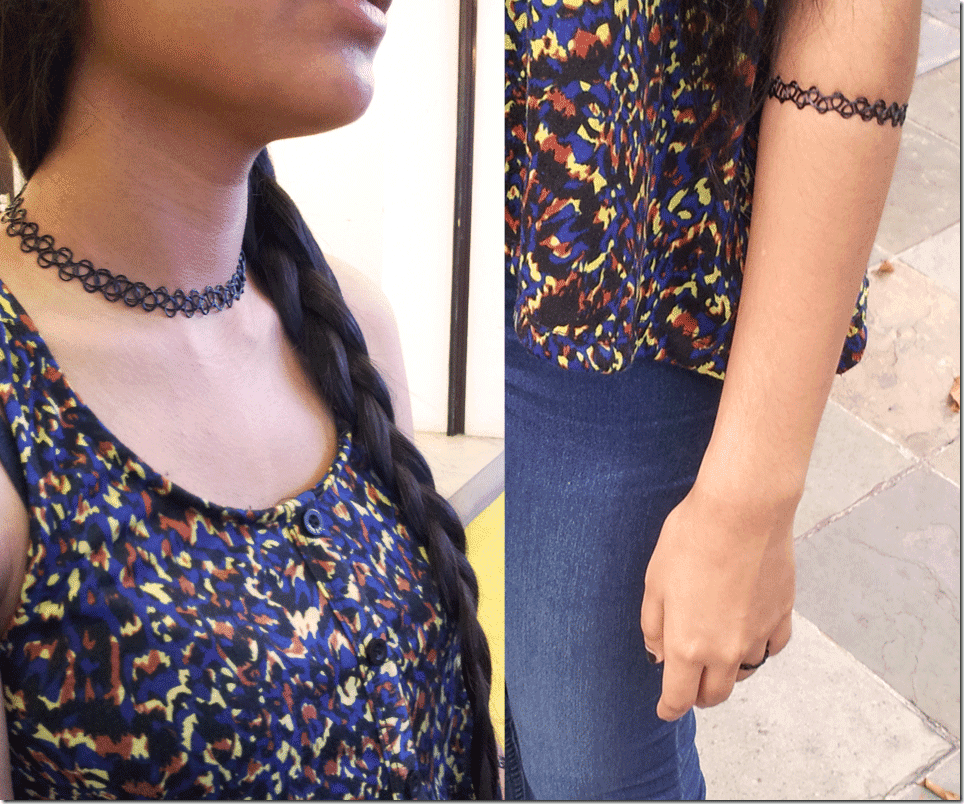 And here's how it looks when you stretch it so it rests at the neckline just so. My sister chooses to wear the bracelet a little higher, nearing the elbow ( as she likes it that way). Her wrist is small but the tattoo bracelet hugs her there too.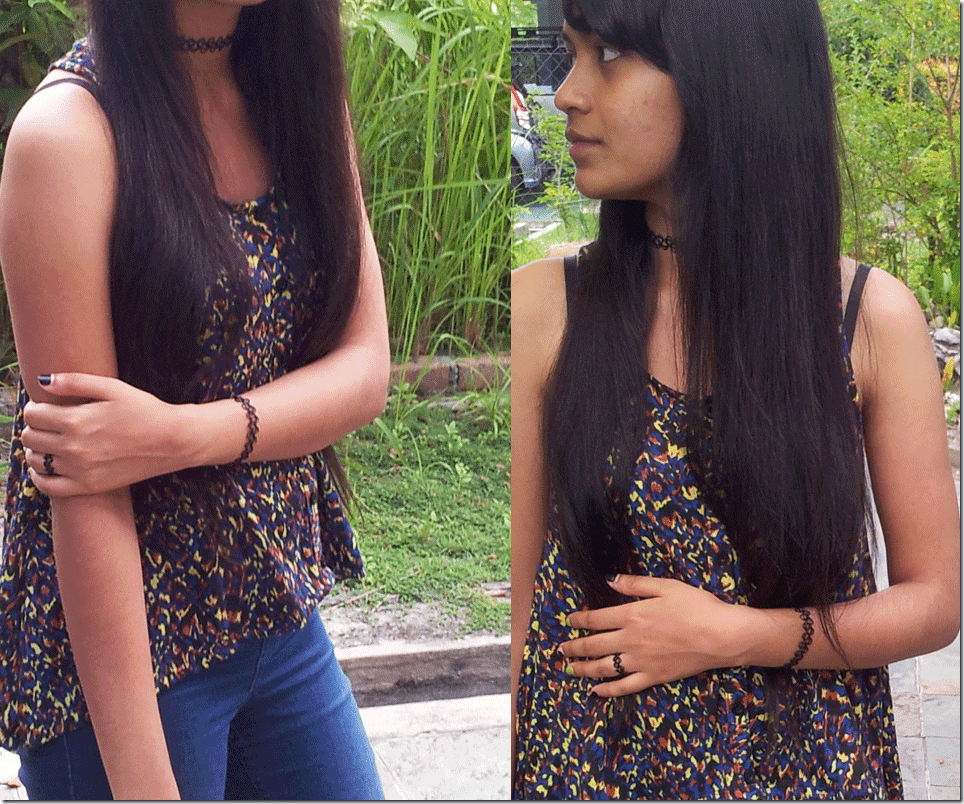 SHOP THE Black Tattoo CHOKER SET?
Price: RM20
PosLaju shipping fee to west Malaysia: RM7
Total: RM27 (about USD7.5)
Mahuis Online Store Social Media:
They ship internationally too. Just message them on Facebook to find out more on the relevant postage rates and payment methods.
So, what do you think of the Mahuis black tattoo choker, bracelet and ring worn by my sister? Do you like the look? Feel free to drop your thoughts and other questions you might have below – We want to know what you think!
"Self-esteem doesn't come simply from dressing well, but they are both something we can control. It's a missed opportunity when women say they don't have the money, figure, etc., because style is such a way to help cultivate the way women feel about themselves." — Stacy London
Love this post? Share it with your friends! Follow us for more fashion inspiration:
♥ Twitter ♥ Facebook ♥ Google+ ♥ Bloglovin ♥ Pinterest ♥ Polyvore ♥
© All images are copyrighted by their respective authors.
Here on Fashionista NOW, our one and very own Miss Reverie showcases the latest in fashion trends and its various social implications in our everyday lives. You may read more of her at REVERIE SANCTUARY.