When it comes to the sleekest belt trend, waist-cinching curve-loving belts that come in glittery and shiny gold metal plates or simply decorated with golden embellishments really do hold a special place in the hierarchy of chic waist accessories to invest.
Celebrities like Gwen Stefani, Paris Hilton and Giuliana Rancic have all been spotted wearing delicate skinny gold belts over party dresses.
Accenting with gold is the easiest way to go about putting the glam into any outfit.
By cinching a demure gold belt around the waist as one dons an exquisite solid colored dress usually in black, or white, while keeping the rest of the jewelry at bare minimal, is one of the ways to pull off a look that whispers effortless elegance.
But that doesn't mean you can't inject it into a more casual and relaxed look! From casual to ultra-formal, gold belts of any design will seamlessly blend into all ensembles, thus making them such a versatile accessory to own.
And if one has a cooler skin undertone that appreciates a silver take on the metallic belt trend, go for it. And while you're at it, grab one or two in the hot and trending rose gold color.
Wonder how to best insert the gold belt into an outfit? Kindly just scroll down below as per usual for a quick fashion inspiration:
♥ belt – Forever 21
♥ gold belt – The Ramp
♥ gold metal bar belt – Windsor
♥ gold belt – Miniminou
♥ metallic gold belt – Shop Dear Monday
♥ gold belt – K&K Bijoux
♥ gold chain belt – Mango
♥ gold metal belt – Mettle Fair Trade
For those looking to invest in some chic looking waist bling bling, I've rounded up a list of gold belts currently available online for you to get your hands on: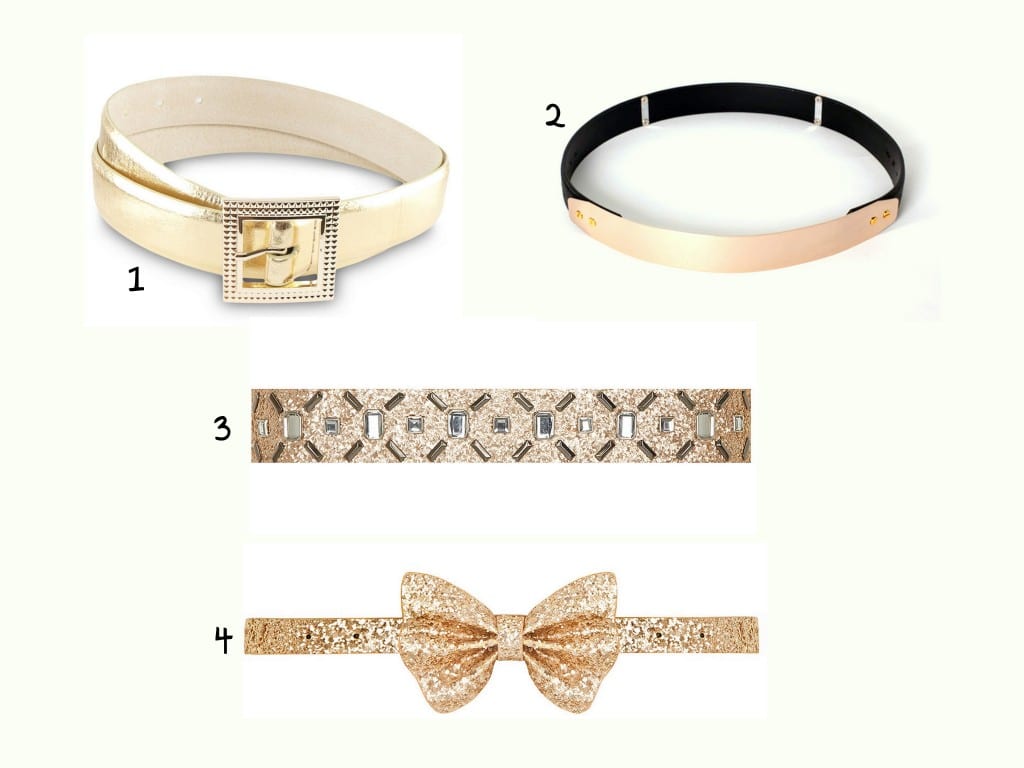 1: gold belt with square textured buckle – Nine West Exclusive
2: gold metal plate belt – Ministry of Retail
3: gold gem waist belt – Dorothy Perkins
4: gold glitter bow skinny belt – Dorothy Perkins
Are you a fan of the gold belt fashion trend? How do you organize your outfit when sporting a shiny waist accessory? Share your thoughts below!
"There is much to support the view that it is clothes that wear us and not we them; we may make them take the mould of arm or breast, but they would mould our hearts, our brains, our tongues to their liking." – Virginia Woolf
Love this post? Share it with your friends! Follow us for more fashion inspiration:
♥ Twitter ♥ Facebook ♥ Google+ ♥ Bloglovin ♥ Pinterest ♥ Polyvore ♥
© All images are copyrighted by their respective authors.
Here on Fashionista NOW, our one and very own Miss Reverie showcases the latest in fashion trends and its various social implications in our everyday lives. You may read more of her at REVERIE SANCTUARY.