Don't know what to wear for Raya? Get an idea or two by scouring our favorite local designer collections for Eid fashion 2014.
The month of Ramadhan is right around the corner and with it comes the anticipation the joyous celebration of Eid or Hari Raya. On the ground, you may already have witnessed the sprouting of food bazaars that will be shelved with mouth-watering delicacies.
For the fashion-conscious, the search for the perfect Eid wear takes central focus and may have presented itself months before and we completely understand the urgency and need to looking your raddest on the upcoming bash.
On that note, we've decided to showcase the various stunning Eid 2014 fashion collections from our homegrown designers so you can sit back, relax while you scour our favorite picks and perhaps find a Raya look (or two) that speaks to your style preference.
♥
Melinda Looi RTW Eid Collection for 2014
In partnership with the lovely Diana Danielle, fashion designer Melinda Looi has launched not one but two ready-to-wear collections.
To promote the spirit of giving, Melinda Looi created modern baju kurung interpretations rendered in popular peplums and flowy shapes with the sales proceeds donated to Malaysia's Heart Institute (IJN) to aid research and healthcare support for the underprivileged which Diana has personally chosen as the beneficiary.
Signature features of the RTW collections:
Modern baju kurung that's youth-inspired, colorful and vibrant made relevant to the spirit of the times with chic features in the form of lace, pleats, embroidery, geometric prints and textures.
The sequins and tulle combination on the modern kurung modeled by Diana makes for a stunning evening wear:
Looi's exclusive designs drew on exotic inspirations from the Andalusian art of the Alhambra in Granada, Spain.
Her modern and exquisite Eid dresses are available HERE.
Melinda Looi has recently partnered up with Volkswagen Malaysia to give away a Volkswagen Polo Sedan.
Take part in the emel by Melinda Looi "Safe and Stylish Balik Kampung" contest by heading over HERE where you are simply to fill up a very short survey to stand a chance of getting a free car!
♥ Liyana Ghaus Nafyana Eid Collection 2014
Fashion designer, Liyana Ghaus ventured from her street style label Nana G. and into contemporary Islamic wear under the label, Nafyana which embodies freedom in the individualistic expressions and of trusting one's fashion compass instead of conforming to the pressure of the mainstream trends.
Her designs for the latest Eid collection ooze eclectic vibes as reflected by her adventurous use of well-loved features like lace, brocade, organza, kaftan, sequins, ruffles and chiffon. Her kaftans are vibrant and colorful in small and big stripes and the silhouettes are either rendered in feminine gathers and drapes or left in a modest straight cut.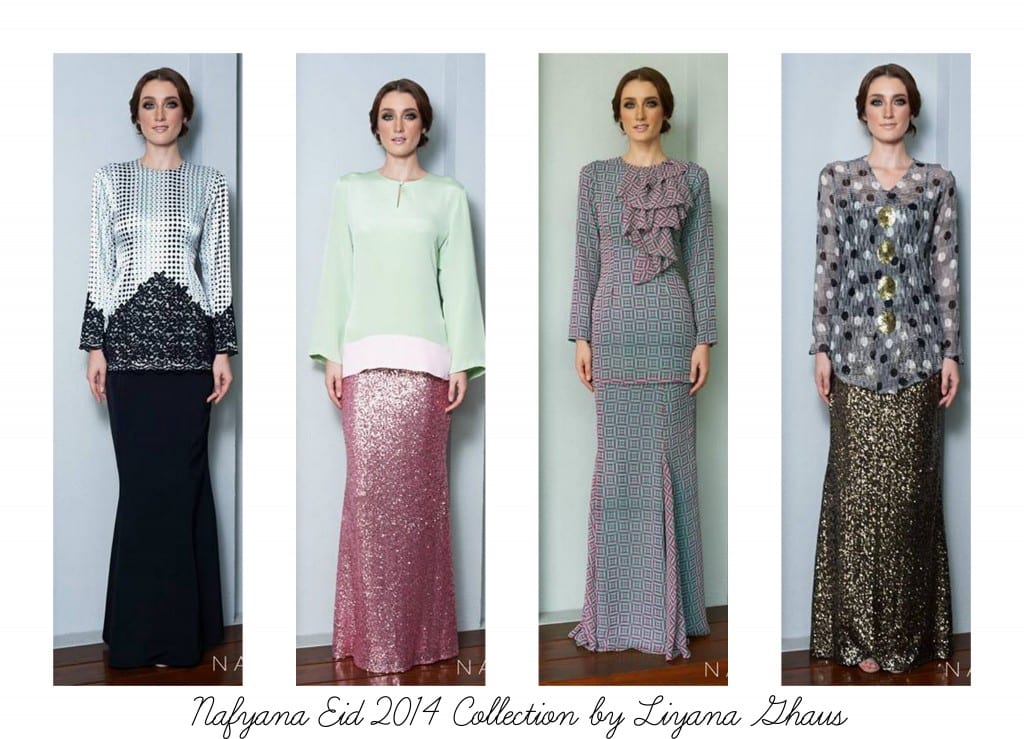 I am particularly smitten by her modern kurung selections. The little details like the soft drapes on the shoulder or embellished cuffs give live to her wonderful creations where she artistically blends a heart-stopping combinations of lace and print, brocade and lace, chiffon and sequins and printed organza.
Drool over her beautiful Eid collection and make instant orders HERE:
♥ Silas Liew Eid Collection 2014
Designer Silas Liew debuts his very first Raya wear bespoke collection with a blend of whimsy and loads of bohemian vibes and silhouettes rendered in an all-encompassing macro fashion concept that borrows from a range of different cultural ideas.
Colors and prints on his custom-made kaftans are bold and vibrant while others are imbued in rustic earthy shades. Aside from kurung and kaftan style dresses, you will find palazzo pants with complementary tops as are baju kebayas infused with boho elements.
Get your hands on his collection for Raya 2014 by previewing it HERE and connect with him HERE.
♥ Syomir Izwa Raya Collection for Zalora Malaysia
If you're looking for the intermarriage of Malaysian kurung and the European Art Deco design influences, Syomir Izwa's Raya collection has nailed it down in spades in his Raya collection for Zalora.
His designs cue in the 1920s & 1930s Art Deco features along with the Malay traditonal baju kurung silhouettes. Classic colors in black, white, brown and nude splashed across his architectural-inspired new mini kurung, baju kurung and a variety of long dresses ensure that they remain a staple piece even after Raya is long over.
Fun macaroon hues like blue, yellow, lime, peach and turquoise and color blocks and gentle pleats are showcased in his kurung modern interpretations.
To go nuts over his high fashion collection and maybe make a purchase, click on this link. To connect with the designer and see what he's up to, go bug HERE.
Do you like any of the designer Raya outfits shown here? Any Eid-worthy favorite so far? What kind of outfit do you usually go for to celebrate the coming Eid in style? Traditional? Modern? Or a bit of both? Share your thoughts with us down below!
"If you look at the bigger picture, fashion is never a yes/no situation; it's rather perhaps/maybe." — Silas Liew
© All images are copyrighted by their respective authors.
Here on Fashionista NOW, our one and very own Miss Reverie showcases the latest in fashion trends and its various social implications in our everyday lives. You may read more of her at REVERIE SANCTUARY.