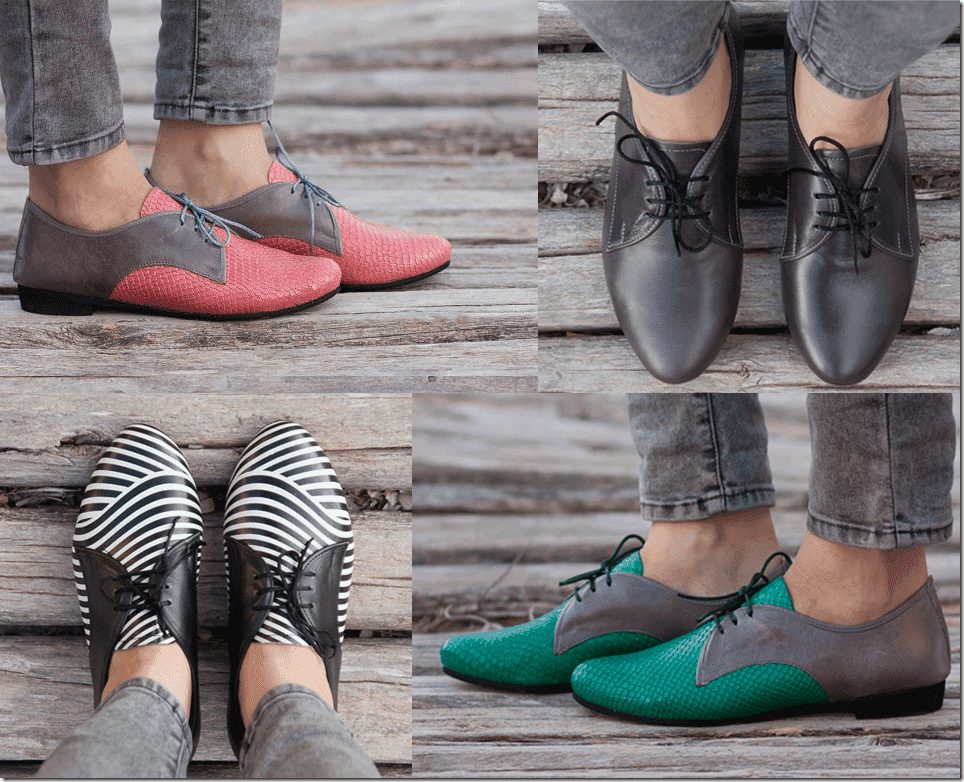 Shop the coolest handmade high quality leather oxford shoes and make a shoe statement that's big on both comfort and style!
Lovers of oxford style shoes, I've got great news for you! Find yourself a pair of handmade high quality beauties from the amazing Tel Aviv-based BangiShop right now as they are having a fabulous V-day Sale! BangiShop, — if you haven't already known — is where great oxford shoes are handcrafted from scratch by the people who are passionate about the art of shoe-making.
A family business that was started off by the owner's father in the 1970s, the shop has now spread its wings across international borders through its online Etsy store where most handmade goodies are found aplenty. If you're like me, a fan of simplicity, comfort and easy flair when it's to do with footwear, you will love these beautifully-designed statement oxford shoe selection:
7 Statement Oxford Shoes You & I Need In Our Lives Right NOW:

♥ black grey leather oxford shoes ← SHOP HERE

♥ black white leather oxford shoes ← SHOP HERE

♥ camel leather oxford shoes ← SHOP HERE

♥ green grey leather oxford shoes ← SHOP HERE

♥ grey leather oxford shoes ← SHOP HERE
♥ leather woven oxford shoes ← SHOP HERE

♥ pink grey leather oxford shoes ← SHOP HERE
BangiShop Valentine's Day SALE + Free Shipping
Shop your favorite oxfords now at 20% – 35% OFF with free shipping from the online store! Be sure to get find the correct shoe size so that they'll fit your feet like a second skin. Check out their inside soles measurement list to be sure that you have the right size for your feet. No guesswork please, because no one likes a shoe that doesn't fit, right? So take your time and measure and measure again until you're sure!
If you have trouble getting the right shoe size because your measurement falls between sizes, don't fret – just contact the store owner for help!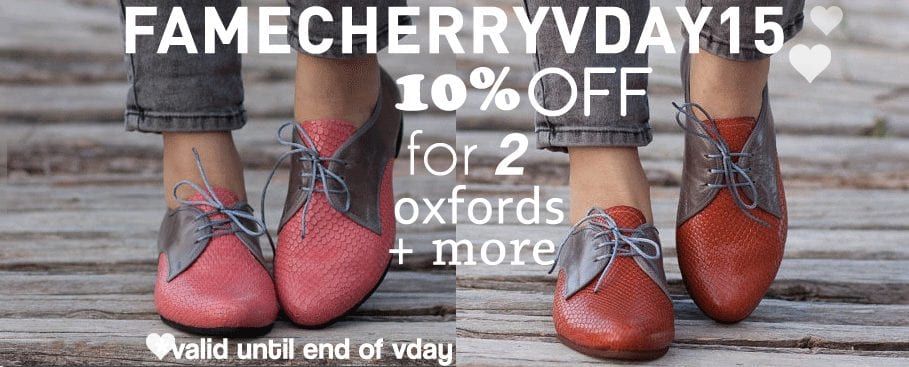 Amit, the owner of BangiShop has generously given you a limited discount code! Use code FAMECHERRYVDAY15 to get 10% OFF on your purchase of 2 or more oxfords. [ offer has EXPIRED ]
ENJOY!
So ladies, what do you think of my flat oxford shoe favorites? Have you fallen madly in love with any of it? Share your favorite(s) and spill your thoughts below because you know fully well that I enjoy reading them!
"Think of the magic of that foot, comparatively small, upon which your whole weight rests. It's a miracle, and the dance is a celebration of that miracle." — Martha Graham
Disclosure: This post contains affiliate links, which means that if you click on one of the product links, a small commission may be credited to this site.
Love this post? Share it with your friends! Follow us for more fashion inspiration:
♥ Twitter ♥ Facebook ♥ Google+ ♥ Bloglovin ♥ Pinterest ♥ Polyvore ♥
© All images are copyrighted by their respective authors.
Here on Fashionista NOW, our one and very own Miss Reverie showcases the latest in fashion trends and its various social implications in our everyday lives. You may read more of her at REVERIE SANCTUARY.